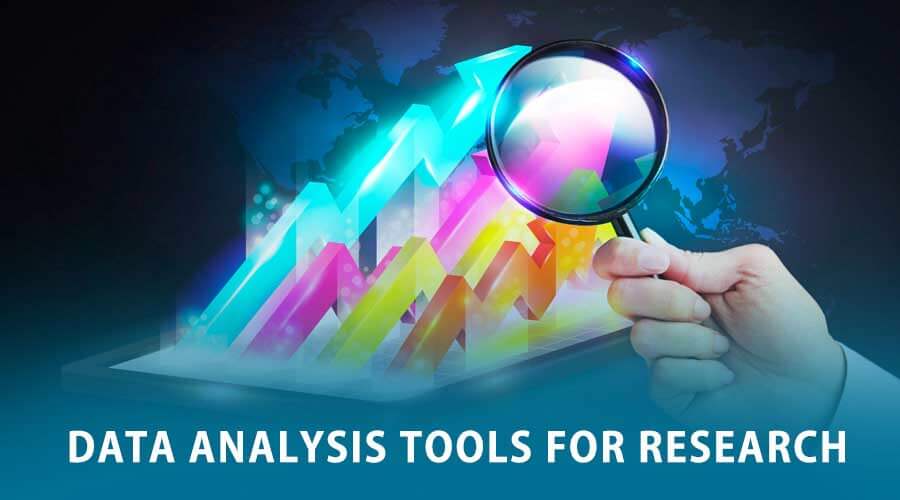 Introduction to Data Analysis Tools For Research
Data Analysis Tools For Research – Revolutionary and game-changing data analysis tools examples. These two terms aptly describe how data analytics is changing the world of companies and brands around the globe. Every business today deals with the unlimited amount of data that they need to make sense of on a regular basis. This data is useless if companies cannot gain important insights from them. In addition, as different types of companies have different types of data analysis tools, the data analytic tools that companies use to infer data is also important.
While initially data analysis was limited to only big companies and brands, today almost all types of companies, even the smallest ones need to focus on using data in a proper manner. Nonutilization of data insights can harm the growth story of the company and that is why data analytics manufactures are now feeling the pressure of manufacturing data analytic tools and products to help companies to achieve the goal of growth and development. This increasing need for enhanced and improved data analytics has inspired data manufacturers to create data analytic tools that have sophisticated architecture systems with better levels of memory and processing power.
Companies, as well as manufactures, are warming up to open source licensing model which though not new are gaining immense popularity and acceptance. A prime example is Apache Hadoop, which is an open source data platform processing platform that has been around for more than nine years. This platform was first used by major Internet giants like Yahoo and Facebook and in turn, led to the revolution and major big data revolution.


Image source: pixabay.com
In 2008, Cloudera introduced commercial support for enterprises, which was a major step in the history of data analysis tools for research. Later companies like MapR and Hortonworks also followed the suit in the years 2009 and 2011 respectively. Further, companies like IBM and EMC spinout Pivotal have introduced their own Hadoop distribution system, taking data analytics to the next stage. Additionally, companies like Teradata also offer complementary software and first line support for platforms across Hortonworks. Today, focused data analysis tools for research vendors like HP Vertica and Teradata are know for the manufacture of high RAM to disk ratios along with specific data analytic tools that can help companies take themselves to the next stage of growth through data insights and analysis.
There have been a lot of advances in bandwidth, memory and processing power which have effectively helped to improve processing and analysis capabilities in real time. But this type of analysis has still to be adopted by major companies and brands. Though many vendors have started investing in advanced data analysis tools for research, their adoption is still limited to fields like national intelligence, trading, and security. However, with an almost daily breakthrough in ad delivery, content personalization, and logistics, data analytics is set to gain even more importance in the coming years. This article deals with some of the most common and popular data analytic tools that have been adopted by many companies across sectors.
Data Analysis Tools For Research (Best Data Analytic tools)
Following are some of the best analytic tools for research.
1010Data
By providing the cloud-based software platform to companies, 1010data is based in New York. Established in 2000, this company has many prominent clients including NYSE Euronext, besides a number of popular brands in banking, retail, gaming, healthcare, government and communication sectors Data analysis tools for research.
By supporting columnar database, the analytic tools provided by 1010 data enables companies immense scalability and massive data handling skills data analysis tools examples. With its own propriety design and query language that supports a subset of SQL functions, the columnar database of the company also helps companies to handle social network and machine data in an effective manner. Besides database, Data1010 also offers data integration, reporting, and data visualization tools. It also offers advanced analytic functions like statistical analysis, optimization, and machine learning functions as well.
The private cloud approach of this company also assists brands to manage and scale infrastructure in an effective manner. with strict security measures, 1010 data provides cloud service that is customized to meet the needs of the clients and customers best data analytic tools.
Actian
Previously known as Ingres Corp, the company changed its name to Action in the year 2011. By providing numerous analytic tools and applications in the field of data analytics, the company has more than 10,000 customers across various sectors. Because of its expansive reach and skills, Actian has expanded with Vectorwise, which is fast analytical database management system. Vectorwise has now been renamed as Actian Vector. In addition, Actian has also acquired Versant, who were responsible for the eponymous object database. Also acquired by Actian is Pervasive who manufactured DataRush analytics on-Hadoop and data integration software, that is currently called Actian Data Flow. By acquiring ParAccel in 2013, Action has made its presence felt even more in the field of data analytics.
Amazon Web Services
By providing analytic tools to a number of clients like Oracle, Microsoft, SAP among many others, Amazon is one of the well known analytical tool providers in the industry best data analytic tools. The company launched its own Hadoop based Elastic MapReduce in 2009 and it has tried to build its own Elastic Compute cloud and simple storage service infrastructure in the later years. Additionally, in 2013, Amazon Web service introduced the Redshift Data Warehousing service which integrates business intelligence and data integration.
One of the biggest factors that make Amazon popular is that allows companies to run all their data related applications on the cloud. Also as Cloudera, a leading Hadoop distributor has partnered with Amazon to help companies to choose hybrid strategies while at the same time move their intensive and heavy data workloads to cloud and keep sensitive and critical information within the companies premises. By adding new features to existing data analytic tools and creating new software's, Amazon web services continue to expand and grow the field of data analytics in a progressive manner.
Cloudera
Another leading company, Cloudera has continuously been pushing the envelope when it comes to data analytics. By extending the data processing framework and turning it into a comprehensive enterprise data hub, it helps companies by acting as a central point of management for all types of data. By offering proprietary software like Cloudera Manager and Cloudera Navigator, the company ensures enterprise-grade performance, reliability and data access control. Cloudera is saying that its platform is becoming extremely popular, which is helping companies to make sense of data which is generally limitless in nature.
Vertica
An analytic database management software company, Vertica was established in the year 2005 by Michael Stonebraker who was a database researcher. The company was acquired by Hewlett Packard in 2011, which expanded the portfolio to include software tools for enterprise companies and the public sector. In other words, Vertica is a columnar analytical database management system that helps companies to tackle massive data in a simple and constructive manner. Rather than replacing enterprise data warehouse, Vertica is mainly intended to work with other software without any kind of replacement. FlexZone is one of the latest product introduced by the company and is designed to help companies to explore large sets of data sets, even before defining any database scheme or related reports.
Hortonworks
Formed in June 2011, Hortonworks employs contributors to the open source software project called Apache Hadoop. Funded by Yahoo and Benchmark Capital, some of the products manufactured by Hortonworks include Hortonworks Data Platform which includes Apache Hadoop as well best data analytic tools. In October 2011, the company announced that it would collaborate with Microsoft for the distribution for Windows Server and Microsoft Azure. Further, Hortonworks was named as a technology leader and ecosystem builder for the entire Hadoop industry by Forrester Research. Also, Horton Data Platform is available free of cost across all open source software.
IBM
One of the broadest data management portfolio being offered by any company, IBM offers a range of data integration, data cleansing and data quality software options for all types of clients and customers. With numerous business intelligence and analytical offering like Cognos, SPSS and IBM developed analytic tools for Hadoop, IBM also has a comprehensive SaaS and cloud infrastructure that is second to none. Though IBM is not a product-oriented technology provider, IBM is exceptional in the field of deep integration and consulting expertise. If a standard solution of the industry is what you require to meet your data needs, IBM has the capability to address them in an effective manner.
InfiniDB
Formerly known as Calpont, InfiniDB is a database management system. Based in Texas, this company is known for its comprehensive range of big data analytics, business intelligence, data warehousing and other related applications. InfiniDB has re-engineered the database management system, which can be deployed on Linux, Windows or on the cloud through Amazon Web Services. In addition, the company has an open source InfiniDB under the GNU General Public License. Comparable to the HP Vertica and Actian ParAccel, InfiniDB has as many features as the other two analytic tools.
Infobright
A focused analytical database provider, Infobright provides a column store database management system for fast data analysis of up to 50 terabytes per server. The database manufactured by this company is designed for symmetric multiprocessor servers and not for parallel processing. Often used in collaboration with Hadoop or large scale enterprise, Infobright supports long-term, high scale storage. The columnar data ensures that every query is analyzed and insights are received in a fast and quick manner. For fast processing of data, Infobright can help companies to infer insights in a fast and rapid manner.
Kognitio
A parallel processing database management system, Kognitio seamlessly integrates with business intelligence and analytic tools data analysis tools examples. By complementing the existing technology stack, Kognitio bridges the usability and large volume data stores. By helping companies to gain valuable and important insights, analytic tools provided by Kognitio analyses and processes data in a swift and easy manner. In recent times, Kognitio has developed a big emphasis on integration with Hortonworks Data Platform and also offer cloud-based services to clients as well.
HighCharts JS
A javascript library from Highsoft solutions, these analytic tools allows professionals to create interactive charts from the web. These charts can help brands and organization to infer important insights from complex and large data. By clicking on data analysis tools for research, HighChart JS provides companies with access to different types of charts including, basic line, bar, column, area charts among others. With minimum customization required, HighChart JS can be displayed on mobile devices and desktops, making it easy to access across all sectors.
Panda Project
Less about analyzing data, Panda project helps companies to decipher and gain insights from a wide amount of data analysis tools for research that is present in almost all types of companies. A data tool that is designed specifically for newsrooms, it can be used by almost any kind of organization that wants to collect information in a systematic and proper manner.
KNIME
A business analytical tool, KNIME helps companies to manipulate, analyze and visualize data in an extremely simple and visual manner best data analytic tools. Instead of writing codes, users can drop nodes on a canvas and make a connection between two points of data analysis tools for research. This allows brands to make a connection between two sets of data and therefore infer insights on the said data. Very simple and elegant to use, this tool is perfect for office use and analysis.
Import.io
The internet today is a very powerful source of information and can provide companies with unlimited sources of data. Even if all companies depend on customized information, the internet can be a great source of learning for them. It is here that import.io can be a great data analytic tools for data analysis as brands can use it to save the content of the net in a simple and effective manner.
All in all data analytics are gaining a lot of prominence in the economy today best data analytic tools. When conducted in a proper manner, they can help companies to not just understand customer needs but also predict the future with a maximum success ratio. In addition, with so many data analytic tools and applications present in the market, having a basic understanding of data analytic tools on one hand and a knowledge of company goals and objectives, on the other hand, can help a brand to choose the right data analysis tools for research.
Recommended Articles
This has been a guide to Data Analysis Tools Research. Here we have discussed the basic concept with some of the best analytic tools for data analysis research. You may look at the following articles to learn more –