Updated June 2, 2023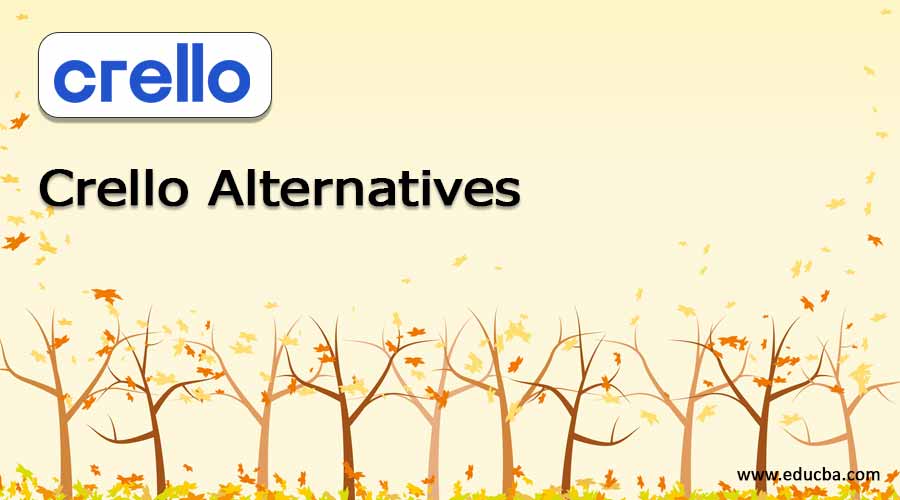 Introduction to Crello Alternatives
Crello is an online design platform that allows users to create interactive designs and animated design projects. It provides various types of templates to create the design for business, presentations, infographics, education, etc. Some alternatives in the market provide the same functionality as Crello and advanced functions. In this article, we are going to discuss these alternatives.
List of Crello Alternatives
Given below is the list of Crello Alternatives:
1. Lucidpress
Lucidpress is the best alternative for Crello. It is a web-based desktop publishing software application to create brochures, flyers, newsletters, business cards, posters, magazines, and presentations. It supports modern web browsers, including Google Chrome, internet explorer, firefox, and Safari. Its design capabilities range from single-page documents like business cards and flyers to multi-page documents like annual reports and digital magazines.
2. Adobe InDesign
Adobe InDesign is a package for Photoshop and Illustrator, enabling the creation of catalogs, portfolios, and other materials that incorporate text and images. It facilitates the content organization and allows its delivery in digital format or printout. It has the most accurate & easy presentation technics. Users can have quick access where photos, videos, and text take less time to add value to a presentation. It also has become the best software for designing interactive page-arranged content. PDFs and eBooks with the help of Adobe Digital Publishing Suite for users to access documents on Mobile, Tablets, and PCs with effective plugins.
3. Shutterstock
Shutterstock provides global stock photography, footage, music, and editing tools. The Shutterstock portfolio of brands includes Bigstock, Offset, PremiumBeat, Rex Features, and Shutterstock Custom. It provides a variety of plans for individual, team, and enterprise customers, creative editing, and collaboration capabilities. It is easier to set up. Its functionality makes it quite popular and a great alternative to Crello.
4. Prezi
Prezi is a video and visual communication software which allows users to create a virtual presence within the video screen of a live or recorded video. It is designed specifically for sales and marketing professionals. It combines conversational presenting capabilities with business-focused features such as analytics, Slack integration, and collaboration. It is widely used for creating infographics. It has built-in infogram templates.
5. PDFelement
PDFelement, as its name says PDF, it works on PDF. It is used to create, edit, sign, and convert the pdf. It supports operating systems – Windows and Mac. It is in one pdf solution for users of all types. PDFelement offers enterprise-grade PDF functionalities and perpetual licensing at a fraction of the price. It is also used to annotate, merge and create a watermark on pdf.
6. Creatopy
Another Crello alternative is Creatopy, which is a visual production platform. It is used to create banners and delivers a well-crafted creative experience. It offers various tools for users and teams to create creative and visual content and organize it efficiently. Its feature includes customization and advanced automation capabilities, original visual elements, and a library of templates. These features of Creatopy make it a great competitor for Crello.
7. QuarkXPress
Another best alternative for Crello is QuarkXPress. It is a desktop-based software used to create and edit complex page layouts. It supports Windows and macOS operating systems. It provides functionality that includes font, alignment, color, spacing, kerning, curving text along a line, and ligatures. It also offers layout synchronization, web page features, and multiple undo or redo Functionalities. It also allows users to import and export PDFs. QuarkXPress also provides the ability for composite workflows, both with PostScript and PDF output.
8. Adobe Spark
Adobe Spark, an alternative to Crello, is a media creation application developed by adobe systems. It is available in two types, web-based and mobile-based. It compromises three separate design apps – spark post, spark page, and spark video. Supports operating systems Windows, iOS, Android, and os X. It stores the contents automatically on the cloud. It allows users to create and design visual content that can be used for businesses, education, social media, etc.
9. Piktochart
Another alternative to Crello is Piktochart. Users can create infographics and visuals using templates with this web-based infographics software. It provides over 600 templates where users can edit infographics using advanced functions and customize them per the requirements. Users can include multiple interactive elements such as charts, videos, map visualization, and animated icons to create an attractive infographic.
10. Venngage
Venngage is an information design platform that provides business-to-business-specific templates. It also provides useful external communication templates. With Venngage, users can create reports, organizational structure and information, onboarding guides and materials, research documents and white papers, and more.
Conclusion
This article discusses alternatives to Crello, such as Lucidpress, Adobe InDesign, Shutterstock, Prezi, PDFelement, Creatopy, QuarkXpress, adobe spark, PiKtochart, and Venngage. Based on your needs, you can choose one of them.
Recommended Articles
This is a guide to Crello Alternatives. Here we discuss the introduction and the list of Crello Alternatives in detail. You may also have a look at the following articles to learn more –