Updated April 28, 2023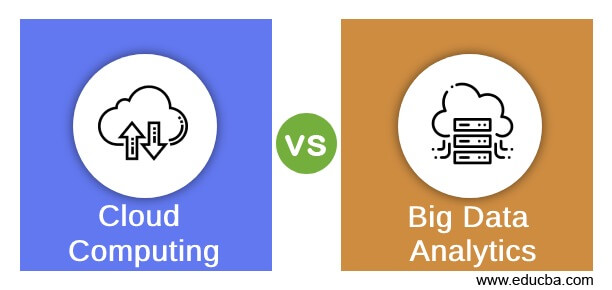 Difference Between Cloud Computing vs Big Data Analytics
Since the New York Times published an article on how Walmart utilizes big data analytics to maximize its sales, people have been in a frenzy about Big Data. The retailer figured out that sales of Pop-Tarts, a famous brand of Sweets surges during Hurricanes and used this knowledge to increase their profits. Be it individuals who save their data for on-the-go access or businesses who cut upfront costs while maintaining disaster-proof IT operations, everyone is looking towards the sky these days. Enter cloud computing, a modern computing approach, because everyone is on cloud nine.
Post the dot-com bubble burst, information technology is gaining incredible momentum. Cloud Computing and Big Data Analytics are emerging from this momentum, the two hottest trends that have an unprecedented impact on all levels of human life. In this write-up, we will look at these trends in today's technological ecosystem and attempt to compare Cloud Computing and Big Data Analytics.
Head-to-Head Comparison Between Cloud Computing vs Big Data Analytics
Below are the Top 11 Comparison between Cloud Computing vs Big Data Analytics:

Key Differences Between Cloud Computing vs Big Data Analytics
Cloud computing is about providing computer resources and services over the network. Big Data is tackling problems faced when a huge amount of data is involved, and traditional methods become infeasible.
Big Data works by breaking huge data sets into manageable 'chunks' and distributing these chunks across different computer systems. In Cloud computing, information is stored on physical servers maintained and controlled by Service Providers. The user can access these resources through the internet.
It is possible to deploy Big Data Solutions on the cloud through the PaaS or SaaS service. In PaaS, the Hadoop platform is provided to the consumer, while in SaaS, various components or applications running on Hadoop are accessible. The marriage of Big Data and Cloud Computing is becoming so popular that we have a new buzzword in IT: BDaaS (Big Data as a Service).
Big Data taps the previously ignored data of an organization and provides valuable insights which can drive its business. In contrast, Cloud Computing provides flexibility and speed concerning IT deployments which can streamline an organization's operations.
Cloud Computing vs Big Data Analytics Comparison Table
The differences between cloud computing vs Big data analytics:
Basis for Comparison
Cloud Computing
Big Data
What is it?
Computing Paradigm.
Huge data sets.
Focus
Providing universal access to services.
Solve technological problems dealing with humongous data sets.
Best described by
Cloud computing is about providing services over a network, primarily the Internet. The services can be software, a platform, or IT Infrastructure.
3 V's – Velocity, Volume, and Variety. To qualify your data as "Big Data," the data set of interest should be illustrated by either or all of the above V's.
When to move to?
You might consider migrating to the cloud when you need rapid deployment or scaling of IT Applications or Infrastructure while maintaining centralized access. Maintaining IT Operations on-premise requires diverging from your business; with cloud computing, your focus remains on your business.
Big data engineering comes into play when traditional methods and frameworks are ineffective when dealing with voluminous data. A distributed framework and parallelized computing are required to analyze petabytes of data.
When to not move?
Conversely, you might not want to migrate to the cloud sometimes. If your application deals with highly sensitive data and requires strict compliance or does not adhere to cloud architecture, you should keep things off the cloud. Moreover, moving to the cloud is equivalent to losing control of your hardware.
Big Data solutions solve a particular problem relating to massive datasets, and most Big Data Solutions are not meant to deal with small data. Big Data is not a replacement for relational database systems.
Benefits
Low maintenance costs, Disaster-safe implementation, centralized platform, zero-upfront costs
High-scalability (Scales out forever), Cost-effective, Parallelism, Robust ecosystem
Popularized by
"Cloud Computing" became prevalent when Amazon released EC2 (Elastic Compute Cloud) Product in 2006.
When Mike Cafarella and Doug Cutting released the 'Hadoop' project in 2005 at Yahoo, "Big Data" became mainstream.
Common Roles

Cloud Resource Administrator: The person or organization that administers the cloud.
Cloud Service Provider: Owner of the cloud platform who provides services in the form of Applications, Resources, or Infrastructure.
Cloud Consumer: The 'Users' of the cloud can be developers or office workers in an organization.
Cloud Service Broker: A middle party between Consumers and Service Providers. They provide intermediate services.
 Cloud Auditor: The one who consults Consumers on security or potential vulnerability

Big Data Developers: They write programs to ingest, process or cleanse data. They also set up scheduling and delta capture mechanisms.
Big Data Administrators: They Set up servers, install software, and manage physical or logical resources.
Big Data Analysts: They analyze the data and find interesting insights and possible future trends.
Data Scientist: Basically, an analyst equipped with coding skills and statistics. This person is involved in mining, predictive modeling, and visualization of data from Big Data systems.
Big Data Architect: The one who is responsible for end-to-end solution deployment.

Buzz Words

IaaS: Infrastructure as a Service happens when Service Providers provide the Consumer with physical resources like memory, disk, servers, and networking. The customer can utilize these services however she wishes and installs applications on top of them.
PaaS: A platform can be an Operating System, RDBMS System, Server, or Programming Environment. All these platforms are provided as a Platform as a Service.
SaaS: In the Software as a Service paradigm, the Consumer directly utilizes the application or software without worrying about the underlying platform or infrastructure.

Hadoop: Hadoop itself is a buzzword. It is an ecosystem of various components that carry out specific tasks and are integrated to implement a big data solution. Doug Cutting named his project "Hadoop" after his son's toy elephant.
HDFS (Hadoop Distributed File System): A filesystem that provides high throughput access. It is a Java-based file system that is distributed across multiple machines.
MapReduce: Framework for writing massively parallel applications that process large amounts of data stored in HDFS. On a rudimentary level, MapReduce performs two operations, Map, where data is converted into Key-Value pairs, and Reduce, where data is aggregated.

Vendors/Solutions Providers
Google, Amazon, Microsoft, IBM, Dell, Apple.
Cloudera, MapR, HortonWorks, Apache.
Popular Solutions/Examples

IaaS: Google Compute Engine, Amazon Web. Services, Microsoft Azure.
PaaS: Windows Azure, AWS Elastic Beanstalk, Google App Engine, Apache Stratos.
SaaS: Google Docs, Microsoft Office 365.

Hadoop is the most popular Big Data Solution inspired by Google File System (GFS) and MapReduce papers. A Hadoop ecosystem typically has many components, such as Ambari for cluster management, Sqoop for data extraction, Hive for data warehousing, and Oozie for scheduling.
Conclusion
Cloud Computing and Big Data Analytics have truly impacted how organizations function, and humans operate. Cloud Computing provides benefits that apply to all sizes of businesses and individuals. Data is perceived as a resource, and organizations are scrambling to implement Hadoop to exploit this resource. It is interesting to know that although these technologies have become mainstream, companies are still investing huge amounts in R&D. We can expect more growth in Cloud Computing and Big Data Analytics in coming years.
Recommended Articles
This has been a guide to Cloud Computing vs Big Data Analytics. Here we discuss head-to-head comparison, key differences, comparison table, and infographics. You may also look at the following articles to learn more –