Updated July 11, 2023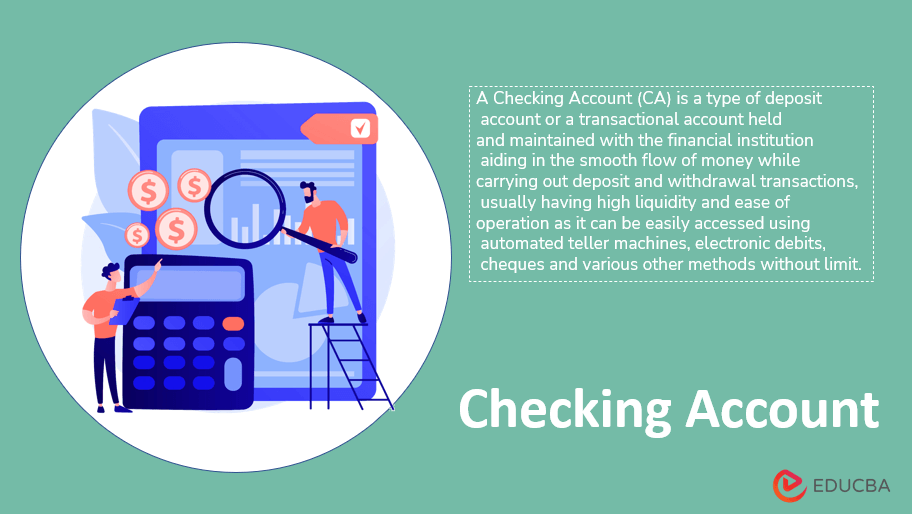 Definition of Checking Account
A Checking Account (CA) is a type of deposit account or a transactional account held and maintained with the financial institution aiding in the smooth flow of money while carrying out deposit and withdrawal transactions, usually having high liquidity and ease of operation as it can be easily accessed using automated teller machines, electronic debits, cheques, and various other methods without limit.
Explanation
Checking accounts (CA) are also demand accounts that allow users to make numerous deposits and withdrawals for commercial purposes. This type of account offers various packages to avoid monthly charges. There is no limit on withdrawals and deposits used for day-to-day purposes. It helps in the easy and speedy processing of all financial transactions. Money can be deposited in a CA for the short to medium term. Checking accounts processes financial transactions involving tremendous monetary value and can be linked to various payment applications. These accounts can be used with personal cheques and debit or ATM cards. Etc.
Features of Checking Account
CA offers various features –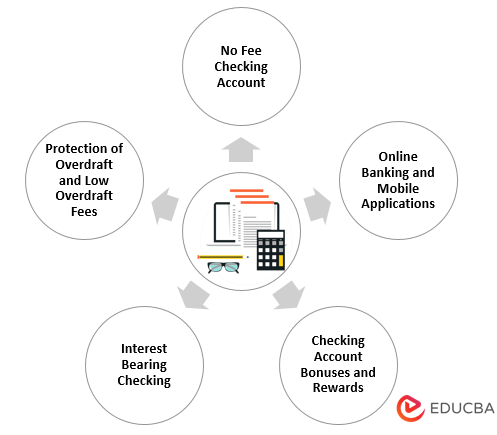 No Fee Checking Account: Either no or a very nominal fee is charged to maintain a checking account. The average price levied for an online CA is around $8.50. Also, this account offers many options to trim monthly costs.
Online Banking and Mobile Applications: With the help of mobile banking and online payment applications linked with CA, it becomes easier to manage the day-to-day finances of the consumers and helps to deposit checks and transfer money through the phone.
Checking Account Bonuses and Rewards: Various banks with CA offer rewards and bonuses; for example, one such bank, City Bank, has a reward program that allows customers to earn and redeem points for merchandise, gift cards, and travel. Sometimes cashback is also rewarded on a checking account.
Interest Bearing Checking: Some banks with CA allow their customers to earn interest on their balances with above-average rates. The interest provided to customers may also sometimes reach up to more than fifty times the national average rates.
Protection of Overdraft and Low Overdraft Fees: Banks must ask their customers to opt for overdraft services on debit cards. The CA offers these services with low associated fees.
Examples of Checking Account
Examples of CA are given below:
Example #1
John got his first job and received a paycheque after three weeks. He opened an account in a local bank that offered him free checking and saving accounts.
Record the following transaction into the CA: –
The paycheque of $50000he received was deposited into an interest-bearing checking account on 07/01/2017
John added another $1,00,000 to the CA on 01/01/2018.
He further introduced 50,000 on 01/01/2019
The bank's rate of interest on a CA is 10% p.a.
The closing balance would accrue to Mr. John on 12/31/2019.
| | | | | | |
| --- | --- | --- | --- | --- | --- |
| Opening Date | Closing Date | Opening Balance | Amount Added ($) | Interest ($) | Closing Balance ($) |
| 07/01/2017 | 12/31/2017 | 0 | 50,000 | 2,500 | 52,500 |
| 01/01/2018 | 12/31/2018 | 52,500 | 1,00,000 | 15,250 | 1,67,750 |
| 01/01/2019 | 12/31/2019 | 1,67,750 | 50,000 | 21,775 | 2,39,525 |
The closing balance as of 12/31/2020 will be $2,39,525.
Example #2
Edward opened a CA with American Bank on 01/01/2019 for his day-to-day transactions as follows –
Edward opened an account with $5000 on 01/01/2019
Sale proceeds deposited $15000 on 07/01/2019
Paid annual rent of shop $12000 on 07/01/2019
Interest received $650 on 12/31/2019
Ascertain closing balance as on 12/31/2019
The closing balance will be as follows: –
Opening Date

Opening  Balance
($)
Transaction
Detail
Receipt
($)
Payment
 ($)

Closing Balance($)

01/01/2019
–
Opened account
5,000
–
5,000
07/01/2019
5,000
Sale Proceeds
15,000
–
20,000
07/01/2019
20,000
Rent Paid
–
12,000
8,000
12/31/2019
8,000
Interest
650
–
8,650
Therefore, the closing balance as of 12/31/2019 will be $8,650
Types of Checking Accounts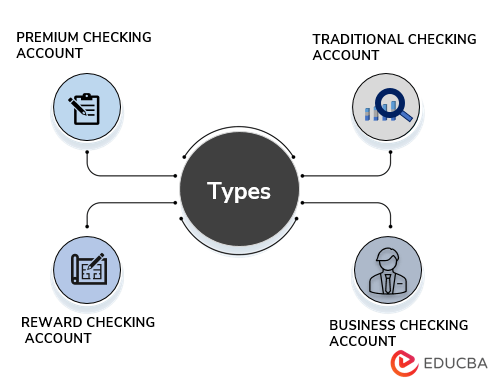 PREMIUM CHECKING ACCOUNT- This type of account gives premium features like free ATM, chequebook, locker, and money order free of cost, and sometimes waiver of fees is also offered. Usually, banks offer this feature with a high minimum balance compared to other CA.
TRADITIONAL CHECKING ACCOUNT–A general account that offers regular services like cheques, debit cards or ATMs, or online payment services with a nominal fee which may even be waived off
BUSINESS CHECKING ACCOUNT – This checking account help business to run more smoothly and efficiently as there are multiple accounts for different purposes like salary, other operating expenses, wages, etc. A business checking account charges extra if the number of prescribed transactions exceeds.
REWARD CHECKING ACCOUNT – These accounts especially provide cashback or rewards on the total amount spent, which can be utilized against future purchases or merchandise.
How to Open a Checking Account
Step 1:  The first and foremost step to opening a checking account is to find a financial institution that fulfills one's requirements.
Step 2:  Choose between the bank or a credit union. Credit unions provide fewer charges and free checking accounts but have lower interest rates and are less rewarding. At the same time, banks are more secure and have various accounts and services.
Step 3: Undergo a thorough understanding of the bank or credit union and check whether they are adequately secured and insured.
Step 4: After choosing the institution, one needs to decide which account best suits your requirements based on interest offered, charges, fees, and other compliances
Step 5: One has to provide all the sensitive information to the bank, carry the necessary documents, and comply with banking regulations, as the bank will not open an account without verifying the client's identity.
Step 6: Fill in and sign all required documents. Also, check all the bank's facilities, such as ATMs, online banking, etc.
Step 7:  Fund the account with initial minimum deposits and start further banking transactions.
Checking Account Fees
It is a beneficial account that aids in the daily needs of an account holder, keeping money safe and easily accessible. The bank usually charges a small fee levied on the account for these services. Generally, this fee varies from $4 to $20 but might increase depending on account type. Sometimes if certain conditions have been fulfilled, charges are waived.
Need to Open a Checking Account
The holders of CA benefit from paying bills and have access to online and mobile banking; ATM and debit cards can be easily used for purchasing and withdrawing funds. CA are helpful as they provide direct deposit of paychecks. These accounts are also insured by the federal deposit insurance corporation, which makes money safely stored in the bank.
Checking Account vs Saving Account
Savings accounts are usually for an individual who aims to earn interest. These offer the lowest return as compared to CA. Also, many banks have criteria for keeping minimum balance requirements in the saving account, which is not the case in checking accounts. FDIC insures only up to a certain amount of balance, which may be a concern if a large amount of money is kept in a savings account. Saving accounts allow limited transactions, whereas checking accounts allow multiple transactions.
Conclusion
Checking accounts helps manage the money and build financial literacy, providing various offers and rewards on the money kept in the account. It helps improve the credit score and secure money through a regulating body. Hasel-free transactions are possible through a checking account. Usually helpful in carrying out business transactions.
Recommended Articles
This is a guide to Checking Accounts. We also discuss the introduction and how to open a checking account with types and examples. You may also have a look at the following articles to learn more –