Updated June 14, 2023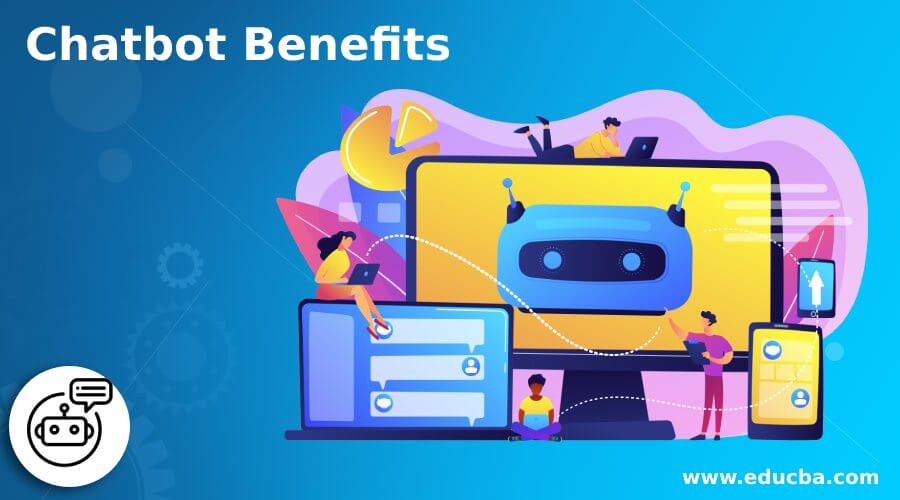 Introduction to Chatbot Benefits
The following article provides an outline for Chatbot Benefits. A Chatbot is a programmed software that simulates the conversation between a human being and a machine through text or voice interaction; this conversation may look like a human to human communication; from time to time, humans have been trying to gain more and more ways to make lives easier by using technologies, so chatbot is the example for it, the artificial intelligence technology is used to answer the questions in natural language when we ask any question through text or voice then chatbot will respond to a real person based on the knowledge database which is available to it at that point.
Various Chatbot Benefits
Given below are the various chatbot benefits:
1. 24 Hours Availability
The chatbot has a 24/7 response system which is its main benefit, as many businesses are online, and customers expect 24/7 online support. Hence, the chatbot is an application available 24 hours for the customer to communicate with the seller per their needs. If the customer has any query, then by using the chatbot customer can text or voice their query, and the chatbot will respond to it on behalf of the seller. Still, there is one issue how the chatbot understands the query and how it solve customer problems.
2. Instant Response
The cloud has very high speed of internet and software, and it gives the instant response when we ask any question on chatbot, then it provides the instant response and it can able to answer thousands of questions at the same time, but an operator can answer one question at one time, which is also beneficial.
3. Automated Answers
The chatbot provides an automated answering service, so if we think about companies having many agents in their organization, the time and cost that they require for agents can be saved due to automated answering; we can say that chatbot is cost-saving, and the cost associated with the development of chatbot, maintenance of it, monthly subscription fees also needs to consider, the human agents are also necessary for communication because chatbot is not able to answer every question.
4. Multi-Language
As we are using chatbots globally, there is one benefit that the conversation can be available in multiple languages; before starting the conversation, it may ask us for the language which we prefer, or it will detect the language by users input, so this is also beneficial to have it in multiple languages.
5. Patience
While the conversation between humans to humans while solving questions regarding consumers' problems, there may be one problem: the agent or the representative will have more patience, or we can say that agent will have endless patience while solving the questions. Still, chatbots have more patience than the patience provided by a human. Hence, the consumer is more satisfied to have a conversation with a chatbot; in this case, the organization or company can keep their consumers more satisfied.
6. To Improve Programming Ability
The chatbot provides a digital platform to people in their daily and working lives by automating tasks such as it. It can arrange meetings by providing advanced functionalities; it can able to hand over the tasks about meetings; also it will allow searching the topic during the meeting, so it makes work more accessible, and it is also automating our daily tasks like banking. It will give virtual assistance per our queries which is the most important for humans; in this way, a chatbot is improving the programmability.
7. Personalization
As we see above, chatbots are improving our programming ability in working life, so they will also help to keep track of our personal life; a chatbot is like our hairdresser, it acts like our psychologist, or it may provide us entertainment by taking the example of Alexa which we can have at our home with many ranges to educate us or to entertain us by providing music it takes voice input, in personal uses the chatbot also provides more personalized experiences than the customer service executives, the customer service executive or specialist does not have more time to prepare our call. They have to understand the context of the conversation. Still, a chatbot can interact very smartly. The conversation with a chatbot can access the history of our conversation with the company or organization to deliver a very personalized experience.
8. Cost Saving to Companies
The cost is lower using chatbots compared to specialist service providers because companies do not need to spend money on their training, infrastructure, and salary. Only they have to cost for implementing the chatbots, which are quite low, it also provides data security. It improves the quality of the services the company provides by handling complex queries.
9. Increases Sales
As per the company's point of view, chatbots are beneficial to increase sale; it provides the platform for businesses in which companies have to deliver customer satisfaction as well as services, so as we see, a chatbot is available 24 hours will help to increase the sales and provides fast responses to the consumer's problems. Also, it can smartly introduce new products and services of our company, as a customer do not like to wait for a long time for anything to purchase or to buy. It is a great platform to give a fast response on both sides. Hence, business owners agree that chatbot increases our sales.
10. Customer Interaction
The chatbot provides real-time communication, so it helps increase customer interaction when we think about the bot platforms like Facebook Messenger and Kik, which are the most popular applications helpful to reach new customers.
Conclusion – Chatbot Benefits
In this article, we have seen that there are many benefits of chatbots to customers as well as to companies; we also conclude that how they are given faces to companies, how they increase the sale, how they increase the marketing strategy, how they gain customers behavior with wide ranges of possible applications.
Recommended Articles
This is a guide to Chatbot Benefits. Here we discuss the introduction and the various chatbot benefits for better understanding. You may also have a look at the following articles to learn more –