Updated April 6, 2023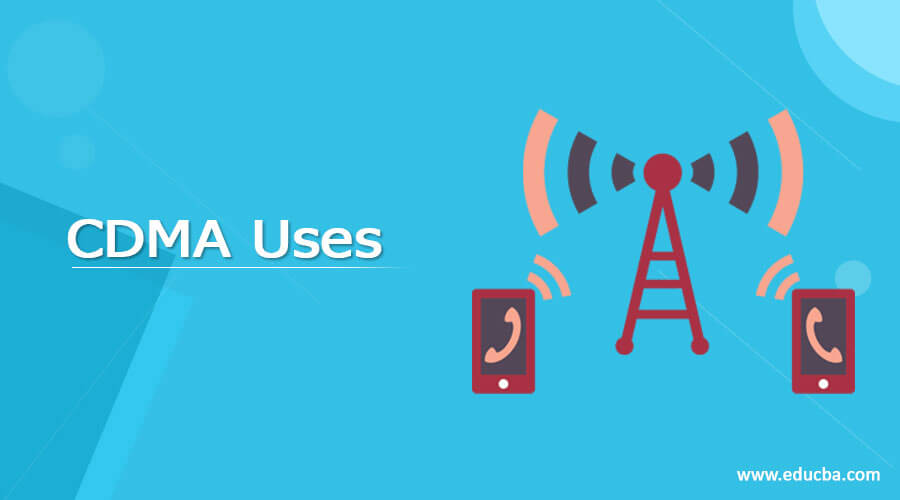 Introduction to CDMA Uses
Code Division Multiple Access(CDMA) is a data transmission technology that is used in radio communication technology as well as some other technologies. It is one of the many Multiple Access communication systems. In other communication systems ie. TDMA and FDMA as the name suggests, divide the users into different periods or frequency ranges respectively and hence limit them to either a specific frequency range or period of usage. This is where CDMA comes into play. CDMA gives each user freedom of time and the range of frequency for communication. It divides each user to separate channels, giving each of them a unique code.
CDMA and its Uses
Due to the inherent advantages of CDMA over TDMA and FDMA, including user capacity, gentle handoffs, and security. Among others, CDMA emerges as a winner in the battle of wireless technologies and services. Wideband equipment such as wireless laptop modems, GPS units, and other cutting-edge technologies may be developed and used much more easily thanks to CDMA.
1. Military
CDMA is a military technology that was first utilized by English allies during World War II to thwart German attempts to block signals. The Allies chose to broadcast on multiple frequencies rather than just one, making it difficult for the Germans to pick up the entire signal. Qualcomm had access to the sensitive material because it developed communications chips for CDMA technology and was the first to market it.
It has also been used for :
– Anti-jamming (because of the spread signal, it is difficult to jam or interfere with a CDMA signal).
– Ranging (measuring the distance of the transmission to know when it will be received).
– Secure communications (the spread spectrum signal is very hard to detect).
2 . Microcell and in-building Systems
The embedded microcell uses the same frequency as the underlying macrocell and is fully connected to it. At various traffic distributions, the capacity of cells is calculated and simulated. The capacity of a microcell is 1.03 to 1.12 times that of a conventional cell. The combined microcell and macrocell have a capacity of 2.00 to 2.11 times that of a conventional cell. The RF dependability, soft hand-off factors, interference, and power levels of cells are also examined. The RF dependability of macrocells will deteriorate faster than that of microcells. The microcell's radio hand-off factors are about 11% higher than those of the macrocell. The microcell's average required forward traffic channel power is around 10% lower than the macrocell's. Microcell engineering guidelines are also offered for a commercial CDMA system. Findings suggest that integrating the microcell in an existing CDMA network might be an effective method to boost hot-spot and dead-spot coverage.
3. GPS Satellite Signal
The primary frequency L1 and the secondary frequency L2 are transmitted by GPS satellites. Satellites transmit at two frequencies at the same time, however owing to PRN code modulation, their signals do not conflict appreciably. The satellite signals may be isolated and identified using the CDMA approach since each satellite is issued a unique PRN code and all PRN code sequences are substantially uncorrelated with one another. A GPS receiver must repeat the PRN sequence for the chosen satellite together with the replica carrier signal to monitor one satellite in common view with multiple other satellites using the CDMA method. Because the ionospheric delay is connected by a scale factor to the difference in signal time of arrival (TOA) for the low carrier frequencies, two carrier frequencies are given to allow the two frequency users to monitor it. Users of a single frequency (L1) must estimate the ionospheric delay using modeling parameters sent to them in a navigation message.
4. Bluetooth
With a hopping rate of 1,600 hops per second, Bluetooth employs Fast FH-CDMA. Each piconet has its unique pattern of spreading. In Bluetooth, FH/CDMA allows tens of piconets to overlap in the same region, resulting in a throughput of over 1 Mbps. To allow many users to be multiplexed over the same physical channel, CDMA uses spread-spectrum technology and a specific coding system (where each transmitter is allocated a code). Data and speech packets are segregated using codes and then sent across a wide frequency range with CDMA technology.
5. Mobile / Wireless communication
Spread-spectrum wireless networking is used by CDMA. It can refer to a specific media access technique utilized by this sort of cellular system as well as a form of the digital cellular phone system. CDMA combines voice and data into a single digital transmission at 9.6 Kbps, however, error detection and correction techniques allow for rates of up to 19.2 Kbps per channel. Eavesdropping on CDMA conversations is impossible without knowledge of the code tag, making CDMA a more secure cellular phone system than the Advanced Mobile Phone Service, which is still extensively used in the United States. CDMA also provides a significantly larger call capacity than AMPS and is equivalent to the European cellular communication standard, the Global System for Mobile Communications.
6. Business / Commercial
One of two major worldwide cell protocols is CDMA. It is most popular in North America and some areas of Asia, whereas GSM is most everywhere else. However, with 4G phones, the distinction between the two technologies is essentially immaterial because both may be utilized with two of the primary 4G standards. The CDMA Cellular model set includes logical data models for Enterprise, Business Area, and Data Warehouse that are tailored to organizations that provide or resell CDMA wireless products and services. The CDMA WIRELESS industry data models offer a complete data and reporting architecture to meet the demands of the whole organization. CDMA also offers high-speed push-to-talk and push-to-email capabilities for commercial use. The ability to utilize a mobile phone as a walkie-talkie device is provided via push-to-talk. These services are excluded from the carriers' service costs, making CDMA cost-effective.
Conclusion
In conclusion, it can be said that CDMA is one of the most efficient methods in the radio communication field. In one form or another, CDMA technology has been utilized in communications networks. CDMA has been a huge success in every way, and it has allowed for significant advancements over prior communication systems. The CDMA Wireless model set may be effortlessly linked with multiple sectors of communications extending their possibilities.
Recommended Articles
This is a guide to CDMA Uses. Here we discuss the Introduction, List of CDMA Uses in detail. You may also have a look at the following articles to learn more –