Updated April 6, 2023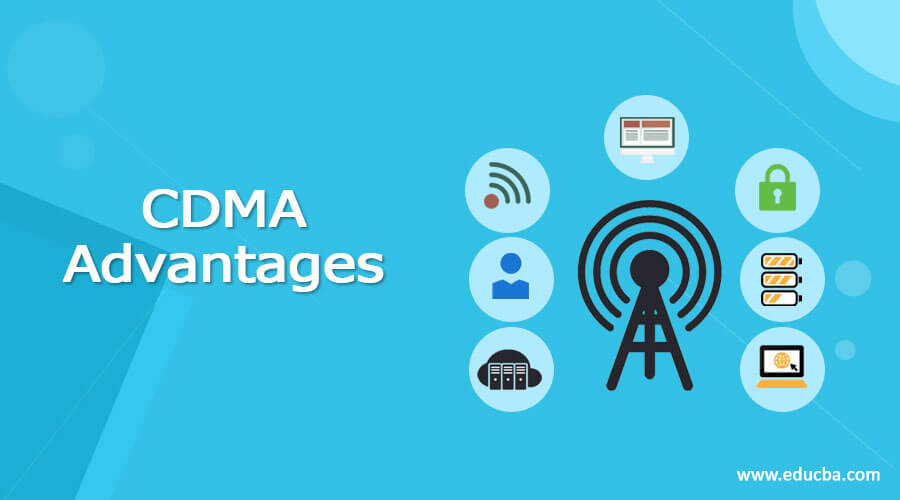 Introduction to CDMA Advantages
Code Division Multiple Access is a communication channel where multiple transmitters can send the signals to the users through a single channel so that users of various operators can be benefitted from the same. This is one of the older systems where 2G and 3G networks were used in mobile phones and to maximize the use of the bandwidth available for wireless communications in the system. The frequency bands used in CDMA are 800 MHz and 1.9 GHz which is ultra-high frequency for mobile phones to use the radio frequency to its maximum.
Advantages
Let us discuss the advantages of CDMA.
Signal coverage:
Mobile phones changed the way we see technology as it is like we have the entire world in our hand through the browsing systems and videos in which we could see the other side of the world. Universe has become so small with the hand-held mobile phones but what use is about this if people in rural areas cannot use mobile phones due to the absence of base stations in their villages. Here, CDMA is of great help as it covers more areas than other technologies. Hence, call dropouts or video interruptions will not happen with the help of CDMA technology. CDMA is preferred more in rural areas due to this capability. Also, this benefits the communication in the navy and military. If GSM is difficult to cover the area, forces prefer CDMA as the area covered is more from the base station. Radar systems prefer CDMA as well. The service providers can reduce costs by maintaining fewer antennas.
Users Capacity:
As explained before, it covers the bandwidth of 800 MHz – 1.9 GHz, and here the main advantage is that it can cover more users in this bandwidth than GSM or any other technology. The spectral capacity is high for CDMA which covers more users per bandwidth in any particular spectral band. Due to this high frequency, CDMA systems have less impedance from other systems thus resulting in less interference. This helps the company to reduce the cost as well because a greater number of users are within a certain limit. CDMA helps in providing higher capacity than GSM and it is five times bigger than GSM. This results in continuous calls and no dropping of calls in between due to service provider issues.
Less Interference:
A number of users in a specific bandwidth is more than any other technology and hence some might think that this will result in interference of bandwidths. But CDMA has codes for each user and due to this, interference is reduced. The calls are not interrupted with others speaking through our calls. This helps in having higher signal and voice clarity while having communication between two people. Entire bandwidth is used seamlessly by CDMA and hence it is highly efficient in using its resources to the maximum. Also, it can add more users than any other technology.
Security:
The signals and the transmitted information is not easily decoded via CDMA. This is an added advantage of military forces to use CDMA. Information passed through phones and radar will be secure as other armies cannot encrypt the same easily. If it is some encoded messages, it is probably impossible for hackers to decode and understand the message. When two persons communicate to each other using CDMA phones, the information is translated to a signal which can be decrypted only with the help of unique code allocated to the same phone. This helps in reducing interference from other signals. While doing online transactions, users fear third-party cookies decrypting the passwords. CDMA phones protect the users from all kind of security threats done through mobile phones. With this encryption in place, it is helpful for service providers to retrieve data if any needs occur or when asked by the authority.
Fixed Recurrence:
There can be network coverage issues for mobile phones for various reasons. CDMA has fixed range where users can use the coverage area to communicate with others. This stability in recurrence range helps users to have stability in their network and network providers to have good usage of the coverage area provided by them. It is possible for CDMA network to work along with GSM or LTE networks which helps users in using their mobile phones in any network anywhere.
Specific Assets:
Using CDMA, it is easy to allocate certain assets to a specific bandwidth where communication can be done easily. Messages transferred will be clear and if it is encrypted with codes, it will be difficult to decrypt the same with any mechanism. This asset allocation helps certain category of users to continue using CDMA technology.
Energy-saving:
The power control system is dynamic for CDMA phones to control other radio interferences and to have good connectivity. But this can result in draining phones battery. Here, CDMA dynamically adjusts the energy to give good connectivity but which manages not to drain battery of mobile phones. The power required is less due to size of phones. Phones are mostly smaller size and the antennas also consume very less power when compared to others.
Flexible Allocation:
As CDMA has good amount resources in terms of energy and spectrum, all the resources are flexibly allocated and used to its maximum amount. The frequencies are easier to manage and this helps the users to allocate the resources based on their need. Due to this, the performance is good and it is analyzed in multiple ways so that resources can be allocated. Synchronization of signals or communication systems is not required for CDMA-based telephones. The spectrum efficiency also should be appreciated.
Nowadays, CDMA usage is very less due to advanced technologies such as GSM and its added benefits. But GSM cannot replace CDMA in certain places. In the beginning, it was CDMA offering all the advantages from which GSM evolved and modified with respect to users varying needs. CDMA phones are used in Asia and US and Asia has more than half of world CDMA users.
Recommended Articles
This is a guide to CDMA Advantages. Here we discuss the Introduction, List of CDMA Advantages in detail. You may also have a look at the following articles to learn more –