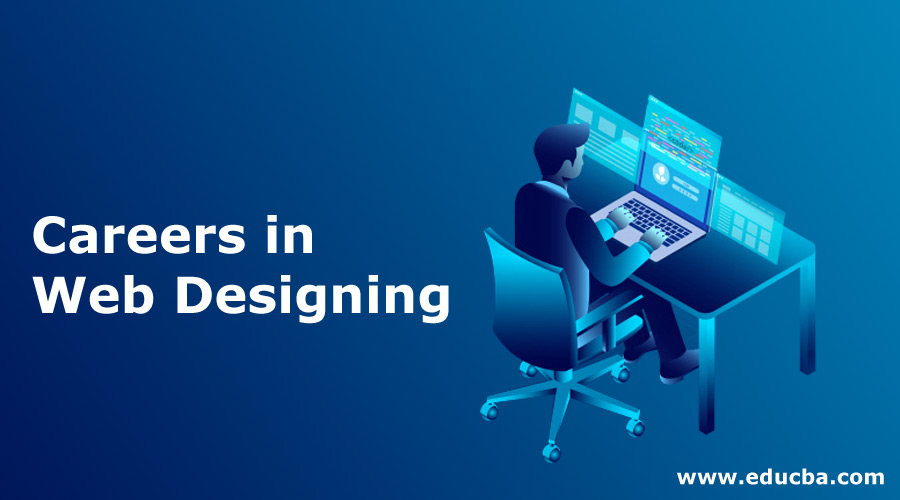 Introduction to Career in Web Designing
In this topic, we are going to learn about Career in Web Designing. Web designing is an exciting field to work on. It is the perfect balance of both technology and art. Some people may not agree with the second term, but web designing is actually an art. User experience and user engagement is a top priority in web designing and it takes an artistic mind to decide what a user might like and what might not like. There are plenty of applications, frameworks and libraries which provides ready to use templates and domain-based designs still a perfect web designer often creates things from scratch which suits his taste and his customers taste and creates a unique experience when a customer or user visits that particular website.
A Career in Web designing has a great scope in India as well as abroad. The designs and formats of all websites and blogs keep on changing in view of the latest development, user needs and conveniences and hence web designers are always in need to create better websites.
Even the existing websites change their layout and restructure everything every once in a while, to better suit the changing time and hence they always need cutting edge, skillful web designers.
Education Required for Career in Web Designing
Anyone can be a web designer with an interest in creating artful work with technology. Usually, people with technical backgrounds are preferred such a degree in engineering or related subject is considered relevant. Most people who apply for these jobs or are already working in this domain have a B.Tech/ M.Tech/ M.S / BCA/ MCA / B.Sc (IT) etc. as their educational qualification. People who study design or arts in college with a minor in technology, software programming or system design also take up such jobs.
Usually, a master's or PhD. is not required, but many people out of their own interest or better career prospects in future choose to do a masters in the subject. Many prefer to do it part-time as well while still working in an organization.
Career Path in Web Designing
As a beginner, candidates start working in a team with senior designers and architect who guide them with basics of design aspects and thus most of people learn some of the vital things while working on an actual project. After spending a couple of years as the junior developer/designer, they are given independent tasks that require quite a bit of thinking, planning and execution skills. In this phase, candidates learn essential aspects of managing most of the functionalities on their own and develop vital skills of independent thinking which is a crucial aspect of being a great designer. Most people work as a user interface developer or user experience developer. Such positions and designation are quite common in the industry, in fact, the standard name of designation is UI and UX only.
After gaining enough expertise comes promotion and then these guys are given even more challenging design jobs which could be for an entire product or solution rather than just one component or feature of it.
Job Positions or Application Areas For Career in Web Designing
A Career in Web designing has huge applications. Persons skilled in these domains not only work for designing websites but also technical products and solutions such as mobile apps etc.
There are plenty of designations whose name varies from company to company or country to country. Mostly the beginners who just join the company are called a junior designer or associate front-end developer. With experience, they are promoted to senior UI developer, UX developer or senior web designer. Once they achieve 5 years or so of experience, they are often given a small team of their own where they manage all aspects of design, organize brainstorming sessions to better understand the usability and robustness of their designed components and thus further enhance their product or solution.
Many people also work as a freelance developer or start their own consulting and start-up business.
Salary
Most recent graduates earn anywhere between 3-6 lakhs in initial years, if they are from premier college or have substantial internships then they are paid more than the average candidates. Such candidates can earn anywhere between 5-8 lakhs in initial years. Salary increases as one get more experience. Usually, if someone has worked on challenging projects or developed a large application, this goes really good on their portfolio and after that when they make a switch they may get up to 50-60% hike on their previous salary.
Top MNC's often pay good salary compared to average solution-based companies and if the candidate has some niche skills then the expected pay can be even higher and may go even up to 15-20 lakhs for a 5-year experienced candidate.
Career Outlook
A Career in Web designing is full of promises. There is always a good demand for the right candidates. Hiring keeps on going all around the year for both junior and senior level jobs. Freshers may find it a little difficult to get a job once they are graduated from college, often if they do get it their salary are quite low as most of the top companies recruit their employees directly from college in India. Other than that, once someone has some years of experience usually 2 years or more, they can easily switch companies and get a salary increase. Because of the nature of this job, it is full of fun and interest for people who have a particular interest in designing stuff.
Conclusion
In this career in web designing article, we understood the career prospect of web designing. An elaborate discussion is provided on all aspects of this domain be it job nature, future scope, salary trends, and organizations. It is expected that the reader will get a nice feel for the domain and understand its intricacies which shall help him make the right decisions whether they should choose for a Career in Web Designing or not.
With the advent of already available templates and dedicated servers and infrastructures, setting up a website is now only a few hours of a job if the user goes for these custom designed themes. But that does not mean that there is no scope for web designers going forward. It is these web designers who design these already available templates in the first place. So, there should not be any worry on prospective web designers if they have this question in mind.
Recommended Articles
This has been a guide to Career in Web Designing. Here we have discussed the education skills required along with job position, salary and career outlook in Web Designing. You may also look at the following article to learn more –