Updated August 10, 2023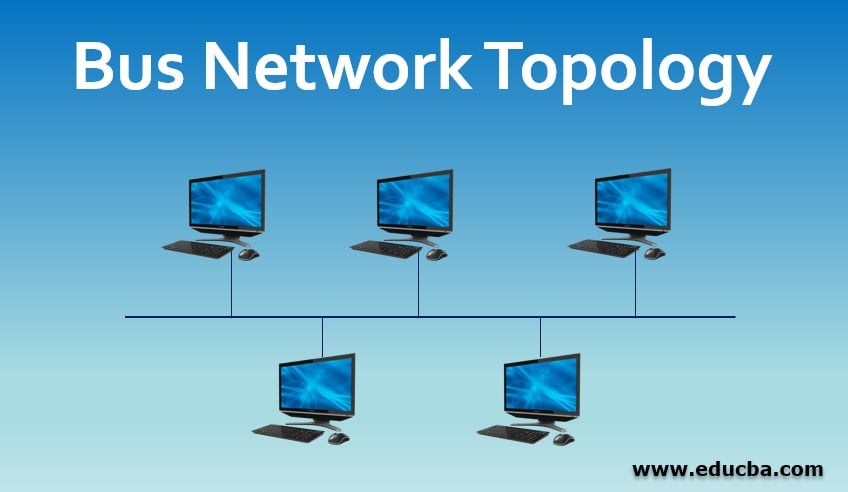 Introduction to Bus Network Topology
Bus Topology does not have any link with passenger vehicle BUS, and the central physical media cable, which acts as the backbone of the network, is called Bus and hence the name. In this Topology, each computing device is connected to Bus cable, and the devices transmit the messages through the bus. Network devices send a communication in both the direction of the cable, and all the nodes listen to the message and the intended recipient node only consumes the message. Each end of the cable is connected to terminators whose function is to prevent the bouncing of messages back to the bus and prevent possible data collusion.
Components of Bus network
Below are the Components of the Bus Network: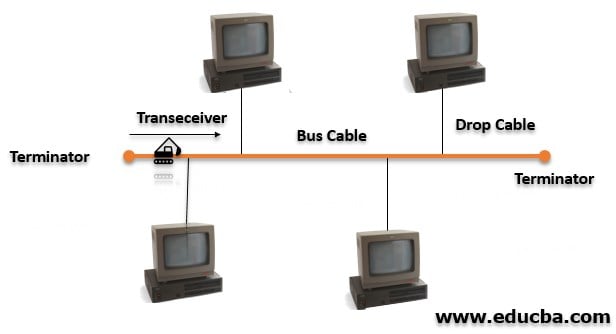 1. Bus Cable
Multiple segments of thick coaxial cables are joined serially together through repeaters to form a linear bus cable, and network devices are connected to this bus. This follows 10Base5 cabling standards. The maximum length of each segment is 500 meters, and 5 such segments can be connected together with 4 repeaters, and 100 nodes can be connected to a segment.
2. Transceiver
Network nodes are not directly connected to the bus cable; instead, they are connected through a special device called Transceiver. These devices are attached to the bus cable thru a cable piercing connector. The minimum distance between these devices is 2.5 meters.
3. Drop Cable
A drop cable connects the network card in the node with Transceiver. RJ-45 Cable or coaxial cable are used as drop cable depending upon the type of Network card of computers in the network. The maximum length of the Drop cable is 50 meters.
4. Terminator
Terminators are the devices connected to both ends of linear Bus cable formed serially from segments. This absorbs the signal reaching the end of the bus cable, thus avoiding reflection of the signal back into the system and prevent collusion with the regular traffic.
There are
Passive terminators consisting of resistors that provide a counter impedance to absorb the signal
Active terminators use complex electronics that absorbs signal using voltage.
Why do we Need Bus Topology?
There are so many use cases for the deployment of Bus Topology:
Basic Ethernet networks adopt Bus
Servers and client machines need to be connected in the same network and exchange data among
Ideal for a small network within a building (spanning across multiple floors) in an office to connect file servers and end-user
Home appliances, printers, scanners, and computers can be connected using this
Organizations that cannot afford Hub or Switches can use this
No power supply is required to keep Bus cable active, and it can run through roof-ceiling and underground floor, thus saving huge office space and aesthetics
This topology can be used in an environment where the number of nodes keeps
Advantages And Disadvantages of Bus Network Topology
Below are the advantages and disadvantages of Bus Network Topology:
Advantages
Cheaper: When compared to Star or Ring, or Mesh, this deployment is cheaper in cost as it consumes less wire length. As the connections are restricted to smaller geography, and the number of external connections are very few, costly network equipment like Hub or Switch is not needed to wire this network. Power consumption is nil as the central cable doesn't require any Terminators in most of the cases are passive (resistors & capacitors), and there is no power consumption at this end.
Easy to Setup: It does not require a great effort to install this network. With the help of a thick Ethernet cable, few connectors, and drop cables, one can set up this in the minimum possible time.
Scalable: It is simple to add a new network device, Computer, Printer, Scanner into this network, provided they have a proper network interface card. These devices can be added seamlessly and activated immediately.
Linear Nature: Linear nature allows the network to function normally should any of the node fails and the performance is not impacted, and uninterrupted service is ensured across all the other nodes.
Extendable: This network can be easily extended to adjoining physical locations of the current network by adding one more segment of Bus cable through a repeater device. More nodes can easily be accommodated by such an extension of Bus cable.
Multiple Devices: Any Device other than computers can be added to this network easily, and the operation of these devices is made easier in this network, and the productivity of the team is enhanced.
Disadvantages
Limitation in Size: The size of a bus cable cannot exceed five segments of cable, with each segment measuring up to 500 meters, and there is a cap on the no of nodes that can be connected to a segment.
Security: All the nodes will have access to all the data transacted in the network; hence information security is weak in this network, and it is difficult to install a security layer and make it operational.
Vulnerability: Entire network will come to a standstill if there is an issue with the central bus cable, and the network will be down till the issues in the cable is rectified.
Data Collusion: More the nodes, the more the probability of a collision exists in this network. Quality of the data is a concern due to data loss during the collision, and it limits the size of the network.
Too much simplicity: Nodes in this network are not that intelligent to smartly interact with other nodes and avoid collision during data communication. Hence it is not suitable for a large network.
Conclusion
Bus Topology provides a smart networking solution for small geography, and it compliments other types of networks in forming a hybrid network and offers a large network landscape.
Recommended Article
This is a guide to the Bus Network Topology. Here we discuss Introduction to Bus Network Topology and its components along with advantages, disadvantages. You can also go through our suggested articles to learn more –