Updated April 6, 2023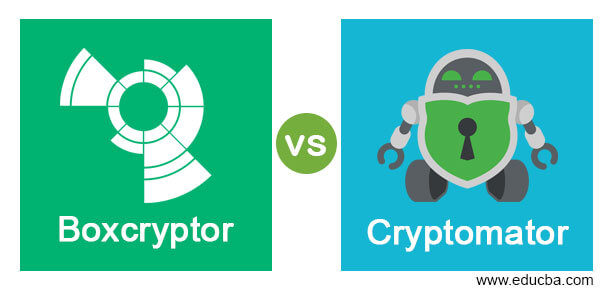 Introduction to Boxcryptor vs Cryptomator
The cloud application built in Germany which provides an additional layer of security to all the files stored in any kind of storage where all the files are encrypted in the local devices for safe storage of files is called Boxcryptor. This encryption happens to all the files stored in Google Drive or Box or Dropbox. The German application that creates vaults for all the files stored in Dropbox so that any external user cannot figure out what is stored in the cloud storage is called Cryptomator. The files are encrypted and stored in vaults.
Head to Head Comparison Between Boxcryptor vs Cryptomator (Infographics)
Below are the top 7 differences between Boxcryptor vs Cryptomator:

| | |
| --- | --- |
| Boxcryptor | Cryptomator |
| Boxcryptor supports most of the cloud platforms such as Google Drive, DropBox, OneDrive, and any storage provided by android and iOS devices. This makes Boxcryptor more satisfying to users. | A number of applications supported by Cryptomator is less. The applications are Google drive, OneDrive, DropBox, and some web storages based on the application. |
| The files are encrypted and then stored in key vaults. Here files are encrypted one after the other and hence if there is any change in single files, users can change the content easily without disturbing other files. | The data to be encrypted is first stored in the storage vaults and then encrypted in Cryptomator. Whenever users want to use that storage, the specific path can be noted down and used to check the files. If a single file has to be changed, the entire storage vault must be changed. |
| Others cannot easily access the files by using our account credentials. We can send the link of files to other users via email where they should install Boxcryptor or use their existing account and access the files. | Others can access our Cryptomator account and look into the files. This will happen only if we share the password with others. Files can be shared in this manner. |
| Two-factor authentication is provided in Boxcryptor but this is not necessary to use. The authentication is with any authenticator applications that provide OTP. | We do not have two-factor authentication in Cryptomator and this is a security issue. Others can access our account if we wish so and without TOTP, there is a chance of lose of files. |
| The application is not always free for use. There are some devices where Boxcryptor is free and it provides a subscription plan as more users use the same application to share the files. | The application is free for use and can be downloaded on any device. This helps any user to encrypt their files with passwords and protect them from others with no extra charge. |
| The code of Boxcryptor cannot be seen by anyone as it is stored inside the key vault. People who wish to see their own Boxcryptor codes can search inside key vaults but it is not available for the public. | Cryptomator is written in Java language and can be accessed by anyone who wishes to see the code. This makes Cryptomator more user-friendly as others can learn the encryption and do it for themselves. |
| It is important to create an account for Boxcryptor as files are shared through emails and an account is necessary to access the same. The keys are stored in a central server from where other users can retrieve them. | It is not necessary to create a user account where users can access Cryptomator via browser. |
Key Differences of Boxcryptor vs Cryptomator
In Boxcryptor, the files are encrypted in both AES and RSA. RSA is an asymmetric algorithm used by modern computers to encrypt and decrypt files where one key can be shared with anyone and another key will be safe with the users. RSA encryption is used for files that do not need much encryption while AES is used for most private files. The files are encrypted in Cryptomator with AES and 256-bit key length which is the maximum bit size of files. Advanced Encryption Standard is used for all government and other documents to protect it from external sources and this is considered as one of the strongest standards for encryption.
The pricing mechanism for both applications differs. Boxcryptor is totally free of charge if only one cloud storage is used on two devices. If the number of devices is more or if more cloud storage is used, then Boxcryptor must be subscribed. There are some discounts available for students in Boxcryptor. Cryptomator is offered for free in laptops but it must be paid for for mobile versions. Users can donate to Cryptomator via desktop version but it is not necessary. An amount has to be paid for the mobile version and it is not a donation.
Boxcryptor mobile application provides both fingerprint and face recognition unlock mechanisms while Cryptomator has only fingerprint recognition. Photos can be taken directly via Boxcryptor mobile app and uploaded in cloud storage whereas this feature is not available in Cryptomator. Also, offline files, favorites, and thump nails, or any kind of files can be uploaded in Boxcryptor but this feature is not available in Cryptomator. The files have to be in any cloud storage before storing them in Cryptomator.
Boxcryptor can be used by companies or individuals where cloud storage or servers can be connected and used. If it is for corporates, the user interface provides login with a single admin making the users to connect with the application easily. Any group features or Active Directory support can be done easily in the admin portal and files can be stored and retrieved. While in Cryptomator, the servers can be connected with the application but the cloud storage cannot be connected directly. Corporate companies find it difficult to collaborate with Cryptomator for this reason as creating a cloud backup after connecting the servers will take time.
It is important to know the differences between both before using the same. Individual users can go with Cryptomator if the file size is less and it can be shared with others easily. But for companies, it is better to go with Boxcryptor for its easy use. But it is important to have one encryption or other in place.
Recommended Articles
This is a guide to Boxcryptor vs Cryptomator. Here we discuss Boxcryptor vs Cryptomator key differences with infographics and comparison table, respectively. You may also have a look at the following articles to learn more –