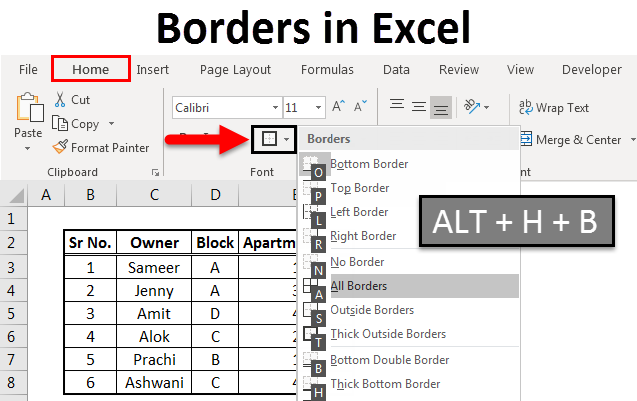 Excel Borders (Table of Contents)
Borders in Excel
Borders are the boxes formed by lines in the cell in Excel. By keeping border we can frame any data and provide them a proper define limit. To distinguish specific values, outline summarized values or separate data in ranges of cells, you can add a border around cells.
How to add Borders in Excel?
Adding borders in Excel is very easy and useful to outline or separate specific data or highlight some values in a worksheet. Normally, for selected cells in Excel, we can easily add all, top, bottom, left or right borders. Option for Borders is available in Home menu, under font section with the icon of Borders. We can also use shortcuts to apply borders in Excel.
Let's understand how to add Borders in Excel.
Borders in Excel – Example #1
For accessing Borders, go to Home and select the option as shown in below screenshot under Font section.

Once we click on the option of Borders shown above, we will have a list of all kind of borders provided by Microsoft in its drop-down option as shown below.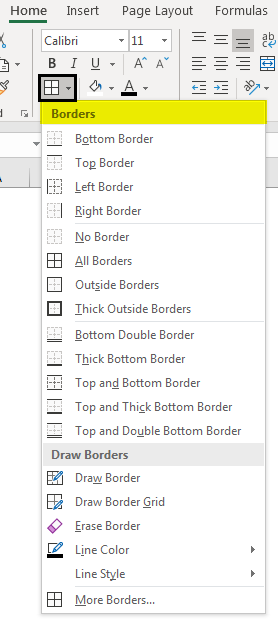 Here we have categorized Borders in 4 sections. This would be easy to understand because all sections are different from each other.
The first section is a basic section, which has only Bottom, Top, Left and Right Borders. By this, we can only create one side border only for one cell or multiple cells.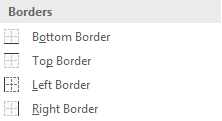 The second section is full border section, which has No Border, All Borders, Outside Borders, and Thick Box Borders. By this, we can create a full border which can cover a cell and a table as well. We can also remove the border as well from the selected cell or table by clicking on No Border.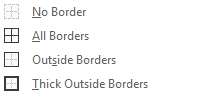 The third section is combinational of bottom border, which has Bottom Double Border, Thick Bottom Border, Top and Bottom Border, Top and Thick Bottom Border and Top and Double Bottom Border.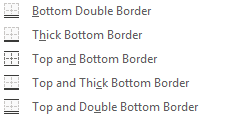 These type of double borders are majorly used in underlining the headlines or important texts.
The Fourth section has a customized border section, where we can draw or create border as per our need or we can make changes in existing border type as well. We can change the color, thickness of the border as well in this section of Borders.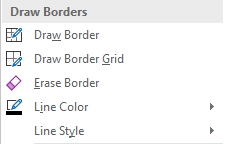 Once we click on More Borders Option at the bottom, we will see a new dialog box named with Format Cells, which is a more advanced option for creating Borders. It is shown below.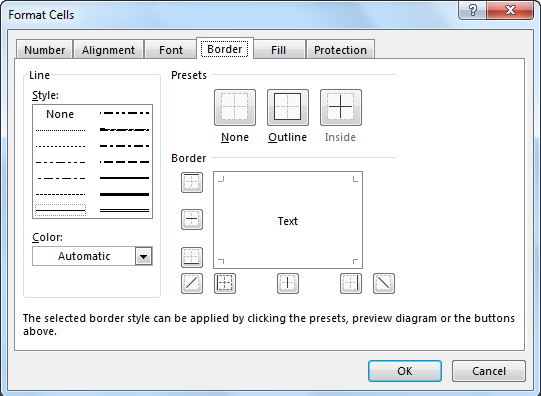 Borders in Excel – Example #2
We have seen the basic function and use for all kind of borders and how to create those as well in the previous example. Now we will see an example where we will choose and implement different Borders and see how those Borders in any table or data can be framed.
We have a data table, which has details of Owner, Block, and Apartment No. Now we will frame the Borders and see how the data would look like.
As row 2, is the headline, so we will prefer a double bottom line, which can be selected from the third section.
And all cell will be covered with a box of All Borders which can be selected from the second section.
And if we select Thick Border from the second section, then the whole table will be bound to a perfect box and selected data will automatically get highlighted. Once we are done with all the mentioned border type, our table would like this, as shown below.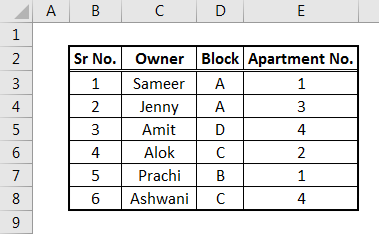 As we can see, the complete data table is getting highlighted and ready to be presented in any form.
Borders in Excel – Example #3
There is another way to frame borders in excel. This is one of the shortcuts of accessing the functions available in excel. For accessing borders the shortcut way first, select the data which we want to frame with borders and then press ALT + H + B simultaneously to enable the border menu in Excel.

ALT + H will enable the Home menu, B will enable the borders.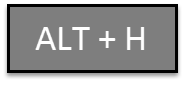 Once we do that, we will get a list for all kind of borders available in excel. And this list itself will have the specific keys mentioned to set for any border as shown and circled in below screenshot.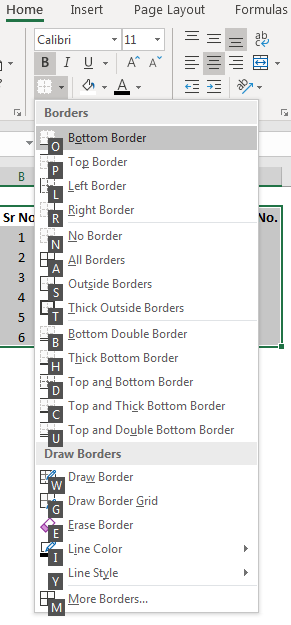 From here we can navigate to our required Border type by pressing the Key highlighted in the above screenshot or else we can use direction keys to scroll up and down to get desired border frame. Let's use All Borders for this case by pressing ALT+H+B+A simultaneously after selecting the data table. Once we do that, we will see the selected data is now framed with all borders. And each cell will be now having its own border in black lines as shown.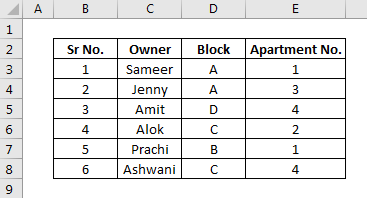 Let's frame one more border of another type with the same process. Select the data first and then press ALT+H+B+T Keys simultaneously. We will see that data is framed with Thick Borders as shown in below screenshot.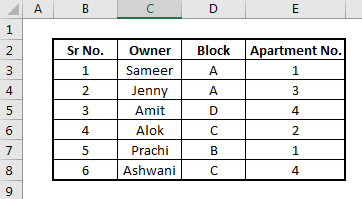 Pros of Print Borders in Excel
Creating the border around the desired data table makes data presentable to anyone.
Border frame in any data set is quite useful when we need to print the data or paste the data in any other file. By this we make the data look perfectly covered.
Things to Remember
Borders can be used with shortcut key Alt + H + B, which will directly take us to the Border option.
Giving a border in any data table is very important. We must provide the border after every work, so that data set can be bound.
Always make proper alignment so that once we frame the data with border and use it in different sources the column width will be automatically set.
Recommended Articles
This has been a guide to Borders in Excel. Here we discussed how to add Borders in Excel and use shortcuts for borders in Excel along with practical examples and downloadable excel template. You can also go through our other suggested articles –