Updated June 15, 2023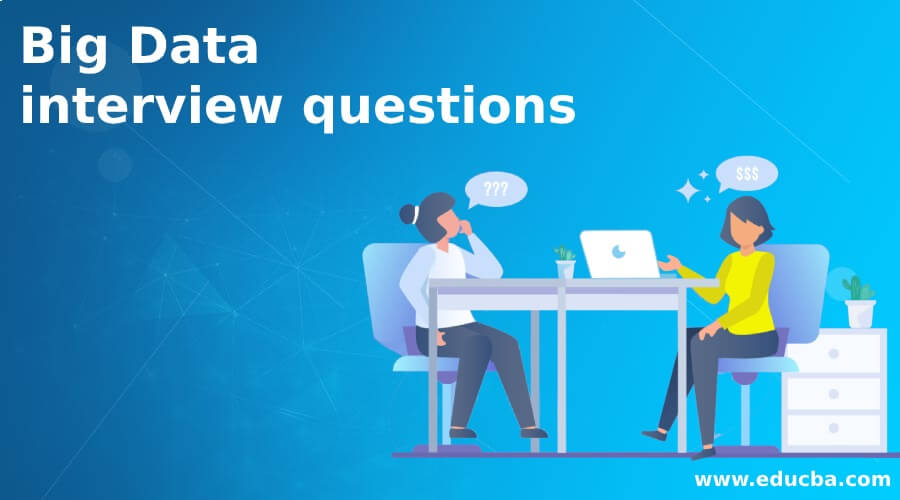 Introduction to Big Data Interview Questions and Answers
All kinds of data generated on the internet are termed Big Data; hundreds of GB of data are generated over the internet only by online activities. Online activity includes web activity, blogs, text, video/audio files, images, email, and social network activity. Big data needs specialized systems and software tools to process all unstructured data. Data that can be generated from these activities are termed Big Data. Big Data is extensive and distributed over the internet, and thus, significant data processing needs distributed systems and tools to extract information from them.
Below are some important 2023 Big Data interview questions and answers:
If you are looking for a job related to Big Data, you must prepare for the 2023 Big Data interview questions. Though every interview is different and the job scope is also different, we can help you with the top interview questions and answers, which will help you take the leap and get https://www.educba.com/what-is-nosql/ your success in your Big Data interview.
These questions are divided into two parts:
Part 1 – Big Data Interview Questions (Basic)
This first part covers basic interview questions and answers:
Q1. What is the meaning of big data, and how is it different?
Answer:
Big data is the term used to represent all kinds of data generated on the internet. Hundreds of GB of data on the internet are generated only by online activity. Online activity implies web activity, blogs, text, video/audio files, images, email, social network activity, etc. Big data can be referred to as data created from all these activities. Data generated online is mostly in unstructured form. Big data will also include transaction data in the database, system log files, and data generated from smart devices such as sensors, IoT, RFID tags, and so on, in addition to online activities.
Big data needs specialized systems and software tools to process all unstructured data. In fact, according to some industry estimates, almost 85% of data generated on the internet is unstructured. Relational databases typically have a structured format, and we centralize the database. Hence, we can quickly process RDBMS using a query language like SQL. On the other hand, big data is very large and distributed across the internet; hence, processing big data will need distributed systems and tools to extract information from them. Big data needs specialized tools such as Hadoop, Hive, or others, along with high-performance hardware and networks to process them.
Q2. What are the characteristics of big data?
Answer:
Big data has three main characteristics: Volume, Variety, and Velocity.
Volume characteristic refers to the size of data. We estimate that people generate over 3 million GB of data daily. Processing this data volume is impossible in a normal personal computer or a client-server network in an office environment with limited computing bandwidth and storage capacities. However, cloud services provide solutions to handle big data volumes and process them efficiently using distributed computing architectures. Variety characteristic refers to the format of big data – structured or unstructured. Traditional RDBMS fits into the structured format.
An example of an unstructured data format is a video file format, image file, plain text format, web document, or standard MS Word document; all have unique formats, and so on. Also to note, RDBMS cannot handle unstructured data formats. Furthermore, we must group and consolidate all this unstructured data, which creates a need for specialized tools and systems. In addition, we add data each day or each minute, and the data continues to grow continuously. Hence big data is more synonymous with variety. The velocity characteristic refers to the speed at which we create data and the efficiency required to process all the data.
For example, over 1.6 billion users access Facebook in a month. Likewise, there are other social network sites, YouTube, Google services, etc. We must process such data streams using real-time queries and store them without loss. Thus, the velocity characteristic is important in big data processing.
In addition, other characteristics include veracity and value. Veracity determines the dependability and reliability of data, while value is the value organizations derive from processing big data.
Q3. Why is big data important for organizations?
Answer:
This is the basic Big Data interview question asked in an interview. Big data is important because by processing big data, organizations can obtain insight information related to:
Cost reduction.
Improvements in products or services.
To understand customer behavior and markets.
Effective decision-making.
To become more competitive.
Q4. Name some tools or systems used in the big data processing.
Answer:
Big data processing and analysis can be done using,
Hadoop
Hive
Pig
Mahout
Flume
Part 2 – Big Data Interview Questions (Advanced)
Let us now have a look at the advanced Interview Questions.
Q5. How can big data support organizations?
Answer:
Big data has the potential to support organizations in many ways. Information extracted from big data can be used in:
Better coordination with customers and stakeholders and resolving problems.
Improve reporting and analysis for product or service improvements.
Customize products and services to selected markets.
Ensure better information sharing.
Support in management decisions.
Identify new opportunities, product ideas, and new markets.
Gather data from multiple sources and archive them for future reference.
Maintain databases and systems.
Determine performance metrics.
Understand interdependencies between business functions.
Evaluate organizational performance.
Q6. Explain how big data can be used to increase business value.
Answer:
While understanding the need for analyzing big data, such analysis will help businesses to identify their position in markets and help businesses to differentiate themselves from their competitors. For example, from the results of big data analysis, organizations can understand the need for customized products or potential markets for increasing revenue and value. Analyzing big data will involve grouping data from various sources to understand trends and information related to business. When organizations gather data from the right sources and analyze it in a planned manner, they can quickly generate business value and increase revenue by almost 5% to 20%. Some examples of such organizations are Amazon, Linkedin, Walmart, and many others.
Q7. What is big data solution implementation?
Answer:
We implement big data solutions at a small scale first, based on a concept appropriate for the business. The business solution is scaled further from the prototype solution, which is the result. In a Big Data interview, interviewers commonly ask these popular Big Data interview questions.
Some of the best practices followed in the industry include,
To have clear project objectives and to collaborate wherever necessary.
Gathering data from the right sources.
We must ensure we do not skew the results because skewed results can lead to wrong conclusions.
To prepare for innovation, we should consider hybrid approaches in processing that include data from structured and unstructured types, as well as internal and external data sources.
Understand the impact of big data on existing information flows in the organization.
Q8. What are the steps involved in big data solutions?
Answer:
Big data solutions follow three standard steps in their implementation. They are:
Data ingestion: This step will define extracting and consolidating data from multiple sources. For example, data sources include social network feeds, CRM, RDBMS, etc. We store the data extracted from different sources in a Hadoop-distributed file system (HDFS).
Data storage: This is the second step; the extracted data is stored. This storage can be in HDFS or HBase (NoSQL database).
Process the data: This is the last step. We must process the data stored. We use tools like Spark, Pig, MapReduce, and others to process the data.
Recommended Articles
This has been a comprehensive guide to the Big Data interview questions and answers so that the candidate can easily crack down on these questions. You may also look at the following articles to learn more –