Updated March 17, 2023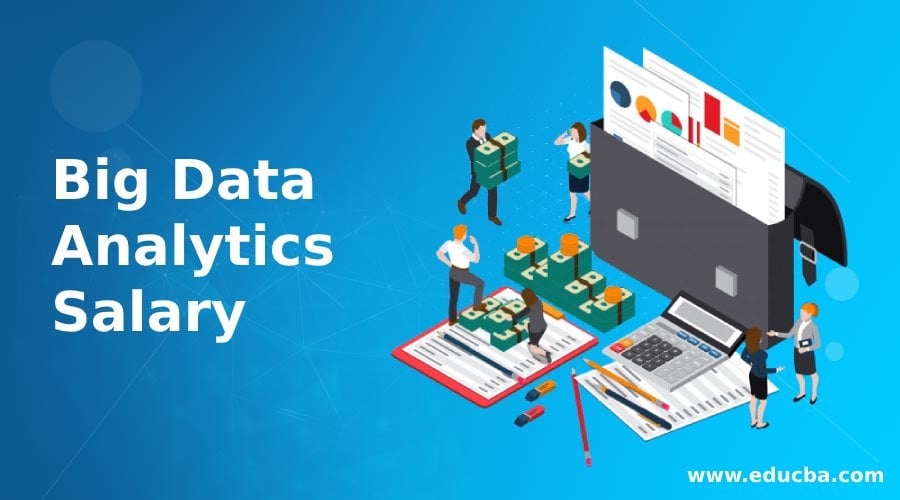 What is Big Data Analytics?
Big data analytics is a sub-field of computer science and software engineering that deals with storing, handling and analysis of big data. Big data is defined as such data which has high volume, high velocity, high variety, and high veracity. Typically, such data is of size 1TB or above, they are generated at very high speed (imagine transactional systems of Walmart or Amazon), they consist of a rich variety of data types such as texts, images, videos, log files, web scraps etc. Big data is a relatively new field and came into tremendous limelight in the last few years. A lot of new development is going on throughout the world and hence the demand for such professional is sought after everywhere. As coming to the Big Data Analytics Salary, The salary and compensation trends of big data professionals are better than other software engineering profile almost in all market across regions and countries and are constantly improving, thus probably this is the best time to invest in learning and switching into a big data career.
Eligibility for Big Data Analytics
There are many ways to get into big data analytics field. Almost all positions require at least a degree in computer science engineering or a related field. Knowledge of a least one programming language is beneficial -Java is particularly helpful. Understanding object-oriented programming, database management system and analytical and logical reasoning skill are also helpful.
One can start directly as a fresher and start working in the big data analytics field. In this case, usually, a trainee starts as a Java developer or Hadoop developer and handles data injection, storage, and processing. Knowledge of scale is a great aid.
The experienced software engineer can switch to a big data analytics field by undergoing a short term training course, workshops, and online certifications. Most of the other field professionals switch to the big data field because of the big data analytics salary. It also ensures necessary conceptual and domain understanding is achieved and already available work experience augment in successfully migrating into big data.
Those who are from a different domain or different engineering field and wants to migrate into big data with no previous knowledge of programming should follow the third route. Such professionals need a comprehensive understanding of the field and a good amount of hands-on coding. They should attain long term big data courses, get themselves acquainted with Java or any other programming language and then apply for interviews.
Career Prospects of Big Data Analytics
There are several roles and responsibilities that a big data professional handle. Job positions are available from junior developers to senior vice presidents and directors of engineering.
Some of the sought-after designations and profiles of big data professionals are following: –
Big data engineers
Hadoop developers
Big data analysts
Hadoop Administrator
Hadoop Architect
Hadoop application developers
Data Scientists
Business intelligence architect
1. Hadoop Developer's roles and responsibilities
Defining job flows in the Hadoop system
Management and Review of Hadoop Log Files
Using zookeeper for Cluster Coordination services
Through scheduler, managing Hadoop jobs
Writing and managing MapReduce programs that run on Hadoop cluster
2. Hadoop administrator's roles and responsibilities
Maintenance and support of HDFS
Planning and screening of Hadoop clusters
Connectivity and security issues tracking and maintenance
Setting up and giving privileges to new Hadoop users
3. Data Engineer / Data Architect roles and responsibilities
Data Engineers are responsible for designing, building and managing and troubleshooting the big data applications and infrastructure. data engineers help data scientists to perform the data analysis and other similar jobs.
The required skillsets for Data Engineers and Hadoop developers same such Pig programming, Hadoop, MapReduce framework, Hive scripting, MySQL database handling, Cassandra, MongoDB, NoSQL type data handling, SQL, Data streaming like spark, and programming. Knowledge of ETL tools, data APIs and data modeling is also needed.
Data infrastructure engineers develop, maintain, construct and test highly scalable data management systems that handle huge data sources in near real-time.
4. Compensation across the globe
The U.S. average big data analytics salary for the big data engineers is about $117,000.  The big data analytics salary varies in a range of $89,000 and $242,000. The rate is even higher for data scientists with five years or more of experience.
Some examples are here.
The ride-sharing app Lyft pays the highest base big data analytics salary for big data engineers and data scientists at an average of about $167,000.
Facebook and Amazon pay at the rate of $159,000 and $151,000, respectively per annum.
Apple pays about $150,000 per annum while Airbnb pays out about $117,000.
Twitter and LinkedIn pay out about $135,000 and $139,000 per annum respectively, to their data scientists.
Microsoft and IBM data scientists are given about $119,000 and $111,000 per annum respectively.
Source ((https://blockgram.com/2018-big-data-and-data-science-salary-guide/)
Above source provides big data analytics salary structure of big data professionals based on role and is provided in the table below: –
| | |
| --- | --- |
| Job Type | Salary (Annual) |
| Big Data Engineers | $147,000 |
| Machine Learning experts | $112,000 |
| Business Analysts | $89,000 |
| Information Managers | $97,000 |
| Business Intelligence experts | $102,000 |
| | |
Charts and Graphs of Big Data Analytics Salary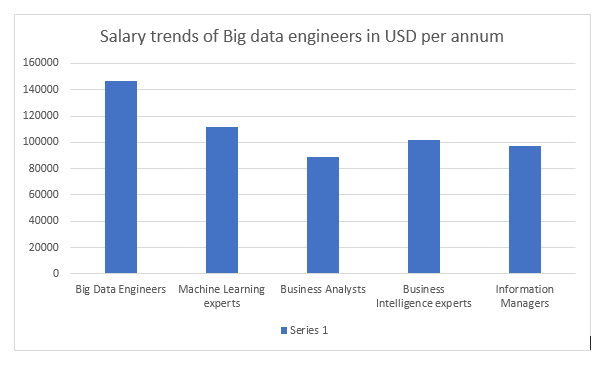 (source: – The table provided above)
Conclusion
Big Data Analytics seems to be the torchbearer of IT. Big Data Analytics has become very crucial because it aids in improving business processes, augment decision makings and provide the biggest edge over the competitors who are yet to realize the potential of it. Those professionals who are very well skilled in Big Data Analytics opportunities are far and wide. Such professionals who are experienced in big data analytics are in high demand. All organizations are looking for ways to exploit and gain benefits from the power of Big Data. The number of job postings in this field on Indeed or Monster or other job platform has increased substantially over the last year or two.
This huge wave or surge is due to so many of the organizations implementing Analytics and thereby looking for big data engineers and data scientists. Many studies have found that the general interest of implementing Big Data Analytics across industries is growing particularly among U.S. businesses. Most of the organizations are either implementing it or actively planning to add its capability in the next two to three years. A professional with the Analytical and bi data skills can exploit the huge opportunities of Big Data and become an indispensable asset to an organization boosting both, the business and their career.
Recommended Articles
This has been a guide to Big Data Analytics Salary. Here we have covered the basic concept, eligibility, salary structure and why big data analytics is a good career move. You may also look at the following articles to learn more: