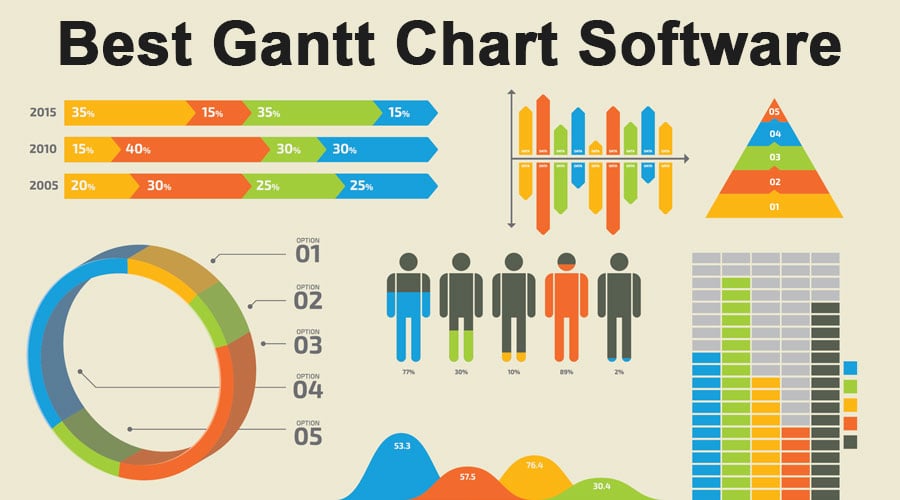 Overview of Best Gantt Chart Software
The following article provides an outline for Best Gantt Chart Software. Have you ever heard about the Gantt chart? If not, don't worry, we are going to see what it is exactly. If we see the name closely, "Gantt chart." Yes, it is one kind of chart. From school time we are aware of different kinds of charts. Now you are comfortable with the term and got most of the idea.
Now, Gantt Charts are used in project management. Gantt chart gives you the exact picture of project progress. Gantt charts are the key area for the project managers to handle projects. Gantt chart allows you to break a program into a series of smaller charts. The project manager describes this task to the people. There is a bunch of software out to help you. Some of them we are going to see today. All this software depends on the need for software. Whenever we need to check the best features, availability, pricing, and suitability of the software.
List of Gantt Chart Software
Let's see the following list of software:
1. Easy Projects: This is a desktop-based project management software. As the name indicates, a simple project provides an easy way to handle projects. If you want to overcome on excel based boring work, then the easy project is for you. With this application, you can communicate easily. You can speed up your work. It behaves in sync, so all the work is done can be get monitored in one place.
Key Features:
The easy project helps to visualize project tasks on a timeline with ease.
It helps in planning the tasks with the drag & drop method.
It easily maintains Relations between tasks and sub-tasks easily.
To create New tasks, milestone creation is easy with Gantt Chart.
All the Baselines are getting created with the Gantt Chart.
2. Workzone: It is very fast to see current data with Gantt charts. Fast to see the status of your projects with Gantt charts. It's easy to get back to a list view whenever necessary. It also helps to track the work and responsibilities of each one of us. Its dashboard gives us an overall description of what activities are performed by which person.
3. Ganttpro: This project management application is based on the cloud. These are giving 14 days of free trial to use and experience the workflow. It helps to manage your work with Gantt charts. This software is very interactive and helps to manage multiple projects at the same time.
4. Team Gantt: This software is also a cloud-based platform for handling projects easily with the Gantt chart. You can do more collaborative work easily with this software. It has a task scheduling option. It is easy to manage workloads. It also works on reports.
5. Celoxis: This software is one step ahead of other software. This simplifies the way of dealing with the issues. This software is cost-effective and all in one. Over 2.4M projects managed by this software.
6. Project Insight: This software is suitable for all team sizes. This software is a web-based enterprise-level project management software. All the steps are very easy. And one can get mastered it by just visiting its site. They have provided a very easy-to-get fast tutorial based on the slide show.
7. ProjectLibre: This is one of the open-source project management software. ProjectLibre is an Enterprise Cloud that opens existing MS Project files and gives you the ability to manage anytime/anyplace in your browser only.
8. Rational Plan: This project management software follows the PMBOK guidelines.
It's easy to manage our projects and shared resources
This helps to get resources and finances under the control of your projects.
This helps to bring the project's critical issues to your attention.
The track project's development in terms of completion, time, and costs.
9. Wrike: With this software, you can manage your tasks according to the project requirement. This gives you a Tailor-made approach to all your issues. Its interactive chat helps you to get exact guidance as per your requirement.
10. TeamHeadquarters: Team Headquarters Service Desk and Project Management fully integrated and easy to use, which helps desk with a responsive UX.
11. Smartsheet: This changes the fundamental way of doing business. This Smartsheet breaks in chunks.
12. Hansoft: Hansoft is an enterprise agile planning tool. This provides a single platform for decision-making at the project, program, and portfolio levels.
13. Merlin Project 4: Merlin Project is a project management solution natively written for macOS and iOS.
14. Tom's Planner: Tom's Planner is a web-based project planning software that offers truly easy-to-use Gantt chart software.
15. SmartDraw: Only SmartDraw lets you switch between two different views of your project Gantt chart and mind map.
16. OmniPlan: It is very helpful in all ways of project management. This software is available in more than one language like Deutsch, English, Español, Français, Nederlands, Italiano, Brasil, etc. it truly reduces the pain behind project management.
17. Project in a box: It is Your Project and Portfolio Support Office, provider. There are no editions that exist for this software. It helps in managing tasks. This also provides Saas solutions, on-premises solutions, and personal solutions. you can go to its official site and try it for free.
18. Todo.vu: A lot of countries tried to organize their work easily with Kitovu. What is your achievement? Your effort, Your teammate's efforts, etc., all these questions are very difficult to answer if we don't have our work organized properly. In the end, it is all about time. Todo.vu helps to do it better even for non-techy people also
Conclusion
This is not the case that how big the project is. It is about how even the smallest project gets managed efficiently. There is n number of Gantt chart software available in the market. If you are looking for a job profile in management, then this software knowledge can help you out.
Recommended Articles
This has been a guide to Best Gantt Chart Software. Here we discuss what is gantt charts? and the list of gantt chart software with proper explanation. You can also go through our other suggested articles to learn more –