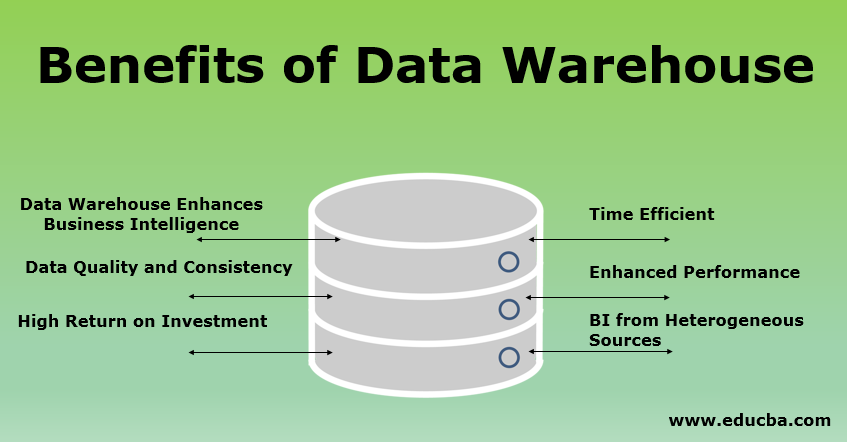 Introduction to Benefits of Data Warehouse
Application of Data Warehousing system in any organization has immense advantages, as it is the main source of input material for Business Intelligence. The most common reasons for the organizations to pick the Data Warehouse are 'prompt access to the data', 'higher data quality with reliability and low or zero redundancy', 'enables superior business decision-making', 'lower time consumption', 'stores or archives historic data for later uses', 'progressive performance', 'one-stop shop for Integrated data from multiple sources', 'improved productivity due to instantaneous decision-making', etc.
Benefits of Data Warehouse to the Corporate World
Benefits of Data Warehouse provides to the Corporate World are as follows:
1. Data Warehouse Enhances Business Intelligence
Using different data sources for a data warehouse helps in collecting more relevant data. It helps in decreasing the error frequency by continuously matching the new data with the previously collected data. After certain formatting and processes, the data is so consistent that it is ready to be analyzed. The quality of data helps the decision-maker base their decisions on hard facts. Now the authorities don't rely upon the incomplete or poor quality of data. According to Exforsys, the increase in the business intelligence that we get through data warehousing can directly be applied to market segmentation, inventory management, and sales.
2. Data Quality and Consistency
An integrated database of consistent, relevant and historical data helps the analysts in increasing their work efficiency and providing more accurate business insights. Historical data of the organization helps in studying and analyzing the different time periods and trends to make better predictions for the future. A Data Warehouse also helps in consistently accumulating and integrating a high amount of data which eventually reduces the stress on the production system. It helps in offloading data extracts and reporting from the production server and dependency on SSIS packages can also be removed as now the data can directly be accessed through the Data warehouse. Consistent information from various activities or departments of a certain organization helps in understanding the trends and also helps in recognizing the mistakes made and correcting them before feeling the dent.
3. High Return on Investment
In terms of revenue generation, data warehousing is expensive but produces quality results with time. Data warehousing in its early phase demands a fortune but with time it can help the organization grow exponentially.
According to the International Data Corporation, an average of three years of return on investment in data warehousing reached 401% in 1996.
4. Time Efficient
Data warehousing enables the decision-makers to quickly access critical data from different sources all in one place. Efficient decisions can be made in a quick interval of time which means now the authorities don't need to waste time collecting data from multiple sources. With the establishment of a Data Warehouse, now the business executives need no support from IT to bring up the data rather they can easily execute queries for the data required.
5. Enhanced Performance
With the increase in the speed of data retrieval and data analysis, we are able to store a large amount of data and can also query rapidly. Data warehouses are specially made for collecting and analyzing the data rather than only creating and modifying data that the operating system does. Implementing a data warehouse and simplified data models eases report creation and it also helps in creating custom reports for specific needs. If used with advanced SQL functionalities, it helps in optimizing the database performance.
6. BI from Heterogeneous Sources
There are many subsystems of an organization which is different physically and based on different platforms. In Business Intelligence, there is a need for merging the data from heterogeneous sources. In a Data warehouse, integration of these data is done and made accessible at a single place. Accumulating all of the data of an organization into a single container decreases data duplication which makes data warehouse a single view of a story rather than multiple stories with multiple meanings.
After getting to know how a Data Warehouse benefits an organization. Let us go through a case study for a real-world problem and its solutions in a data warehouse.
An Electric Holding Company in the US
Business Problem – Energy Trading Systems for various submarkets were not integrated which resulted in detailed and fragmented reporting features. The business needed a combined, multi-leveled trading transaction data with a full array of risk measures for Risk and Market to Market Analysis.
Solution Provided – A web-based risk reporting portal was implemented. It was based on customer requirements including reports with a hierarchical security model. Different roles within the organization were allowed to see the different data aggregations. The system provided a single set of reports which helped in providing a different view based on the user's job function and line of business focus. At the highest level, the corporation could see their entire energy portfolio and can evaluate the various energy trading instruments with hedging strategies.
This case study helps us in acknowledging how a data warehouse simplifies the business model of an organization and helps in gaining more business growth through more efficient insights from the organization's data over time.
Conclusion
In this article, we came to know about Data Warehouse and its benefits in the current market scenario and how a Data Warehouse helped an Electric Holding Company simplify its Business problem and helped decision-makers gain some beneficial insights.
Recommended Articles
This is a guide to the Benefits of Data Warehouse. Here we discuss the introduction and the benefits of Data Warehouse of the Corporate World. You can also go through our other suggested articles to learn more–