Updated May 26, 2023
Germany
Germany is a diverse and vibrant country with a unique blend of old-world charm and modernity, along with the most beautiful Beaches in Germany. From the towering peaks of the Bavarian Alps to the major rivers that crisscross the country, Germany has many attractions ranging from historical sites with remarkable architecture to some famous art museums.
It is not the first tropical destination that springs to mind when planning a beach vacation. There are several beautiful beaches dotted throughout Germany. A rejuvenating vacation at this resort will surely be a memorable experience with its spectacular views, brilliant sunshine, and endless sandy beaches.
Beaches in Germany
Here we have assembled a list of a few famous beaches in Germany you should visit on your voyage:
#1 Bavarian Town of Rosenheim's Chiemsee
This cobalt-blue lagoon of Chiemsee and its encircling beaches are buried directly within Bavaria. The lake, sometimes referred to as "the Bavarian Sea," is surrounded by mighty mountains and has two little islands.
Stay until dusk to get views of the glistening river and hazy mountains. Only a few beaches dominate this area, so the better option to choose your favorite is to explore. You may experience sun-dappled sea vistas and mesmerizing mists at one stop on a stroll around the lake at daybreak. By the time you get to the next beach, it is your true self, the sinking sun, and the spectral outlines of the far-off mountains.
#2 Kniepsand in Schleswig-Amrum
Amrum's candy-colored lighthouse is well renowned. Kniepsand is an excellent choice if you're looking for space, quiet, and tranquility. With a width of over 1300 meters and a length of almost 14 kilometers, Its allure largely stems from the amount of space that must be to oneself.
Vast piles of green vegetation appear along the shore, appearing to be an almost cosmic landscape as if to emphasize that you are still firmly on earth. But if you venture far enough from here, you'll come upon the light, one of Amrum's most iconic views. It stands out as a symbol of beauty discovered in solitude, dressed in candy-colored red and white stripes.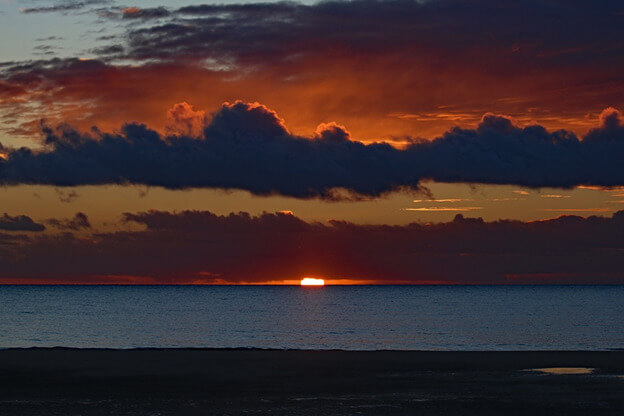 #3 Rotes Kliff on Sylt, Schleswig-Holstein
Clamber through red cliffs on wooden stairs to the beach below. Sylt, one of the most beautiful islands in the nation, is known for its many beautiful beaches, Rotes Kliff being only one of them. The coastline from Wenningstedt to Kampen seems graced with the region's distinctive ochre hills, which are enormous russet beacons unique to the North Sea.
Wooden paths meander leisurely along the dunes above the cliffs, while the scene below is stunning due to the pale sands. When most of Sylt's natural beauty is legally protected, you may anticipate running into similarly captivating surroundings as you embark on a beach stroll. Continue exploring until dusk, when the light turns the cliffs a flaming volcanic red.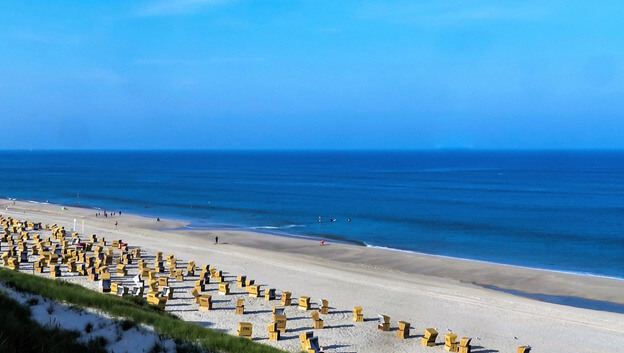 #4 Weststrand, Mecklenburg-Vorpommer
Weststrand is a gorgeously untamed and rocky place. The crazy, purposefully unspoiled Weststrand is a stunning but slightly better beach and one of Germany's most distant frontiers. One of the few voices you'll hear in this place is the soft boil of the waves, and in the distance, frayed, gnarly trees that appear to be nearly crawling out into the water are creaking in the backdrop. Westrand is 13 km long, so that a walk will introduce you to some of Germany's natural attractions. Its bareness only enhances its attractiveness.
#5 Warnemünde
Warnemünde, a port city on the Baltic Sea, receives many cruise ships yearly. You may obtain breathtaking views of the nearby town and the enormous ships bobbing in the ocean by ascending to the peak of the nineteenth lighthouse. Some of the shore's more rugged sections are great for learning to listen to the sounds, and the dark blue oceans' seemingly endless horizon makes for a fantastic vista.
Families should consider Warnemünde. For a considerable distance from the beach, the water remains relatively shallow, making it an excellent place for families with young children. There are other attractions close by in addition to the beach and marina. There are several parks and restaurants. Additionally, there are options for learning if you wish to attempt sailing.
Ideal Season to Explore Germany for Quite a Beach Vacation
One of the most beautiful nations in Europe, Germany is on practically everyone's vacation wish list. But when should you book a trip to Germany to have the best possible weather? Germany is best visited between May and September, especially for beach vacations, when the temperatures are pleasant and ideal for various activities.
The ideal months for the dry season are July – September, when there is little chance of rain, plenty of sunlight, and the temperature stays pleasant and warm.