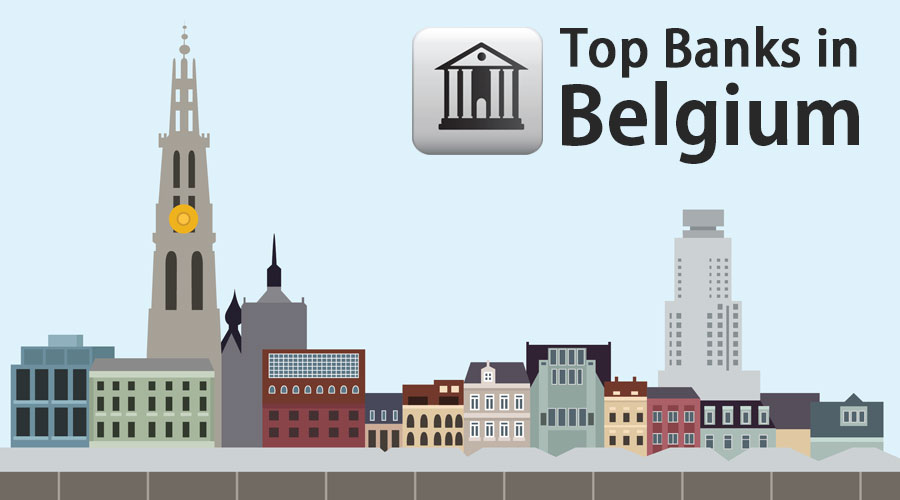 An Overview of Top Banks in Belgium
The Belgium banking system is known to the most sophisticated and liberal banking system in the world. Belgium banking sector is highly influenced by neighboring countries like Germany, France, Netherlands, and Luxembourg. There are more 140 banking branches operational in Belgium. In Belgium, most of its banking activities are carried out electronically and only 10% of a transaction are conducted with cash. It is one of the largest banking and financial center in Europe.
National Bank of Belgium is the Central Bank of Belgium founded in 1850. The governor of the National bank of Belgium is the members of the governing council, which is the main decision-making body of Eurosystem. The National Bank of Belgium takes part in the preparation and execution of its decision. The National Bank of Belgium performs tasks in general interest both at national as well as international level. In Belgium banking system there is no restriction on free movement of capital and also regulatory requirements are minimal. The Banking, Finance and Insurance Commission (BFAC) monitored the activities of financial institutions including Banks, Investment funds, Stockbrokers, finance and holding companies. The Belgium banks offer a wide and flexible range of services to the customers. The National Bank in its financial stability reports 2018 conclude that banking and insurance sector is sound and robust due to change and restructuring in the regulatory framework but still some of the challenges require special attention.
Top 10 Banks in Belgium
Here is a list of the top 10 Banks in Belgium:
1. Argenta Bank
It is a bank in Belgium with 481 offices founded in 1956. It also operates in Netherlands and Luxembourg and provides banking and insurance services across all the 3 location. The profit of the bank during the first of 2018 was 94 million Euros, compared to 109 Million Euros during the First year of 2017. Client's funds under management are grown with 3% to 45.3 billion Euros. Currently Argenta temporary reduced its rates the renovation loan to the 2.50% and ecological renovation loan to 1.50%. Argenta is the fourth largest Bank in Belgium.
2. BNP Paribas Fortis
BNP Paribas is the leading bank in Europe and which has a presence in 73 countries. BNP Paribas Fortis is the part of BNP Paribas group located in Belgium. The share capital of 9.375 billion euros is 99.93% is owned by BNP Paribas. Bank offers a complete package of financial product and services to the customers. It provides 3 core services Retail banking, corporate and institutional banking and investment solution. BNP bank in Belgium shows profit EUR 2588 Million in the first half of 2018 which is 1.50% higher than in 2017 during the same period.
3. AXA Bank
AXA Bank is a part of the AXA group, and it is the number one insurance brand worldwide. AXA Bank is the strong financial player in Belgium and it provides financial protection to its customers. AXA Bank won two awards in 2017 and 2018. AXA Bank present in 64 countries which are having 2.9 million customers in Belgium. AXA Bank is founded in 1881 and provides financial services and retail banking. AXA Bank and insurance work together to make the AXA brand successful in the market.
4. KBC Bank
KBC is formed in the year 1998 after a merger of two banks (Credit bank and CERA bank) and Belgian insurance company (ABB insurance). The principal activity of the bank is integrated bank insurance and has 11 million clients. KBC Bank generated 621 millions Euros of profit during the 4th quarter of 2018 out of this 361 million Euros is contributed by KBC Belgium. This result was achieved due to the higher level of net interest income and strict cost management as per the statement issued by the CEO of KBC on 14th Feb 2019. KBC Belgium has 585 bank branches and 374 insurance agencies and has 3.5 million clients in Belgium.
5. ING Belgium
ING Belgium Provide a wide range of financial products through different distribution channels to all its customers and it is the subsidiary of ING group and previously it was known as Bank Brussel Lambert. In 1998 this bank becomes part of ING group. Customer segments of ING Belgium banks are retailed and private banking customers, small and medium size company's institutional and large corporate. ING post Q2 2018 net result of 1429 million Euros.
6. Beobank
Beobank is a Belgian bank which provides services to individual, independent and SMEs through it'd network of 236 outlets. Currently, Beobank provides services to 622,000 customers through its 1548 employees. Until 2013 Beobank was named as Citibank of Belgium. Beobank is operating as a subsidiary of Credit Mutuel Nord Europe (CMNE) which is leading European regional bank. In May 2016 biobank is merged with BKCP bank.
7. Crelan
It is a cooperative Bank and 100% Belgian bank and focus on the Belgium market. The bank offers a wide range of products and services to individuals, the self-employed and SMEs. It also offers credit linked insurance through its subsidiary called crelan insurance. Crelan fourth time in a row selected as top employers for the year in 2018. Crelan provides financial services for daily farming operations, seasonal planting and for equipment purchase. Crelan has approximately 653 branches till January 2018.
8. Rabobank
It is the branch of Dutch financial group. Rabobank is one of the largest online banks in Belgium. The main focus of the bank is the healthy interest rate, professional customer service, transparency, and security. Rabobank Net profit in 2018 is 3,004 Million Euros Which is 12% higher than the previous year. Bank total revenue remains stable in spite of low-interest rate. Rabobank is active in more than 40 countries which enables a bank to expertise and execute power at a global level.
9. Europa Bank
It is Belgium banks founded in 1964 by the international bank of Washington is a U.S. holding company. The main product and services offered by banks are Consumers loan, mortgage, Saving account and deposit, Investment etc. They mainly offer services to shipping and insurance industry. Bank operates according to traditional Banking model where the retail deposit is converted into Loans to individuals and businesses.
10. Delen Private Bank
It is established in 1936 and initially, it is operated as an exchange Office. Main services offered as banking and insurance. The bank is now a part of a holding company called Finaxis. The bank is specialized in private wealth management and stock brokerage services. It also offers some specialized services in Assets management inclusive of discretionary management. The bank is Pioneer in estate planning which involves structural analysis and planning of assets.
Recommended Articles
This has been a guide to Top banks in Belgium. Here we have discussed the 10 topmost banks in Belgium with their financial structure. You may also look at the following articles: