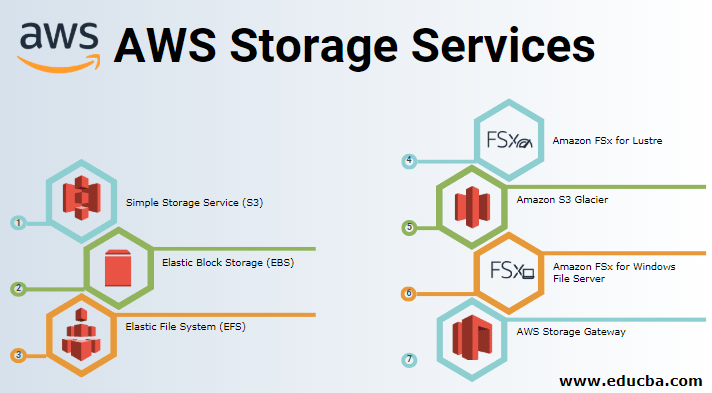 Introduction to AWS Storage Services
Amazon Simple Storage Service (Amazon S3) is the most widely used object storage service and used by most of the companies, even startups to enterprise-level because of its scalability, data availability, security and performance any data stored over S3 is protected, secure and always available no matter what amount of data for a range of use cases, such as websites, mobile applications that generate lots of data, backups for applications, IoT devices, and big data analytics and all these at a very minimal cost with 99.99999999999% of durability, S3 is used as storage for many other AWS services like code commit, Streaming service, and many others.
Types of AWS Storage Services
AWS offers seven types of storage services with choices for back-up, archiving and recovery of lost data. Let's see what those services are and their features:
1. Simple Storage Service (S3)
Amazon S3 is an object storage service that stores data of any type and size. It can store data for any business such as web applications, mobile applications, backup, archive, analytics. It also provides easy access control management for all your specific requirements and is almost 100% durable and by almost I mean 99.(11 nines)%. It can also be used to store all kinds of file formats as you would with a dropbox. S3 also allows a simple web-based file explorer to upload files, create folders or delete them.
2. Elastic Block Storage (EBS)
EBS provides block storage which is similar to hard drives to store any kind of data persistently. This can be attached to any EC2 instance and used as block storage, which even allows you to install any operating system. EBS volumes are placed in availability zones so that they are replicated to prevent loss of data due to single component failures. They provide absolute low-latency performance and you can also scale up or down your resources as and when required. EBS is available in both SSD and HDD formats depending on your requirement of speed and volume.
3. Elastic File System (EFS)
EFS is a managed network file system that is easy to set up right from the amazon console or CLI. When you have multiple EC2 instances needed to access the same file system EFS helps in providing just that. Unlike EBS, EFS is built using the NFS4.x protocol on SSDs and have a much faster throughput. This also means that EFS is much more expensive than EBS as it can be used on very large analytical workloads. EFS scales up or down based on the size of the files you store and is also accessible from multiple availability zones. The distributed nature of the file system can tempt you to use it as a CDN. But the costs of a CDN outweigh the benefits of using EFS. Hence it is better to use a CDN and use EFS in conjunction with files that can't be stored on a CDN.
4. Amazon FSx for Lustre
Luster is a file system used for compute-intensive workloads. This mainly comes into the picture when you run machine learning operations on large data sets or when you need to run media encoding workloads. Running Lustre separately requires a lot of expertise in setting it up and configuring it for the right workloads. With the help of Amazon FSx, this can be avoided and a simple interface on the console helps you to quickly get started and start working on your data. The ability to connect it seamlessly to S3 and the option of running it in VPC provides a low cost yet a performant way to achieve your compute-intensive workloads leveraging luster without the administrative overhead of running it.
5. Amazon S3 Glacier
The glacier is used mainly for archival and long-term data storage. This means that there is a low retrieval rate on this storage system due to which it is offered at an extremely cheap rate. It does also come with compliant security features to encrypt your data. Glacier allows you to run queries and analytics on it directly and you will be charged only for the few minutes or hours when you read the data. In terms of durability, it offers 99.(11 nines)% durability which is one of the highest in the industry. Glacier hopes to replace the legacy on-premise tape-based backup service with a much more cost-effective and durable solution.
6. Amazon FSx for Windows File Server
Whenever you need to run your windows specific software that needs to access the proprietary windows file system on the cloud, AWS provides you with Amazon FSx to easily achieve that. Windows-based .Net applications, ERPs and CRMs require shared file storage to move workloads between them. Also, Amazon FSx provides support for all native windows based technologies such as NTFS, SMB protocol, Active Directory (AD) and Distributed File System (DFS). Similar to luster, Amazon FSx eliminates the administrative overhead for setting up and maintaining a windows file server and provides you with a simple cost-effective way to run your windows file server on AWS.
7. AWS Storage Gateway
Storage Gateway is a simple way to let your on-premise applications store, access or archive the data into the AWS cloud. This is achieved by running on a hypervisor on one of the machines in your data center which contains the storage gateway and then is available on AWS to connect to S3, Glacier or EBS. It provides a highly optimized, network resilient and low-cost way to move your data from on-prem to the cloud. Local caching is also available on your on-prem to allow for accessing the more active data. Storage gateway also supports legacy backup stores such as tapes as virtual tapes backed up directly into AWS Glacier.
Conclusion
So there you have it. AWS provides you with multiple storage options right from legacy backup to modern high throughput, distributed file systems. Based on your requirements, you can go with one or more storage services to achieve your business goals. AWS provides you with high availability and high durability so that you can always be assured that your data is safe, secure and readily available for all your use cases.
Recommended Articles
This is a guide to AWS Storage Services. Here we discuss an introduction in AWS Storage Services and its 7 types of AWS Storage Services. You can also go through our other related articles to learn more –