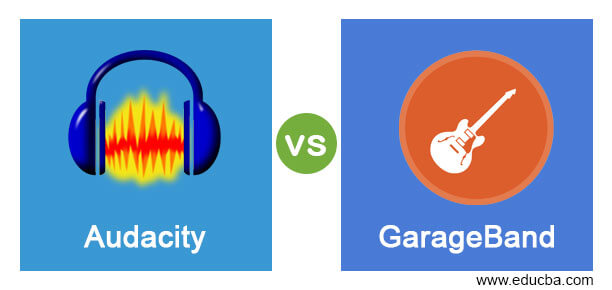 Difference Between Audacity vs GarageBand
Audacity is the digital audio editor and recorder, which is free and open-source software of this category and can access several operating systems. It can be used for post-processing of all types of audio in which we can add different types of effects such as trimming, normalization, fading in or out, and so on. On the other hand, GarageBand is a digital audio workstation that allows you to create music as well as podcasts. With its music and podcast creation, users can create multiple tracks with pre-made loops, pre-made MIDI keyboards, an array of various instrument effects, and also voice recording can be done in it. Now let us start our discussion about different facts and aspects of Audacity vs GarageBand software so that we can establish a good understanding of them.
Head to Head Comparison Between Audacity vs GarageBand (Infographics)
Below is the Top Comparison Between Audacity vs GarageBand:

The key difference between Audacity vs GarageBand
Both software is good in their work with their specified features for doing audio editing and manipulation work in their own manner. So let us have a look at these specified terms of this two software.
There are several audio file formats that we can import as well as export in Audacity software, and these files are formats of WAV, AIFF, MP3, Ogg Vorbis, and all files that the libsndfile library supports. GarageBand also supports many music file formats that make it compatible with a wide range of audio support formats: AIFF, WAV, and MIDI. In addition, it can export songs to MP3, AAC, MP4, or AIFF file formats which makes it easy to use.
In Audacity, there are modern multi-track audio features such as navigation controls, single as well as zoom tract edit, which helps in refine editing of the audio track, project pane with XY project navigation, non-destructive as well as destructive effect processing, manipulation of the audio file with different command (cut, copy, paste). Furthermore, GarageBand is also a music sequencer that can playback as well as record multiple tracks of audio with different types of effects. Furthermore, there is a built-in audio filter in GarageBand that is AU (audio unit), and it allows users to enhance the quality of the audio track by adding various effects, reverb, echo, and distortion to it.
In Audacity, we can do précised adjustment of audio speed while maintaining pitch so that we can synchronize it with video or some other purposes. GarageBand has the ability to record on both 16-bit and 24-bit audio resolution for giving the best result in their work, but its sample rate is fixed at 44.1 kHz. There is also a tuning system that helps in pitch correction and added autotune effect during tuned it to the maximum level, which is a very good feature of it.
Comparison between Audacity vs GarageBand:
By going through this section of the article, you will know the basic requirement of this two software such as operating systems, supported languages, latest versions, and so on. So let us have a look at these features.
| | | |
| --- | --- | --- |
| | Audacity | GarageBand |
| Definition | Audacity is free and open-source audio editing software through which we can edit and record as well as add effects to the audio track. | GarageBand is also a digital audio workstation that helps us in the creation of music as well as podcasts, and with music and podcasts, we can get the best editing result in audio editing work. |
| Developer and Initially released date | It was started by Dominic Mazzoni and Roger Dannenberg in 1999, and its first version was released on May 28, 2000, by Audacity Team, and its name was 0.8 version of it. | It was developed by Apple as a digital audio workstation and was part of the iLife software suite along with iDVD and iMovie. Its first version was released on January 6, 2004. |
| Latest or currently stable version | Its latest version was released on April 19, 2021, and it was released with the name 3.0.2. | 10.4.3 is its latest version and was released on April 6, 2021, with an advanced level of audio editing features. |
| Written In | It is written in C, C++ using the wxWidgets toolkit. | This software is also written in C, C++ languages, and Apple uses the Xcode SDK tool kit. |
| Operating systems | You can install this software on different operating systems such as Microsoft Windows, Mac OS, Linux, and other Unix-like systems. | It has its compatibility with Mac OS operating systems so that you can run it on this operating system easily. |
| Type | It is the type of digital audio editing software based on the task performed by it. | It can categorize under Digital audio workstation software. |
| License Type | It has a GPL, CC BY 3.0 type of license. | It has a Proprietary license type that means you have to make payment for a subscription of it. |
| Supported languages | It is available in different languages so that it can become accessible for different users and these languages are Afrikaans, Arabic, Bulgarian, Basque, Catalan, Chinese (simplified and traditional both), Corsican, Czech, Danish, Dutch, English, French, Finnish, German, Galician, Greek, Hungarian, Irish, Italian, Lithuanian, Japanese, Macedonian, Marathi, Norwegian(Bokmal), Polish, Russian, Slovak, Romanian, Turkish, Ukrainian, Vietnamese and Welsh. | This software also supports several languages, which you can check by visiting its official website. |
| Availability | For having more details about this software, you can visit www.audacityteam.com, which is their official website and also find the download link of this software here. | You can have more information about this software from its official website, which is www.apple.com. |
These were those points with which you can do a good analysis of this two software's basic requirements and characteristics. Now let us move to the other section of this article, and in this section, I will tell you the special features and facts of Audacity and GarageBand.
Conclusion
Now you have a good understanding of Audacity and GarageBand software, and you clearly know what is the purpose of using this software? You can do audio editing by adding a different type of effects and other required accessories with this software, and this software do their work in their own manner, so you will find it feel good to use anyone of both software.
Recommended Articles
This is a guide to Audacity vs GarageBand. Here we discuss Audacity and GarageBand key differences with infographics and a comparison table. You may also have a look at the following articles to learn more –