Updated April 4, 2023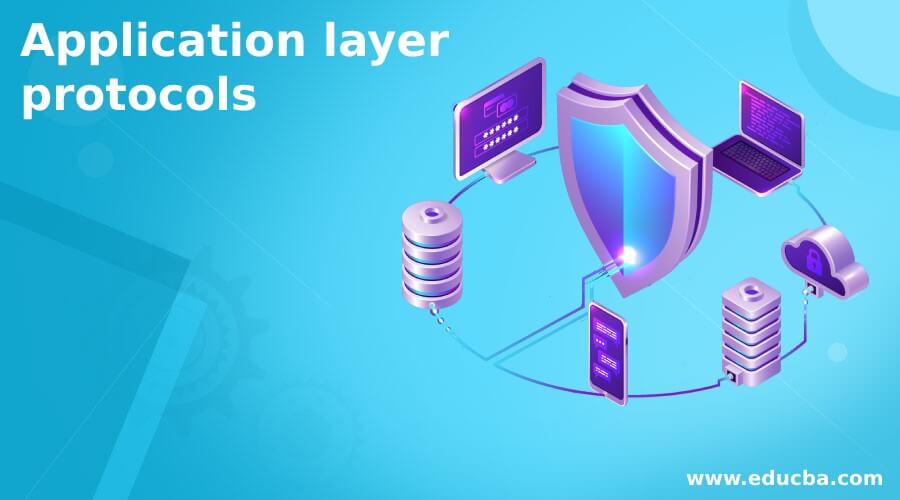 Introduction to Application layer protocols
Application layer is the last and 7th layer of the OSI model. This layer is the abstraction layer, which handles the sharing protocols over the computer network with OSI and TCP/IP model. In internet protocol suite, the application layer contains communication protocols and interface methods which used for the process to process communication over the network. Application layer contains several protocols namely  Telnet, FTP, TFTP,  SMTP, SNMP, DNS, and DHCP.
Protocols of Application layer
Below is the list of applications layers protocols.
1. Telnet
Telnet is an application protocol. It provides bidirectional interactive text orientated communication feature. For text orientated communication telnet uses terminal connection. Configuration elements of networking hardware can be achieved using telnet.  At TCP, information is interspersed in-band with Telnet control information in an 8-bit byte oriented data connection. Telnet is a type of client server protocol, used to open command line on remote computers.
2. FTP
FTP stands for File Transfer Protocol. It is a application layer protocol that is used for transforming a file from one location to another, i.e. from one host to another host. It is a standard mechanism that is provided by TCP/IP. Transforming files from one system to another seems very simple, but some problems need to be dealt with before transforming files. It uses TCP services. It needs two TCP connections. One is a Control connection, and another is a Data connection. For control connection, it uses well-known port 21, and for data connection, it uses well-known port 20.
3. TFTP
TFTP stands for Trivial File Transfer Protocol is a application layer protocol, used for sending a file from the server to the client. Trivial File Transfer Protocol uses the concept of UDP to share files between server and client. Here UDP stands for User Datagram Protocol. It is generally used for communicating files among machines set up in the local intranet only. Trivial File Transfer Protocol's most important feature is that it uses a minimal amount of memory. This application layer Protocol could be used to communicate boot files if computers do not have hard disks. It generally uses protocol 69; however, the port used for communication could be defined by used when Trivial File Transfer Protocol is being set up.
4. SMTP
SMTP stands for Simple mail transfer protocol is used to transfer the mails. It defines how both commands and responses must be sent back and forth. It is used two times, between the sender and the sender's mail server and between the two mail servers. To transfer messages between Messages Transfer Agents client and message transfer agents sever, simple mail transfer protocol uses commands and responses. The actual mail transfer is done through MTA, i.e. Message Transfer Agents. The system must have the client message transfer agents and server message transfer agents to transfer mail from one system to another.
5. SNMP
SNMP stands for Simple network management protocol which is used to collect and organize the data of managed devices on IP networks. It also modifies the information to change the behavior of the devices. SNMP is mainly used to monitor and manage the network. It consists of a set of standards for network management, including an application layer protocol, a database schema, and a set of data objects.
6. DNS
DNS stands for Domain Name System is a decentralized naming system for the computers and other devices on the internet to translate the domain name of the devices connected on the internet or any other private network to the numerical IP addresses and vice versa. Advantage of DNS is that the user does not need to remember the IP address of the domain. DNS support TCP protocol and UDP protocol. DNS server works on the port 53.Domains are categorized into three parts generic domains, country domains, and inverse domains, where generic domains define registered hosts according to their generic behavior, country domains use two characters country abbreviation, inverse domain maps address to map.
7. DHCP
DHCP stands for Dynamic Host Configuration Protocol. It is a network management protocol present in the application layer. With its help, an Internet Protocol IP address can be assigned to any device or node on a network dynamically so that they can communicate using this IP. The main goal of DHCP protocol is to assign unique IP addresses to the hosts. Apart from Unique IP address, it also provides other network address such as subnet mask, Router address, vendor class identifier, and DNS address. A DHCP server has a pool of addresses for a device to get a valid network connection.
Recommended Articles
This is a guide to Application layer protocols. Here we have discussed the various protocols of applications layers such as Telnet, FTP, TFTP,  SMTP, SNMP, DNS and DHCP. You may also have a look at the following articles to learn more –