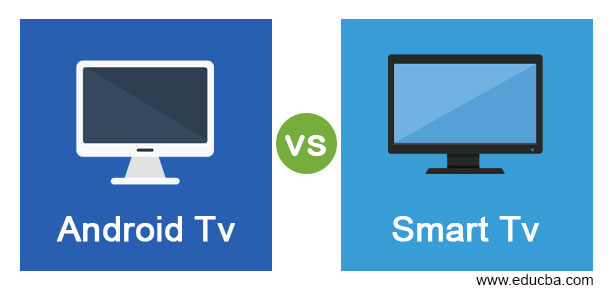 Difference between Android Tv vs Smart Tv
The following article provides an outline for Android Tv vs Smart Tv. A smart Tv when compared to Android Tv consists of many features that make smart tv more demanding. Android tv on another hand sometimes limits many functionalities such as restricts the accessibility to certain apps therefore not leaving many options for the end-user. Smart TV sometimes becomes more complex to operate when compared to android although a lot of options like internet access and google play direct download provides Smart TV with an edge. Unlike Android TV which downloads like normal android phones, smart tv provides much more features.
Head to Head Comparison Between Android Tv vs Smart Tv (Infographics)
Below are the top 7 differences between Android Tv vs Smart Tv:

Key Difference between Android Tv vs Smart Tv
There are certain key differences which also persist in Android TV and smart TV both of which needs to be highlighted when it comes to compare and come up with the user demand and supply relation as well.
Smart tv acts as a normal framework and television come with a certain set of already built-in apps such as Netflix, Amazon Prime and many other applications as well.
Android tv when compared to smart tv makes restrictions to the operating system specific that lets it install and play around with most of the google play store-based applications.
Nowadays people want more features and google assistant than in that scenario the recommended option for the use of TV is android tv.
Let's say there is a need where the need is to switch on the air-condition or switch of the micro-oven then in that case the build-in feature of the live cast and home accessibility to applications is a must.
In the telecom domain and television industry, there is a specific requirement where some of the brands might not suffice the requirement as mentioned before they don't support for much of the android operating system like Samsung and LG TV.
Samsung android tv has this restriction like that there is a need to find and have a familiarity with Tizen operating system. Apart from this brand other brands easily support for all like Sony, Panasonic etc.
Although both the Android and smart tv have similarities but still these minute differences make lot of overall differences whether on market demand or be it end users' perceptions and requirement.
Smart tv comprises of dependability and needs to supply more of the feature oriented tv to suffice the need and requirement of end user as per perception.
Android tv on other hand somehow tries to mitigate the problem mentioned as before which gets solved and enhanced by using the google play store which almost makes everything available including the updated and control using phone and same software.
Smart tv and android tv have almost the same but the difference comes with the fact that android supports for some applications and features which smart tv doesn't supports for thus making the overall decision making process a complex process to understand and work for not same throughout.
Before android and smart tv also came the normal tv's which made this human intervention more innovative and attractive for end user to make it entirely user friendly.
These are some of the key differences but exists many more which comes with a bundle of the host of applications already present as part of the tv for accessibility and usage.
Android Tv vs Smart Tv Comparison Table
Let's discuss the top comparison between Android Tv vs Smart Tv:
| | |
| --- | --- |
| Android TV | Smart TV |
| Android tv provides lot of option but not as smart tv because of the restriction it provides on its operability. | Smart tv provides enhanced feature and connectivity to internet which makes the entire scenario of usability and accessibility much more enhanced. |
| Android tv have added advantage for the user who are more dependable and are used to android operating system to interact with. | Smart tv on the other hand accessibility to internet so it has the capability to behave like a normal desktop and accessibility to hell lot of more options. |
| Android tv do have capability but the restriction that it can download the software and components only from google store, so those apps too need updated like normal android phones so is the case. | Smart tv on the other hand can access and get connect itself to normal internet which in turn provides lot of added advantage of just getting connected and then make use of other build-in apps like Netflix or anything easily. |
| Android tv on other hand has vast array or list of apps library available with a continuous and tough firmware but requires continuous app updates which kills the patience of end user. | Smart tv is simple and has an enhanced user-friendly interface which is not so when it comes to android tv. |
| Android tv consists of google tv which makes it more prone towards the need and the app availability like google music, google play improvising the overall end user experience. | Smart tv when compared to Android tv also provides kind of overall a tv environment without much difficulty in setting up the entire environment from scratch which is not the case with the other set of Androids tv. |
| There are certain cons also available with both smart tv and android tv therefore when it comes to android tv the advantage is the cumbersome interface If no prior knowledge is available or even little interaction also not made with the UI before. | There are certain cons available with Smart tv as well like there are pools of applications available over net which asks for system update more frequently. |
| For the Android tv makers there are a smaller number of manufactures and limited availability to google related application or say software. | On other hand Smart tv manufacturers are acquiring and dominating the market by providing more and more features and accessibility simultaneously. |
Conclusion
Both android tv and smart tv comes with lots of facilities and availabilities to end users. Smart tv do have the capability to support for many of the features which is also available with android tv as well but then depends on the end user taste and requirement. Both have technically same features and accessibility but in mere feature there will be lot of other features which will get incorporated as part of the televisions.
Recommended Articles
This is a guide to Android Tv vs Smart Tv. Here we discuss Android Tv vs Smart Tv key differences with infographics and comparison table respectively. You may also have a look at the following articles to learn more –