Difference Between Android TV vs Smart TV
The main difference between Android TV vs Smart TV is their operating system. Android TV operates on Android Operating System powered by Google, whereas Smart TV has an operating system like our Smartphones or PCs.
Apart from that, there are several other differences you should be aware of before buying one of these TVs. So, if you want to buy a new TV, knowing the difference between Android and smart TV can help you make the right decision.
Table of Contents
What is an Android TV?
Android TV is a category of Smart TV powered by Google, with more features than smart TV. It has in-built internet connectivity and gives access to many content and apps available on Google Play Store, making it a great choice for entertainment.
What is a Smart TV?
A smart TV, also known as an internet TV, gives access to the internet and watches more content than regular TV channels. You can access content online by connecting it to a wireless or ethernet cable. However, you can't upgrade the operating system of a smart TV, due to which you can't access the latest apps.
Head-to-Head Comparison Between Android TV vs Smart TV (Infographics)
Below are the top 7 differences between Android TV vs Smart TV: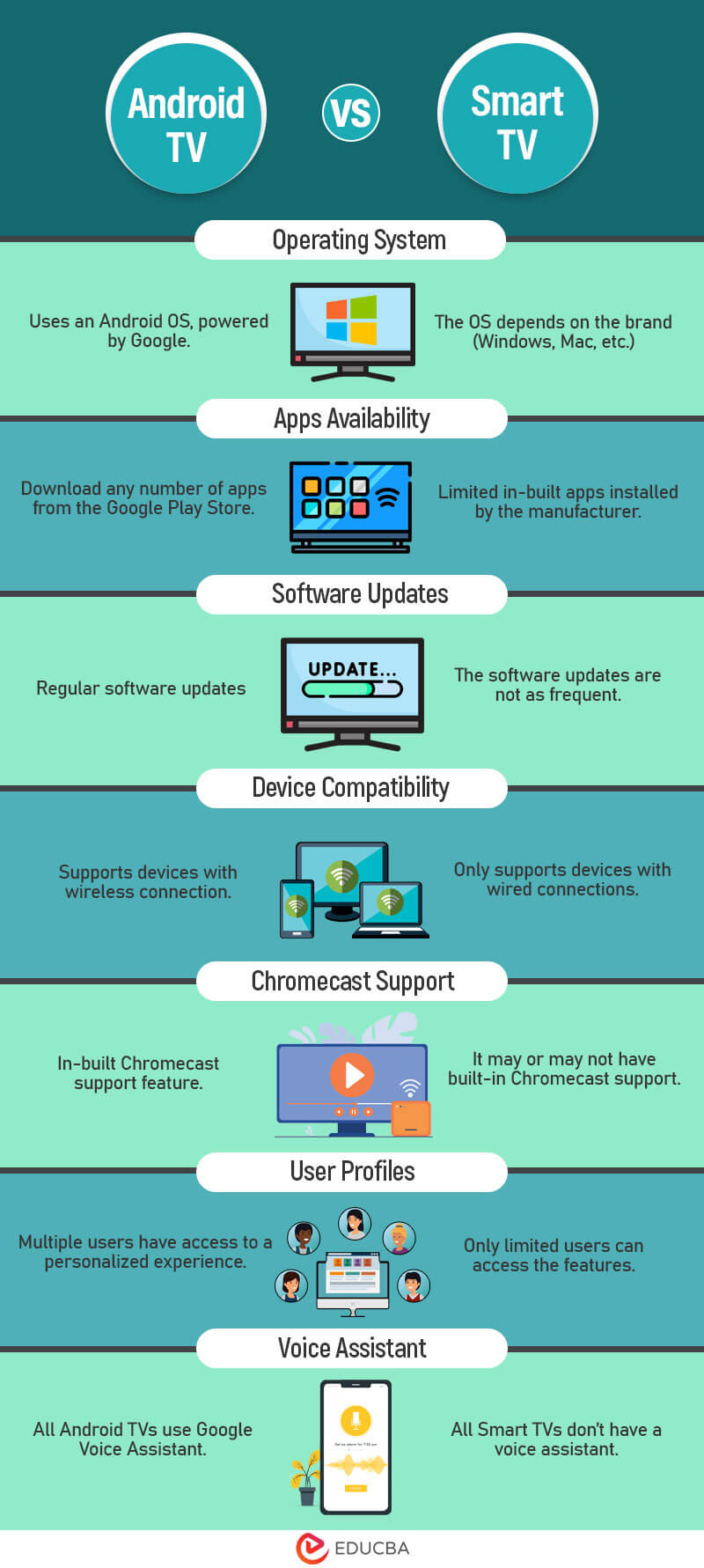 Key Difference Between Android TV vs Smart TV
There are more specific key differences between the Android TV vs Smart TV that are given below in this section:
1. Customization
Android TV: Allows users to modify the home screen, install different apps, and personalize the overall watching experience.
Smart TV: It has limited options for customization, and you can't improve the existing layout provided by the manufacturer.
2. Gaming Support
Android TV: Customers can download and play various games through Google Play.
Smart TV: It has some in-built games that you can play. However, it may vary from one TV model to another.
3. Advertisement
Android TV: It may show some advertisements on the home screen or within the installed apps, majorly on Google's ad network.
Smart TV: It also shows some advertisements on the apps and home screen, but the TV manufacturer or the cable provider manages them.
Android TV vs Smart TV Comparison Table
Let's discuss the top comparison between Android TV vs Smart TV:
| | | |
| --- | --- | --- |
| Basis of Comparison | Android TV | Smart TV |
| Operating System | It has an Android OS, which is powered by Google. | Different brands have different OS, similar to our Smartphones or PCs. |
| Apps Availability | It gives access to download apps of your choice from the Google Play Store. | It only has limited in-built apps installed by the manufacturer. |
| Integration | It integrates with Google services such as Google Play Music, YouTube, Google Photos, etc. | It integrates with services chosen by the TV manufacturer, including music, games, etc. |
| Software Updates | It has regular software updates that fix bugs, security patches, etc. | The software updates depend on the manufacturer and may not be as frequent. |
| Device Compatibility | It supports various internet devices, including smartphones and laptops, and screen mirroring or casting features. | It supports connection via Ethernet, WiFi, Bluetooth, HDMI cable, and other audio-video connections. |
| Chromecast Support | It has an in-built Chromecast support feature that helps you to share content from your laptop or tablet on the TV. | It may or may not have built-in Chromecast support, leading to the need for Chromecast or Apple TV for casting content. |
| User Profiles | It gives access to multiple users for a more personalized experience. | It gives access to only a limited number of users. |
| Navigation | Android TV can be difficult to navigate if you are unfamiliar with Android features. | Smart TV is easy to navigate as it only shows all the apps on the main screen. |
| Voice Assistant | Android TV integrates with Google Voice  Assistant, allowing users to control access with their voice commands. | All Smart TV doesn't have the voice assistance feature and is limited to brands like Samsung, LG, etc. |
Final Thoughts
The difference between Android and Smart TV is very limited and depends on your needs, as both offer different features and options. A smart TV is good enough if you want a simple TV for basic viewing. But Android TV is better if you want a more modern experience with many apps. Moreover, both have advanced technologies, so consider what suits you best.
Frequently Asked Questions (FAQs)
Q1. What is the disadvantage of Android TV?
Answer: Below are some of the disadvantages of Android TV:
Complex Setup: Android TV may require a more complex setup process, including account sign-ins and software updates, which can confuse some users.
Performance Variability: The performance of Android TV can vary depending on the hardware, and some budget models lead to lags or slower response times.
Privacy Concerns: Android TV may collect user data for personalized ads and recommendations, leading to privacy concerns.
Q2. Which is better: Samsung smart TV or Android TV?
Answer: A viewer who prefers to watch content from famous platforms such as Netflix, PrimeVideo, etc., considers Android TV better than the Samsung smart TV. Thus, Android TV can be a better choice for people who enjoy watching content available on video streaming Google apps. However, it totally depends on the personal viewing preferences of individuals.
Q3. Which is the more expensive smart TV or Android TV?
Answer: Android TV is relatively more expensive than Smart TV due to its advanced features and streaming options. However, it depends on the brand, individual preferences, and TV specifications.
Recommended Articles
We hope this EDUCBA article on "Android TV vs Smart TV" benefited you. You can view EDUCBA's recommended articles for more information.