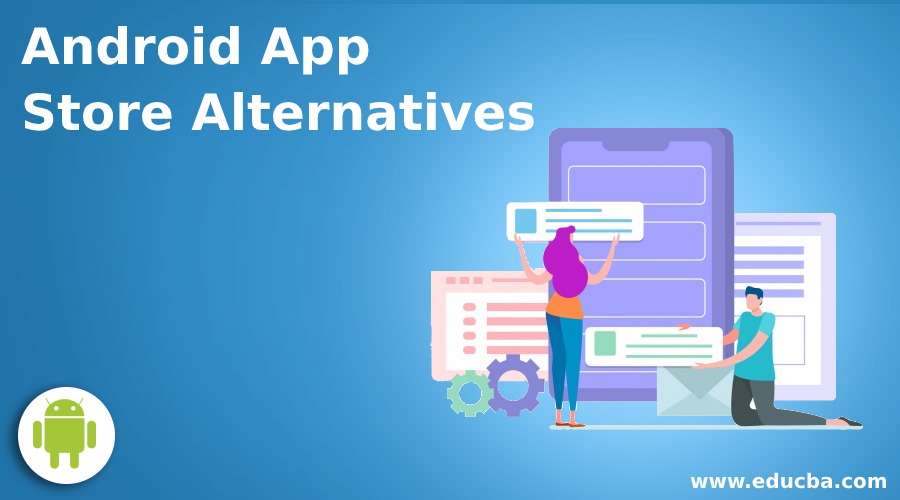 Introduction to Android App Store Alternatives
One of the most popular and widely used for the Android app store, the Google Play Store. This includes millions of devices and thousands of downloads each month. There are many places from where you get your Android version, including Google Play Store. The other alternative to the Android app store will be discovered. Most app stores offer a day-long free download, offer a discount on a purchase or other money-saving deals. It's also easy to discover new and useful features by using a specific Android app store. Many app stores only concentrate on a limited range of categories. They filter apps according to the app's age group, intent, or price. You can find many outlets in our list of Android app stores that can promote the product by promoting it as an item of the day, or by offering some money-saving promotional deals to device owners.
Top Android App Store Alternatives
Given below are top 9 android app store alternatives:
1. APKPure
APKPure is an app store from a third party with several good aspects. It includes a range of attractive applications like WhatsApp, UC Browser, TikTok, Facebook Messenger, PUBG Mobile and more. APKPure has more categories than a Google Play Store, those categories can also be downloaded lighter as a good application. Any Google applications like Gmail can be found.
2. APKUpdater
APKUpdater really isn't an app store, but it's a clean tool. You can upgrade your current program to a new one without having to use another app store. The versions of the software can be downloaded from many other websites and you can get the new updates as soon as possible. You will keep your computer up-to-date with no problems.
3. Aptoide
It is one of the oldest third-party application shops in this series. It includes loads of apps like Twitter, Fleksy, YoWindow Environment, Nest and several recent games. Difficult software, such as Display Box and adult games and apps can be found here. This causes a bad feeling, so make sure that when you visit this website you have an antitrust app on your computer.
4. Samsung GalaxyApps
In the shops of Samsung's GalaxyApps, Samsung has a limited number of apps than Google Play Store or Amazon's Appstore and hence devices for Samsung. The GalaxyApps store in Samsung, however, has a clear user interface, simple navigation and includes several popular apps, Fortnite, Microsoft, including Hulu, Brawl Stars, Netflix, etc. Samsung phones also feature an alternative app store, which is already enabled on the device and with Google Play.
5. Yalp
Yalp store uses Google Play Store's APKs script. It is a special app store where without the Google Play Store you can get the apps from. You can scan, install and upgrade an app straight from the source. Its interface to the user is very special but it works perfectly. It also offers additional features for root users. You do not need to download or install a Google Account.
6. Mobile9
Mobile9 app store is like a social network with millions of people constantly using it. Consumer will comment on their applications and share them with them. On Mobile9 you can release a free Android app. Due to the wide range of users, the well-developed application has excellent results. The greatest value of this App Store is the tremendous download rate for software.
7. F-Droid
F-Droid is an open source website, and open source applications are also available on it. F-Droid is one of the oldest and most credible app-stores. This app store primarily maintains productivity features such as the software browser Arch Linux. It also includes some core apps such as Simple Calendar, Simple Gallery, and games. This app store is perfect for those people who want something special that doesn't have in the App Store.
8. Amazon Appstore
Amazon Appstore is one of Play Store's most successful app stores by itself. The app store contains a range of apps including some famous and big names. The main advantage of Amazon Appstoreis HTML5 and mobile applications can be published on the Amazon Appstore. It's an growing marketplace with hundreds of thousands of applications and a wide base of customers. The Amazon Appstore is also outstandingly easy for all developers to navigate. This includes the various Amazon applications and the single Amazon Prime Video. The Amazon Prime Video is an app that is installable without any problems. The app that's available at this app store is both free and premium.
9. QooApp
QooApp is an app store of a particular kind. This app store is used by users who want Asian developers to play Asian games. You can find all sorts of software here, but only those ones are translated into English.
Recommended Articles
This is a guide to Android App Store Alternatives. Here we discuss the introduction to android app store alternative along with the top 9 app store alternatives. You can choose any of them based on your requirement. You may also have a look at the following articles to learn more –