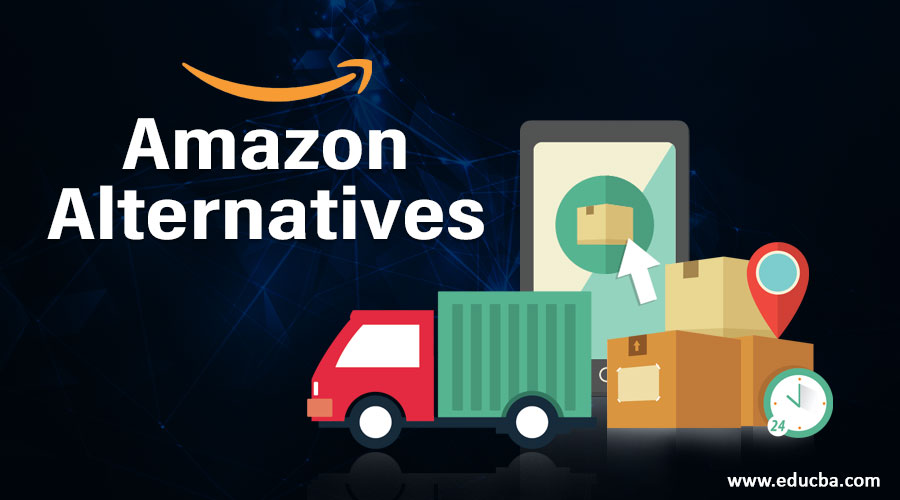 Overview of Amazon Alternatives
The very fact that we are talking about alternatives to Amazon indicates its flagship position in the Ecommerce space.  Amazon started as an online bookselling company way back in 1995 and grown as the largest online retail Ecommerce Company today.
Amazon's online retail sales value in the US in 2018 is almost equal to the sum value of the rest of all the retailers put together. In 2018, their sales touched $260 billion which is 49.1% of the online retail market and 5% of all forms of retail. Amazon is growing in other geographies as well. In India Amazon made its debut in 2012-13 and its current market share is 30%, sales are $5 billion and market worth is $16 billion with an overall annual growth of 20%.
In this article let's analyze alternatives available for Amazon.
Success Story of Amazon and its Reasons
Amazon expanded from being an online book store to electronic goods, toys, games, software, fancy items, readymade dresses, furniture, and any other retail items.
They leaned on technologies to study consumer behavior and their weird requirements and market dynamics to roll out innovation in their portal to retain and expand the customer base.
Focused more on new services to customers like the return of goods, cash on delivery, etc.
The improved user experience by providing rich look and feel screens, easy search facility and additional information on products, etc.
Developed innovative products like Kindle which made the reading of e-books easy and making it almost the same as reading physical books.
Leveraged AI technology (NLP) to roll out gadgets like Echo to listen to any queries and answers them in natural language.
Relied more on market place model to offer third-party vendor's goods/services in their portal to enable customers to shop all the items in one place and revenue of this model is more than 50% of Amazon's sales. Logistics/distribution of goods/services in this model are managed by Amazon optionally.
Vibrant management, Concentration on customers than the competition, Customer satisfaction over profits are the other reasons.
Why Alternatives to Amazon?
There are a few reasons why we should look out for alternative options for Amazon and a few of them are below:
Market Dominance: Amazon dominates online retail in the US and it is expanding fast in other countries as well. They are expanding into developing their own products/services like Echo and other AI products, AWS cloud services. Their dominance and growth may turn to be repressive on third-party vendors and kill their business.
Business Ethics: Private investigations reveal that Amazon workers are pressurized for unreasonable performance levels and Amazon indulges in a few other unethical practices due to their powerful position in the market.
Monopolistic Attitude: Their monopoly position may turn the wave against their customers on the price front and service levels in the future.
Top Alternatives to Amazon
Following are the different Alternatives to Amazon explained below:
1. Alternatives to Amazon in US and their Unique Selling propositions (USP)
eBay: It doesn't own any products that they sell and it is famous for bidding. eBay connects third-party products with potential buyers and they can buy products on outright purchase and bidding models. Some products are offered on both of these models and buyers can choose either of them.
Overstock: This site is familiar with selling artisan-made niche products and it was started as a website selling surplus unwanted items at a cheap rate. It shares a good portion of the sales revenue with artisans for their contributions.
Newegg: It mainly deals with Electronic goods like Digital cameras, computers, TVs, etc. Faster delivery backed up with good customer service and price matching with others are their strengths.
Zappos: An e-commerce site is known for its excellent customer service and it mainly handles Apparels. It offers a unique facility of accepting returns from customers as late as one year after the procurement. It is a subsidiary of Amazon.
Aliexpress: This website is run by Alibaba group and it connects manufacturers with customers avoiding middlemen to achieve price economy. It offers plenty of cheap items in its portal and releases the payment to vendors only when buyers acknowledge the receipt of goods.
Jet.com: Branded items are offered at cheap rates to the customers in the US in this portal. Seasonal sales offers and promotions are the main attractions of this site.
Barnes & Noble: Primarily deals with Books and a tough competitor to Amazon. It offers physical and e-books and has a huge collection of books in its kitty.
Rakuten: Like eBay, this site connects manufacturers with buyers. Video reviews and attractive reward points system are the strengths of this portal.
Walmart: Daily discounts/offers and low prices are the specialties of this largest physical store Conglomerate. One can buy items available in physical stores on this site. Items are either delivered at home or at the nearest local store.
Target: Deals with high-quality products with the latest trends. It is another supermarket chain in the US like Walmart. Seasonal sales offer and offering trending products to its customers are its strengths.
QVC.com: Quality, value, and convenience is the full form of QVC. Started as Television marketing, it offers niche branded products at a slightly higher price.
BestBuy.com: It mainly deals with Home electronic items, computers. Periodic sales offer and hassle-free returns are its strengths.
Etsy: This site offers artisan handmade items, classic vintage items to customers. Most of the sales revenue is shared with artisans. Home decors and those who look out for unique gift items are the major customers for Etsy.
2. Alternatives to Amazon in India
Flipkart: National leader in e-commerce in India, acquired by Walmart. Like Amazon, it started with books expanded to other products.
Snapdeal: A diversified platform competes for national leadership.
Indiamart: Connects suppliers, manufacturers, exporters, and consumers through this platform.
Bookmyshow: Familiar with online tickets booking for events, exhibitions, movies, etc.
Myntra: Mainly deals with apparel, fashion and lifestyle items.
Firstcry: Offers baby care and kids ware.
Conclusion
There are many e-commerce vendors to challenge Amazon in all geographies with their innovative products by leveraging the latest Digital technologies and vibrant business models.
Recommended Articles
This is a guide to Amazon Alternatives. Here we discuss the success story of Amazon and its reasons along with top alternatives to amazon in the US and India. You may also look at the following articles to learn more-