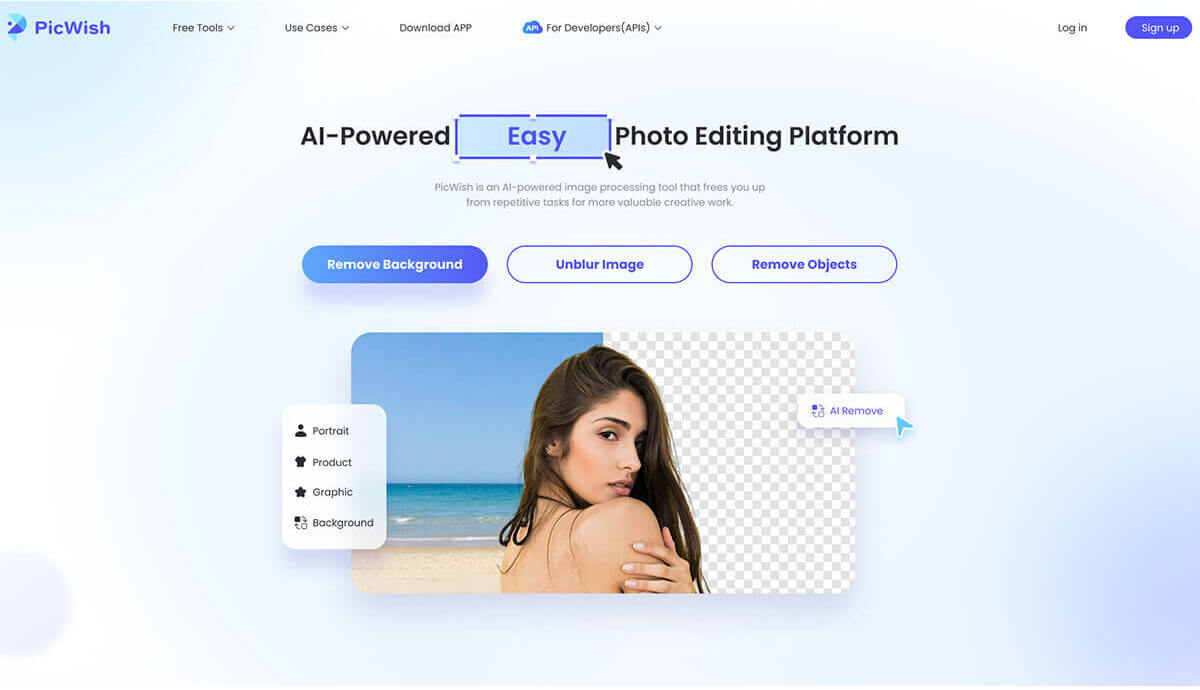 Best AI Photo Editor- Introduction
Whether you are running an online store, edit pictures for as a photographer, or just love tweaking your photos, PicWish has got you covered. PicWish is a cool new AI photo editor tool that uses fancy technology to help you edit your photos quickly.
One amazing thing is that it can unblur images in no time. Have you ever taken a pic that turned out fuzzy? PicWish can magically make it clear again. And if you want to remove the background in a photo and make it see-through, it can do that, too.
But wait, there's more! PicWish can even make new pictures and backgrounds from just a few words you type in. It's like having a creative assistant at your fingertips.
For all the details and to try it out, just visit their official website. It's a one-stop shop for making your photos look awesome!
PicWish AI Photo Editor Applications
1. Fix Blurred Pictures
With its cool AI face enhancement feature, it can make your blurry photos look awesome. It fixes and sharpens them so they are clear and perfect. No need to stress about blurry pics on your social media. This makes them pop, and more people might like and comment.

(Image Credit: PicWish)
2. Restore Old Photos
It also has a feature that enhances old photos, making them look new again. This is great for keeping precious memories in better quality. It's perfect for anyone who wants to hold onto sentimental pictures.

(Image Credit: PicWish)
3. Deblur Product Photos
Make your product pictures look better on the e-commerce platform. This helps shoppers see your products clearly and in more detail. It's great for people who sell things online because it makes their products stand out and can lead to more sales.

(Image Credit: PicWish)
Price Plans
The pricing plan of PicWish AI Photo Editor tool is:
The majority of online features come at no cost.
A free trial option is available.
Pro subscription commences at $0.008 per credit.
Why Should You Choose PicWish?
PicWish is an awesome AI photo editor tool that uses AI technology to make your pictures look amazing. It's super quick and has all the tools you need to fix up your photos, making it perfect. The Unblur Image Tool is exceptional as it uses AI magic to turn blurry pictures into clear ones quickly. PicWish is becoming a top pick for improving and fixing photos because of its powerful tools. Check out the PicWish website for all the cool stuff it can do for your pictures!
Recommended Articles
We hope you found this comprehensive article on AI Photo Editor helpful. For similar articles, please refer to the following.