Updated June 2, 2023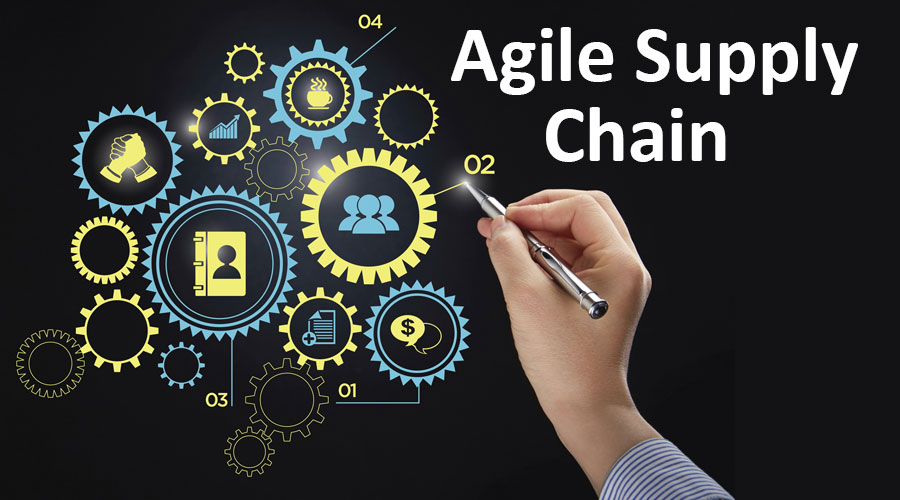 What is the Agile Supply Chain?
Agile is a method that has been used to develop and create new software. The approach undertaken for agile is iterative. This means they are added to the software whenever new developments or requirements are discovered or needed. The agile supply chain is a fundamental term for understanding and comprehending the flow of goods and services. These can be various types of goods and services. It considers the motion of products and services as to how they will be stored if storage is a necessity and need. Any work-in-progress items that need to be considered and delivery of these goods and services to its ultimate user, the customer.
We will now look at these terms by combining them, as this will better help us understand the topic of the agile supply chain. However, before we look into that, we should also look at the meaning of the word agile in a different context.
Agile means flexibility; organizations are expected to be responsive to change in their immediate surroundings and adapt as per the current movements and trends in the markets and customer behaviors. The quicker they can change their strategy, the more comfortable they find themselves in the long run. One area where agile is essential for organizations is in the supply chain management division. The way goods and services move from origination and the network or path they follow to reach the final consumer.
Definition
An agile supply chain focuses on key points like
Efficiency,
Productivity
Cost-saving
Flexibility
Innovation
An agile supply chain is about delivering goods and services quickly, achieving cost-saving while doing so, being flexible to changes in market conditions and consumer demands, and maintaining the organization's overall productivity.
At times company's ability to innovate existing goods and services to suit better customer demands and how quickly it can implement this innovation is also a crucial component of the agile supply chain.
Companies must have well-established internal principles, which can serve as a reference point for efficient and productive agile supply chain management.
These principles may be based on a market study and a review of all previous situations when the business faces many difficulties in its supply chain management leadership. These principles should enable the company to quickly change its process without disturbing other parts of the organization.
They should also allow the company to adjust to sudden changes in raw material quantities, customer demands, increase in transportation costs like strikes by unions or accidents of their carriers, increase in petroleum costs, and natural calamities like floods or storms.
List of Some of these Factors in the Agile Supply Chain
An agile supply chain will consider not only the factors mentioned above but a wide range of micro and macro factors. Below is a list of some of these factors
Shortage of essential raw materials
Increase in the cost of raw materials
Increase in labor costs due to a shortage
Strikes by labor unions
Disruption to networks
Disruption due to natural calamities
Legal factors specific to each region
Political factors
Example of Successful Agile Supply Chain
For example, we will look at the world's second-largest clothes retailer H&M, with over 950 stores in 19 countries and an overall turnover of $ 15 billion per annum; H&M is an excellent example to study the efficient and integrated systems it has for inventory management.
H&M: One of the main components of supply chain management for this industry, H&M focuses on cost efficiency for its production unit and reducing lead times for its inventory. Successful implementation of both factors has made it a global brand name for years.
Nike: Nike is well-known footwear and apparel firm; it has close to 700 factories spread over 42 countries around the world. It focuses on labor productivity, consolidating materials to reduce wastage, and introducing modern technologies in their manufacturing process.
Walmart: Walmart is the second largest employer in the United States; it has more than 11,000 stores in 27 countries and an inventory worth 32 billion; this shows how important it is for them to have efficient and agile supply chain management. Walmart has succeeded by having fewer links in its supply chain management, partnering with vendors that add strategic value for innovative and modern technology to cut costs and cross-docking inventory.
Agility is Different from Lean Concepts-
We have mentioned numerous agility points above; now, we will look at different lean concepts. Lean is a traditional form of the supply chain, and at one point in time was the most effective and efficient. Lean often overstocked inventory as this can lead to increased storage costs, wastage of inventory due to spoilage, and high maintenance costs. Also, a high probability inventory will become obsolete.
On the other hand, an agile supply chain uses real-time data and updated information to forecast demands and improve overall efficiency and productivity.
Benefits of Agile Supply Chain
An agile supply chain's main benefit is enabling the existing process to change quickly without causing disturbances to other parts of the organization.
Firms can alter their production using real-time data to meet the current demands. This way, they reduce wastage and save on storage costs and other expenses.
By using real-time data, firms can project trends in the future and accordingly have plans in place to meet those demands and contingencies if there are deviations from other demands.
Overall, the industry has learned to deal with volatility in terms of demands which could impact their profit levels, but all concerned parties have accepted this and found ways to work efficiently with one another and satisfy the customers.
Conclusion
Thus I would like to conclude this article by stating that an agile supply chain is the latest trend where adaptability, flexibility, and forecasting future consumer trends are of utmost importance.
Recommended Articles
This has been a guide to Agile Supply Chain management. Here we discussed the Concept, Benefits, factors, And Examples of an Agile Supply Chain. You can also go through our other Suggested Articles to learn more –