Updated May 8, 2023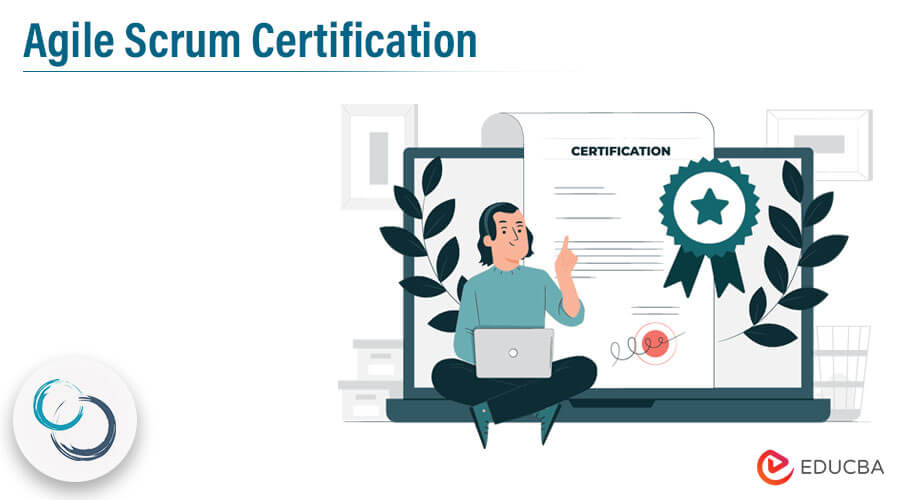 Introduction to Agile Scrum Certification
Agile is an approach to manage projects which are widely being used all across the globe and scrum is the popular form in the agile methodology because of the many benefits it provides to the consumer or the organization adopting it. So, the agile scrum certification gives you an opportunity to study the best concepts of agile and scrum.
Agile scrum certification will make you an expert in this method wherein you can develop as well as deliver products of high quality to the customers and use them in your organization also. Maximizing the value of your business while minimizing the risks and all of this at an effective cost is the main objective here.
Who can avail?
This certified course is best suited for product owners, team leaders, project managers, team members and managers of the scrum team. It is also beneficial to teams as well as individuals who are keen to adopt the scrum method for maximizing the percentage of successful projects. No previous certificates or eligibility is required to apply for this course. Anyone aspiring to learn this approach can do so. The course is officially recognized by Exin.
Importance of this Agile Scrum Certification
In the project management business, agile and scrum are both very popular and successful methods, adopted by many multinational companies. This course will increase your efficiency in delivering products at various stages, have a better partnership amongst the team members and you will learn a procedure which is very flexible so that changes can be made easily without affecting the quality, cost and time of delivery.
This training can be availed from a registered education provider. To purchase the exam voucher you have to register with Exin and arrange for a web supervised exam online.
The price of the course includes the exam voucher but the exam must be taken within a year from the purchase date of the course. The results of this course can be downloaded digitally from the candidate portal as soon as they are out on the website.
Skills you will learn
You will learn the Scrum vocabulary and its application.
You will be able to perform daily scrums, planning of sprints, user stories and sprint reviews.
Ability to become the scrum master of any organization which adopts this method.
Be able to manage projects on the JIRA cloud site.
You will generate different scrum heirlooms like product backlog, sprint backlog, finished products, etc.
To get maximum results out of this method, you will learn here, how to apply the best practices.
This course will prepare you to pass the Exin agile scrum exam on the first attempt.
Subjects under discussion
The agile way of thinking.
Role of the scrum master.
The method to estimate, plan, monitor and control following the agile way.
Handling complex projects.
Adopting the agile method.
Details of this Certification
The duration of the exam is of 1 hour 30 minutes.
There are 40 multiple choice questions one needs to answer.
The pass mark is 65%.
No open book or any electronic devices are allowed.
This exam is at an advanced level.
It is available in English, Spanish, Dutch, German, French, Latin American, Chinese and Japanese.
The prerequisite of this exam is an Exin accredited agile scrum master training which is mandatory.
Key Features
This course has a 20 hours training led by an instructor. It has 16 hours of high-quality content. The exam fee is included in the course fee. It consists of 2 live scrum games and 7 scenario-based scrum games. 1 live project is included and case studies also. There are 19 self-paced e-learning content and 24 online classroom Flexi pass, where there is flexible access to instructor-led online training classes.
For individuals, this course has the option of self-paced learning and online classroom Flexi pass.
For organization there are corporate training solutions that are:
Blended learning delivery model which is self-paced e-learning as well as instructor lead.
Flexible pricing options
Learning management system (LMS)
Enterprise dashboards for individuals and teams.
24/7 learning assistance and support.
This course provides a practice test in the exam course only, so that you are prepared for the actual certification exam. There is a free online agile and scrum practice test available to make you familiar with the type of test you have to finally give. If by any chance one fails the exam, he/she can retake the exam on the same day at the exam center or through Exin centers.
Why Agile Certification?
Just like Project management and Service management, agile certification is also something which organizations look for in employees now. Professionals who follow the agile method are also keen to take the agile certification because it proves to be beneficial to them if they are planning to switch jobs or desire for a career in the agile domain. Once certified, the candidate can seek for a better salary, better credibility, better visibility and ability to keep up with current market trends.
The top five agile certifications are:
Basically, all these certificates are scrum-based because scrum is the most popularly used form of agile. Choosing the right course is very important. One should start by learning the basics of scrum/agile. After gaining knowledge about basics, one should go for the advanced course. The final step is scaling the agile methodology so that it can be put to use in an organization.
Conclusion
Other than the above five courses, there are many other courses also available in the market. Depending on the career you want or the requirements of your job, changing a job or just gaining knowledge, you can choose the right course.
Recommended Articles
This has been a guide to Agile Scrum certification. Here we discussed the importance of agile scrum certification, Skills we learn, Key features, etc. You may also look at the following articles to learn more –