What is Aggregate Supply?
Aggregate supply (AS) depicts the total output of goods and services generated at a given time and price. It is a measure of economic production. The two types are long-run and short-run aggregate supply. It consists of four main components: labor force, capital, natural resources, entrepreneurial ability, and technological progress. All these factors affect the aggregate supply. We can use the aggregate supply curve to represent the aggregate supply in a graph. It can also be called the production possibilities curve. It is crucial because it shows how the output changes as prices change.
Table of Content
What is Aggregate Supply?
Aggregate Supply Curve & Shifts 
Types of Aggregate Supply curve
Components of AS
What causes an increase in AS?
Real-life Example
Conclusion
FAQs
Recommended Articles
Key Takeaways
Aggregate supply is the quantity of output all firms in an economy produce at a given price level.

Factors such as inflation, interest rates, exchange rates, unemployment rates, and government policies determine AS.

Short-run responds quickly to changes in prices, while the long run is more responsive to changes in technology or factors of production. 

The curve is the sum of all individual supply curves. Shifts in the curve can happen due to changes in the price of inputs, expectations about future expenses, and other factors.
Aggregate Supply Curve & Shifts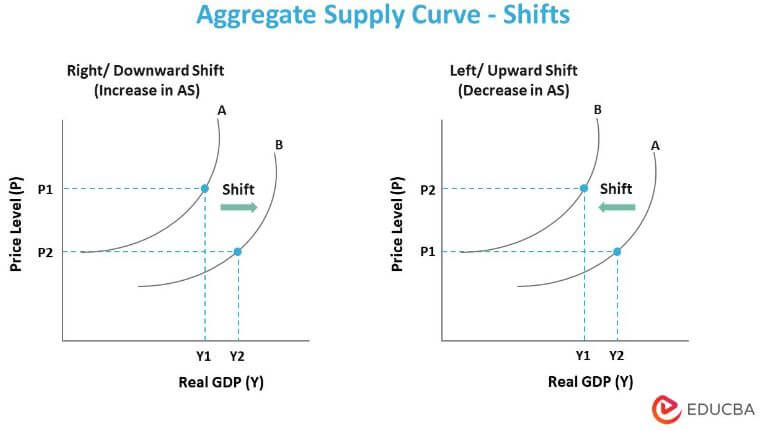 The curve represents the link between supply quantity and price level. The higher the commodity's price, the greater the profits and thus the willingness to create more. The curve is positive because firms will offer more goods and services as the price increases. 
Changes in any of the factors of production can cause shifts in the curve. Like changes in demand for goods and services, production cost, or technology.
A) Right or Downward Shift
When that curve shifts to the right or downwards, supply increases. This rise could be due to the following factors:
Low production costs lead to production being less expensive and more profitable. Also, the corporation can create more products at a higher profit with technological improvements. As a result, manufacturers offer large quantities of goods.

As the number of manufacturers in the industry grows,

the production of goods increases.

Entrepreneurs foresee changes in customers' expectations, like declining market trends. Thus, they aim to sell as many units as possible in a short time. 

When the government provides subsidies on specific necessities, it grants firms special privileges and rewards for units produced. It increases the entrepreneur's profitability, and the supply escalates.
B) Left or Upward Shift
When the curve shifts upward or to the left, there is a decline in supply. This decline could be owing to the following factors:
When production costs grow, the company's profitability suffers. It discourages producers from offering large amounts of items.

It happens if there is a reduction in the number of producers. Therefore, the fewer manufacturers, the smaller the supply.

The circumstance arises when entrepreneurs believe that the market trend for a specific product is rising. Companies will most likely reduce the production of such goods.

When the state imposes taxes by charging producers, the product price rises. Consequently, corporations are only willing to sell fewer quantities.
Types of Aggregate Supply Curve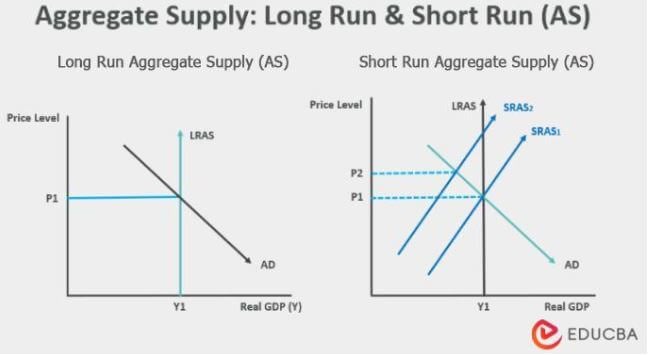 1. Short-run
The short-run aggregate supply curve (SRAS) is a standard AS curve which depicts a positive relationship between the price level and the economy's GDP. 
Firms can change the quantity of output they produce but not the price level. Furthermore, prices of those products don't adjust as quickly as supply does. It results in an illusion of set price levels. Therefore, it has a positive slope because the price level in the short run is fixed or negligibly changing.
2. Long-run
The long-run aggregate supply curve (LRAS) is perpendicular to the GDP. It shows the level of output firms are willing to produce at different prices. It assumes that prices are flexible and will adjust to output protection in the long run. If production costs do not change with output, there will be a horizontal line because it represents constant production costs at all output levels.
3. Medium-run
The medium-run aggregate supply curve (MRAS) can be either upward or downward. This part of the curve shows how the output changes when there are changes in prices or other factors that affect cost. It typically indicates how production will change over 3-5 years.
Components of Aggregate Supply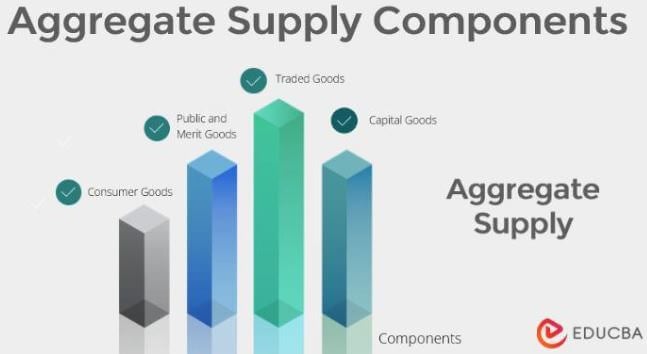 Labor force: Labor forces are one of the significant factors of production. The quality and quantity of production mainly depend on the skillset of the laborers. An increase in labor force participation helps the economy produce more over time.
Physical & human capital: This factor affects the long-run supply. An increase in population raises the need for products. Also, a large stock of physical capital can be an investment for production.
Natural resources: A significant factor is the availability of raw materials and resources to create supply. Access to enough land, water, and other natural resources can increase supply or vice versa.
Technology: With the invention of new equipment or the development of better techniques, the production rate increases, and costs decrease. Thus, advancements in technology can help boost the production of goods. 
Entrepreneurship, knowledge, and innovation: Entrepreneurship relies heavily on innovation. Innovation ensures that a company remains relevant for a long time. It does not always imply creating something entirely new. Innovators can take an existing product, analyze needed changes, improve it, and make it better.
What causes an increase in Aggregate Supply?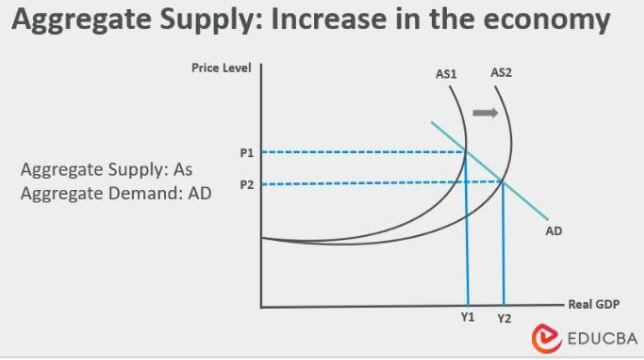 There are a few things that can increase Aggregate Supply.
One reason is an increase in the productivity of firms. When employees work extra hours and efficiently, supply may increase.

It can happen when the quality of resources increases, like advances in technology or the discovery of new resources. 

An increase in funds can lead to a rise in Aggregate Supply. I

f firms have more money to spend on resources, they provide better output. 
How does it affect the economy?
An increase in aggregate supply can lead to economic growth. 

It can also lead to inflationary pressures as businesses attempt to pass on higher costs to consumers. 

It can also put downward pressure on wages as businesses seek to maintain profitability in the face of higher input costs. 

Additionally, appreciation of the currency will increase as foreign investors seek to take advantage of the higher economic growth potential. 

Finally, it may lower the unemployment rate.
Example
The formula for aggregate supply is the sum of the consumption expenditures and savings.
Aggregate Supply = Consumption + Savings
Where consumption is the total money spent on goods & services, and savings is the balance. 
Example #1
ABC manufacturing company produces 100 tonnes of Good X for the production and labor costs of $350,000 and $30,500, respectively, in 2021-2022. Suppose production costs rise to $500,000 and labor costs increase to $45,000. Determine the effect on the supply of Good X for 2022-2023.
Determining the effect on Good X;
As labor and production costs are both aggregate supply factors, they will affect the production of Good X. 

As these factors rise, manufacturer ABC will lay off workers to cut back on labor costs. 

An increase in production costs and a decrease in labor size will lead to less production of Good X. 

Thus, the supply of goods will decrease. It can also cause an increase in its price levels.
Example #2
Between April and June 2022, the weather in India was not harvest-friendly. Due to unexpected rains and soaring hot days, the production of tomatoes and lemons decreased. Hence, the prices for both suddenly rose to an unusual level. Tomatoes were sold at Rs.100 to Rs.180 a kilogram. While lemons rose upto Rs.10 per piece (varying in different states). Upon all that, fuel prices had increased, adding to transportation costs.
It is a clear example of the factors affecting production and supply. Therefore, leading to an increase in price levels.
Conclusion
The aggregate supply is the entire amount of goods and services that enterprises can produce and sell through a period. The factors such as population growth, technological progress, and capital goods affect the supply. An increase in these factors can also lead to a rise in supply.
There are two types of aggregate supply – short-run and long-run. Short-run AS determines the output while the price is constant. On the other hand, Long-run determines the outcome a country can produce if prices are flexible. The aggregate supply curve depicts the link between quantity supplied and price level. It is an upward-sloping curve for the standard curve and short-run curve. For a long-run curve, the graph plots a vertical line.
Frequently Asked Questions
1. Name the determinants of aggregate supply.
The determinants of aggregate supply are also known as the inputs for producing goods and services. These include natural resources, workforce, capital & technology, and entrepreneurship. The availability of these inputs affects the production of goods and services and, in turn, the level of AS.
2. What are the implications of an increase and decrease in aggregate supply?
An increase can imply competitive markets. It can also lead to a rise in output. However, if it exceeds demand, it can cause unemployment. A decrease can imply inflation. In addition, it can lead to higher unemployment as businesses cut back on production. The overall effect is a decrease in economic growth.
3. What is the difference between Aggregate Demand & Supply?
Aggregate Demand is the total demand for all goods and services in an economy at a given time. Whereas, Aggregate Supply is the supply of all goods and services in an economy. Aggregate demand refers to what consumers want, while aggregate supply refers to what producers have available.
4. How to calculate aggregate supply? What is the equation for AS?
One can use the aggregate supply formula to calculate the economy's total supply. The procedure to determine aggregate supply is AS = C + S. In this equation, AS is aggregate supply, C is the value of Consumption Expenditure, and S refers to Savings.
5. What are the types and ranges of aggregate supply curve?
We can break down the curve into three types, short-run, long-run, and medium-run. The angle is vertical for the long-run curve and slightly upward for the short-run curve. Medium run falls in between those. The three ranges of the curve are Classical, Keynesian, and Intermediate. 
Recommended Articles
 This guide explains the Aggregate Supply (AS) definition, curves, long-run and short-run AS, what leads to an increase, and examples. You can learn more by visiting the following articles.