Updated July 13, 2023
What is Agency Problem?
An agency relationship is created when any person or a group of persons, called agents, are appointed to act on behalf of any other person/organization, referred to as the principal.
An agency problem arises when he uses his authority for his benefit instead of the principal's benefit. Thus, in simple words, an agency problem arises when there is any disagreement or conflict of interest between the agent and principal.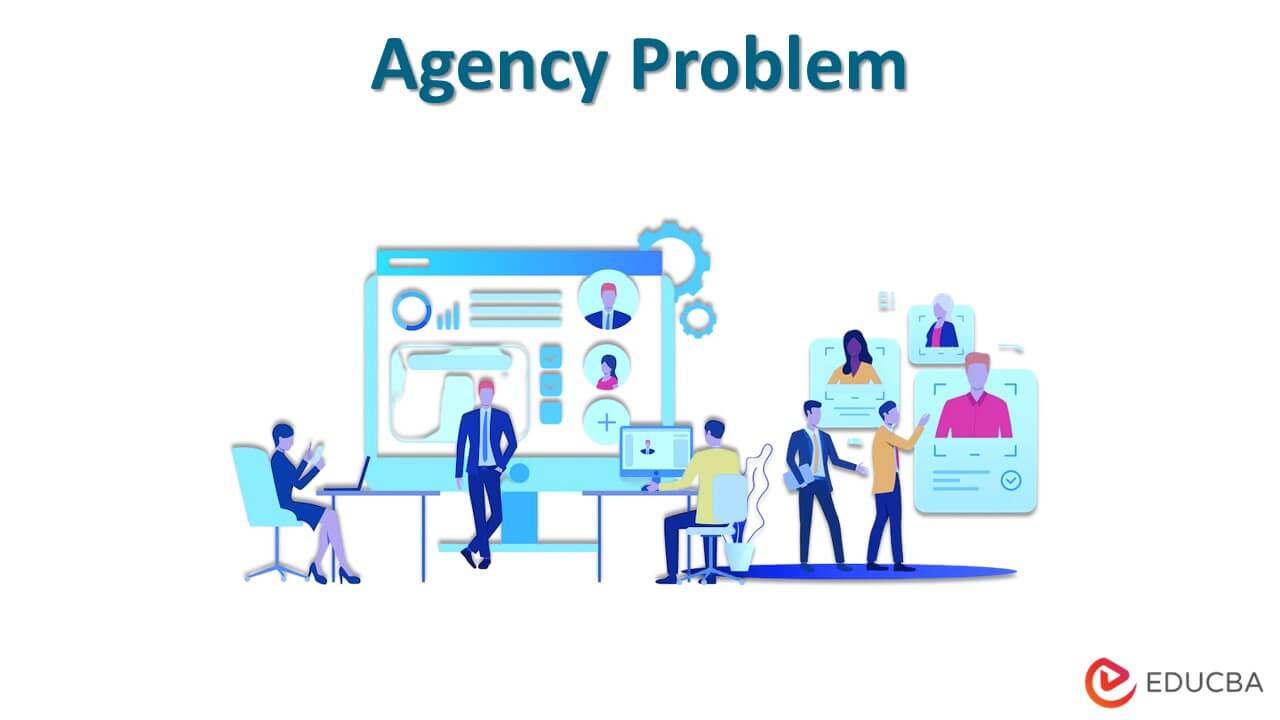 Key Takeaways
Incompatibility arises when two parties must act in each other's best interest, creating a conflict. It can arise when the incentives received by the agent are not compensatory enough for them to stay motivated to continue acting in the principal's best interest.
It can be avoided by compensating each group so that the incentive or compensation keeps them motivated to work for a more significant interest. You may note that agency problems cannot be avoided but reduced.
Example of Agency Problem
One can encounter various scenarios where one can see agency problems. For example, any time when the agents fail to do their duty or take any decision in their interest instead of their commitment is an agency problem.
A simple example can be a bank. The bank pays us interest when we deposit money in our bank account. Now, if the bank management denies paying their interest, it is nothing but an agency problem. Because in such a scenario, customers may well keep the money with themselves, eventually impacting the bank's business.
Another example can be the management or directors of a company. An agency problem arises when individuals, such as management, fail to work efficiently and make decisions that primarily serve their interests rather than the organization.
Types of Agency Problems
In an organization, there can be various agency problems amongst different groups, such as: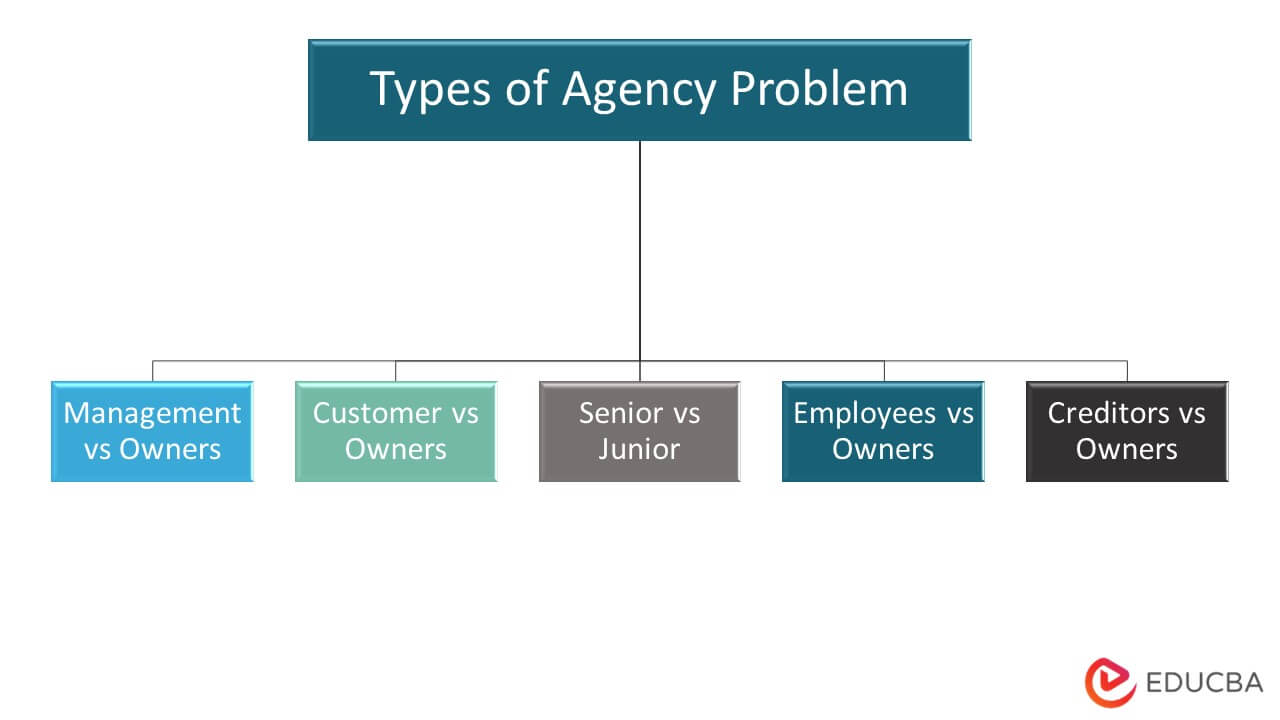 1. Management vs Owners
An organization appoints outside professionals who manage and run the company. However, if the management makes decisions that do not favor the business, conflicts between them and the owners can arise, which is an agency problem.
2. Customer vs Owners
Yes. They can be conflicts between customers and owners as well. For example, say the company decides to increase the product's price; in such a case, the customer may not buy the product and may shift towards other competitors' products.
3. Senior vs Junior
Various people who look after the company's overall management are employed in any organization. Usually, people at a higher managerial level make decisions or draft the steps to be taken and followed by all. There is a high possibility that people at lower or base levels may have a conflict here.
4. Employees vs Owners
Employees may want a better raise or incentive, and if the company does not adhere to the same, there may be a conflict between employees and owners or management.
5. Creditors vs Owners
Here, the problem can arise when the owners may make confident decisions that entail a high risk to earn higher rewards. The owners will have to fetch more loans for big or risky projects. And say in a turnaround event of them incurring losses in the project or the project failing to achieve the desired profitability, the creditors will lose money, and thus in such a situation, conflicts may arise between creditors and owners.
Reasons Behind Agency Problem
An agency problem occurs when there is a conflict or disagreement between the agent and the principal. An agent is supposed to act in the principal's best interest and maximize his benefit. A dispute mainly arises when the agent puts his interest ahead of his professional one.
In other words, when an agent makes a commercial decision that is for his benefit and not for the organization/ principal, the agency problem comes into the picture.
Solutions for Agency Problem
To avoid agency problems, one must ensure appropriate incentives to the agent / authorized representatives to compensate them for their efforts.
Following are a few ways in which we can solve it:
Hiring ethical managers
Getting a financial audit done
Performance-based incentives
Stock options – ownership of the organization will make them make moral decisions.
Recognition/awards for highlighting their achievements
Incentives based on results rather than time spent
Impacts of Agency Problem
Organizations' interests may be affected by agency problems when they overlook the same, potentially impacting the ongoing business. In addition, any decision taken by management that is not in the more significant interest of the organization will ultimately have a bearing on stockholders' wealth. To promote the organization's and stockholders' interests over their own, it is crucial to implement measures that minimize agency problems and motivate management.
Why is the Agency Problem Important?
The agency problem is essential as it measures the relationship among the people who run the organization or have important roles.
It would not be wrong to say that management is considered unethical to exploit the owner's/stockholders' interests to feed their benefits.
Management generally comprises professionals hired to look after the business and make decisions. It is always good to keep control and ownership different. However, it comes with its own set of concerns.
Conclusion
To summarize the whole discussion, the agency problem is simply a difference of opinion between the people who help operate and manage the organization and its owners. The people who manage the organization, including management, employees, and lenders, serve the organization's best interest. They work towards achieving maximum benefits for their owners while receiving compensation for their efforts. The concern or problem arises when these people focus on their interests instead of maximizing owners' wealth. Therefore, although we cannot eliminate the agency problem, as stockholders need professional people to manage the organization, both parties should work on this problem and minimize it to the extent possible.
Recommended Articles
We hope that this EDUCBA information on "Agency Problem" was beneficial to you. You can view EDUCBA's recommended articles for more information.