Updated July 13, 2023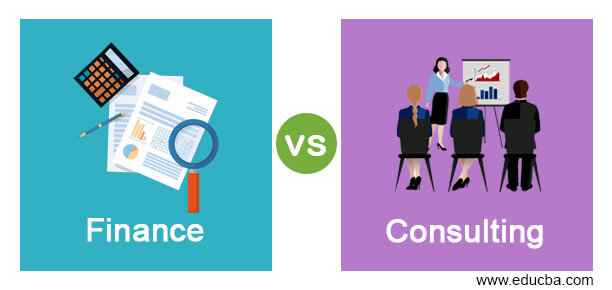 Difference Between Finance vs Consulting
Once you finish your studies, you can choose the field of your interest. One of the difficult decisions is choosing between finance vs consulting. Let us drill down into the two's essential meanings and critical differences.
Finance refers to working in the field of finance only. People working in the finance field are called finance professionals or finance specialists. They possess deep-diving knowledge about one subject, and that is finance. Thus, they know little about accounting, taxation, and business administration. They are finance experts.
On the other hand, consulting refers to generalists who possess average knowledge about various fields. For a given situation, they can consult the client through all angles of business administration and not be restricted to only finance. However, they are not experts in any field.
Head To Head Comparison Between Finance vs Consulting (Infographics)
Below is the top Comparison between Finance vs Consulting:

Key Differences Between Finance vs Consulting
Below are the key differences between Finance vs Consulting:
Finance
Since you work only in finance, you think only about the finance genre all the time. You are working for an investment banking firm, a research firm, a risk management firm, or simply a company that finances businesses.
There is no end to the deepness of knowledge in finance. This is how you tend to become an expert in the field. You do not see earnings or expenses, or investments. All you see are just numbers floating around your head.
If you are in the finance field, you can hold the numbers with control and evaluate the results only from a finance angle.
People in finance are generally job-oriented and stay job-oriented for life long.
Consulting
In consulting, you are no more an expert in any specific field. Instead, you have something about most topics, and you do not know everything about each topic. This is why people working in consulting firms are called generalists.
They are better at handling businesses. and look at different aspects, such as marketing, product advertising, customer service, and business administration.
They can provide a complete solution to the clients. Thus, they are also called management consultants.
People in the consulting field are more independent consultants or professionals who may start their ventures shortly. Therefore, they will not stick to one job for life long & they develop themselves to be independent.
Finance vs Consulting Comparison Table
Below is the 11 topmost comparison between Finance vs Consulting:
Particulars

Finance

Consulting

Knowledge Skills required
You got to master the Microsoft Office products. It would help if you were handy with Excel, PowerPoint, and Word. Financial modeling is an essential skill you should possess.
It would help if you were a selective expert on MS Office products. You need to have more knowledge about PowerPoint than Excel. You should process the data and come up with an analysis. A deep understanding of the businesses and various business strategies is essential.
Interpersonal skills required
You would be given a specific task to work on. You need to provide the results of your analysis and efforts to your boss. Thus, interpersonal skills are not that essential.
You deal with the client here. The way you speak or present matters a lot. Thus, interpersonal skills are crucial to success here.
Qualification
CFA is the gold standard qualification in finance over the globe. However, depending on your niche area of expertise in finance, you may prefer to do FRM, CIMA, PRM, etc.
You mainly need here one qualification – Certified Management Consultant (CMC).
Work Genre
You may work as an investment banker, an equity research analyst, a risk manager, project finance analyst. And may also have to work on technical analysis or quantitative analysis.
 You work as a management consultant, IT consultant, or consultant in other areas.
Focus of Work
The focus of the work is the result of your analysis and not a presentation of the work.
The focus of your work is the presentation of the results. You have to convince the client of your solutions for its problems.
Level of Knowledge
The knowledge level is deep and only in finance. You should know about different valuation methods, corporate finance, derivatives, and important corporate law provisions.
The knowledge level is broad and has some information about all fields.
Work-life balance
The working hours are long and can go around a minimum of 75 hours per week.
The working hours generally depend on the client & the project. Generally, 60 hours per week are enough.
Exit Opportunities
The exit opportunities lie within the finance genre. If you have already worked as an investment banker, you may choose to enter into private equity. Even a sell-side analyst of an equity research firm may choose to shift to a buy-side profile.
Your position in the firm may increase from assistant manager to manager.

Alternatively, you may open your consulting venture & continue to use your skills to earn higher premiums.

Networking
The Networking is vertical here and gets restricted within the finance genre.
 The Networking is horizontal here and widens as you indulge with more businesses.
Travel requirements
If you like to stay in a closed cabin and work around yourself, this job works best for you. You need not travel long distances since the client provides all data over your desk.
If you are a travel freak, then this job is for you. You may need to travel to the location to understand things inefficient manner. Traveling is the essence of consulting professionals.
Potential of earnings
The long working hours get rewarded with higher pay starting at $ 100,000.
It is accepted that the jobs in a consulting firm are lower than in corporate firms.

The entry-level pay start from $ 63,000. The pay here is rewarded in line with the efforts required.

Against the lower pay, you get a chance to explore different areas of specialization.
Conclusion
If you are still confused about which field to choose, refer to the comparative table again and stop at the point that excites you. The field that first hits interest in your mind. Go for it. Within six months, you will realize whether you want to continue in the chosen field or wish to switch.
Recommended Articles
This has been a guide to the top difference between Finance vs Consulting. Here, we discuss the Finance vs Consulting key differences with infographics and a comparison table. You may also have a look at the following articles to learn more –