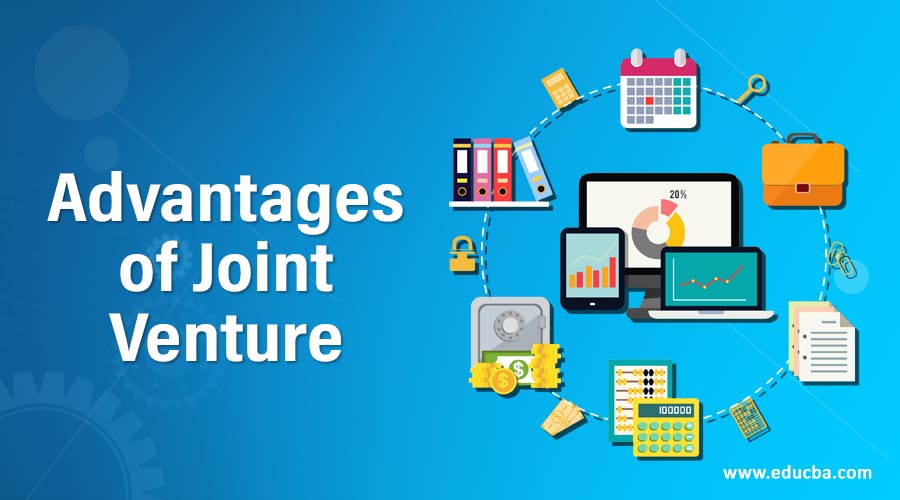 What is Joint Venture?
Joint venture is a business or commercial arrangement made jointly by two or more parties to carry out business operations by contributing assets, equity ownership, return of investment, expenses, governance, and profits for accomplishing a specific task of a newly made legal entity where each party is having joint control over business operations and rights in net assets of the venture.
Explanation for Advantages of Joint Venture
Joint venture is a legal step taken by two or more business entities to carry out business more efficiently. A joint venture can be done within the same type of industry or between different types of industries to work for the same objective of creating an advantage over other players in the market. Companies involved in the joint venture can be public, private, or foreign companies. Joint venture is mostly done for the potential use of technological advancement and is geographically widespread for other companies. Joint ventures can be done across various sectors like pharmaceuticals, banking, textiles, insurance, and hospitality. When two organizations of different countries come together for a joint venture, they have to follow the directives issued by their respective governments. It helps the government to keep a check on the working of the organization.
Top 10 Advantages of Joint Venture
Joint Venture offers various advantages to the groups involved for faster growth and increased productivity. Some of the advantages are listed under –
1. Creates Synergy
A joint venture helps in extracting the qualities of each other. One company may be efficient at producing while others may be good at marketing. This intermixing of quality sharing helps in proper synchronization for running a successful firm. These companies working on economies of large scale helps in providing better cost advantage and operational efficiency.  One of the major advantages of a joint venture form of business organization is the synergy of operation which leads to the reduction of repeated tasks, increasing productivity and profits.
2. Innovation
Joint venture helps in upgrading the production services with the help of technological advancements used by other companies in different countries or locations. Innovation is carried out to attain product cost efficiency, also new ideas are provided from all over the spheres to provide a better quality of the product manufactured. A joint venture helps in providing new insights and expertise.
3. Better Resources
Accessibility to better resources like specialized staff, technology, and the raw material is increased in joint ventures. A large amount of finances is also available which provides easier expansion of the business. Different geographical locations contain different amounts of resources and the quality with varying locations of resources also differs, in the joint venture, organizations are benefited from these vast amounts of resources.
4. Intellectual Property Gains
Organizations enter into a joint venture with technology-rich firms that helps them in gaining technology benefits without increasing funds invested. Otherwise, this money and time that's wasted in developing it in- house. In this way, large firms help smaller firms in expanding their business with a limited amount of input.
5. Risk and Reward can be Shared
The risk and reward associated with the activities carried out in a joint venture are agreed upon and are shared between the parties of a joint venture. With the diversification in culture, target audience, geographical advantage, the risk, and rewards are generally overcome and availed easily in joint ventures.
6. Access to New Markets and Distribution Networks
A joint venture is advantageous as it opens up a vast market that offers maximum potential for a company to grow and develop. For example, a company of United States enters into a joint venture with a company of Canada, it provides an advantage for the citizens as well as the United States to access the wide market of Canada with much larger paying capacity and differing choices. At the same time, people of Canada could now access the product of the United States market and the company also has access to varied choices of the United States population.
7. Low Cost of Production
The main motive of a joint venture is to provide the best quality product and at the most efficient cost. Joint Venture helps in managing the cost of production and services to minimal. The parties involved share the pool of resources that helps in bringing down the cost on an overall basis.
8. Joint Venture offers Flexibility
Joint ventures have limited liability and commitment. The life span of any joint venture can be molded according to the need of the parties. If the organization does not see profit in the business or due to external or internal factors, if the business suffers, the parties can withhold commitment and exposure of the business further. At any point in time, the owner can be taken back. This makes joint venture attractive and fruitful option in the field of business.
9. Limitless Potential
Various venture deals can be created in the process even with little or no money. Multiple partners help in gaining quick momentum for successful running and expansion of the business. One venture may lead to the forming of various ventures with the help of exploration and expertise in hand. The wide scale market also helps in providing limitless potential for the growing business.
10. Brand Name
Joint venture helps in giving a distinctive brand name to the new entity formed. A bigger brand, already established in the market with a good reputation when merges with another not so popular company for a particular product provides brand value to the product thus formed. This helps in gaining customer confidence for the product without applying any extra effort and money for its marketing.
Conclusion
Joint ventures prove to be the best option for the companies to pursue a specific project either with similar products or for creating an entirely different firm with core business activities. Companies undergo joint venture through a proper contractual agreement done between the parties involved where profit and loss are shared by the participants of the venture. It helps in gaining a tactical and strategic edge in the market over other competitors. However, there are certain rules and regulations within each country in which parties to the joint ventures have to abide by and comply with the reporting requirements as per various laws and regulations.
Recommended Articles
This is a guide to the Advantages of Joint Venture. Here we discuss an introduction to the Joint Venture along with the top 10 Advantages. You can also go through our other related articles to learn more –