Updated May 26, 2023
About WTO
The World Trade Organization (WTO) is an international organization that deals with the rules of international trade. It was founded in 1995. It acts as a forum for negotiating agreements, settles trade controversies between its members, and supports the demands of developing countries. Its main goal is to ensure a smooth, accessible, predictable, and uninterrupted trade flow. As of 2022, there are 16 member states.
Several member states and the legal system work together to enforce and protect the rules and protocols that make up the World Trade Organization. Discrimination between trade groups in the WTO is illegal. However, exceptions can be made if it is necessary to achieve national security, ecological security, and other vital goals.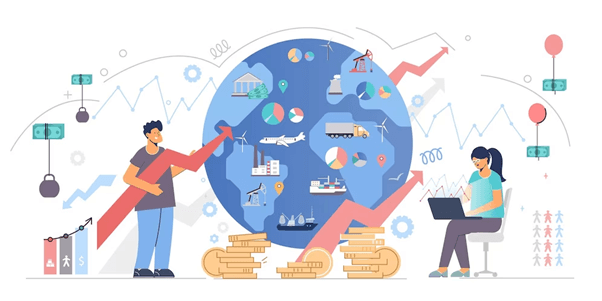 The World Trade Organization (WTO) consists of sovereign judges responsible for settling trade disputes through a process known as dispute resolution. The organization has several pros and cons. This article will talk about the advantages and disadvantages of the WTO.
Top 5 Advantages of WTO
Here are some of the advantages of the WTO:
1. Simplifies the Business
The WTO is devoted to laying down regulations and laws that help conduct business efficiently. The WTO ensures that these regulations and laws are followed during global trade. These laws simplify the trading business and bring uniformity to the process.
2. Enforce Harmony
One of the WTO's primary goals is to promote trade among participating countries and ensure that every nation sticks to the regulations and laws for business. The proper code and implementation of trade regulations provide peace and harmony among participating countries.
3. Tracks Monetary Process
The WTO is an international organization that handles all member countries' trade affairs. As a result, to demonstrate that consumers have good options, governments are encouraged to diversify their products to imitate financial development.
4. Reduces The Disputes
The World Trade Organization is also responsible for resolving disputes that may develop between states when executing commerce and trade among themselves. As a result, the WTO ensures that each issue is heard correctly and that proper steps are taken to resolve it constructively.
5. Increases A Country's Net Income
The primary goal of the WTO is to encourage international commerce and maintain smooth trade flows. This permits countries to trade and interact with other nations and secures the economy's course, ultimately leading to investment diversification and increased net earnings.
Top 5 Disadvantages of WTO
As mentioned earlier, there are both advantages and disadvantages of WTO. So, let us look at the penalties of tourism:
1. Limited Success in Achieving Comprehensive Global Trade Liberalization
While the WTO has made progress in reducing trade barriers, particularly in manufactured goods, its efforts to achieve comprehensive global trade liberalization have needed to be expanded. Negotiations in key areas such as agriculture, services, and intellectual property rights have faced significant challenges, leading to incomplete liberalization in these sectors.
2. Unequal Distribution of Benefits Among Member Countries
Developed nations often have a greater capacity to take advantage of trade opportunities and have more negotiation leverage, resulting in imbalanced outcomes that favor their interests.
3. Economic Challenges for Certain Industries and Workers
Trade liberalization, as facilitated by the WTO, can lead to job losses and economic disruption in certain industries, particularly in sectors that face intense competition from imports. Some argue that the WTO has not addressed the negative impacts on affected workers and industries, leading to unemployment and social dislocation concerns.
4. Challenges in Addressing Non-tariff Barriers
Non-tariff barriers, such as technical standards, sanitary and phytosanitary measures, and intellectual property rules, can still pose significant obstacles to trade. Critics argue that the WTO's mechanisms for addressing these barriers could have been more effective, resulting in ongoing challenges for businesses trying to access foreign markets.
5. Difficulties Faced by Developing Countries
Due to limited capacity and resources, developing countries often need help participating in WTO negotiations and implementing complex trade agreements fully. This can be a disadvantage in the global trading system and make it difficult for them to realize the potential benefits of WTO membership fully.
Conclusion
The globally recognized World Trade Organization regulates trade between countries and establishes rules and restrictions on conducting trade. This helps limit disputes and evens progress between nations, increasing per capita income and maintaining harmony and peace. Trade is the organization's primary concern, and the laws frequently benefit big corporations and nations that can contribute to trade.
This pushes tiny countries and businesses to buy these firms' products, lowering their production. Several nations may boost their trade and productivity through the WTO by increasing the number of enterprises that ultimately hurt the environment. Thus, there are both advantages and disadvantages of WTO. Therefore, a balanced approach needs to follow.
Recommended Articles
We hope that this EDUCBA information on "Advantages and Disadvantages of WTO" was beneficial to you. You can view EDUCBA's recommended articles for more information,