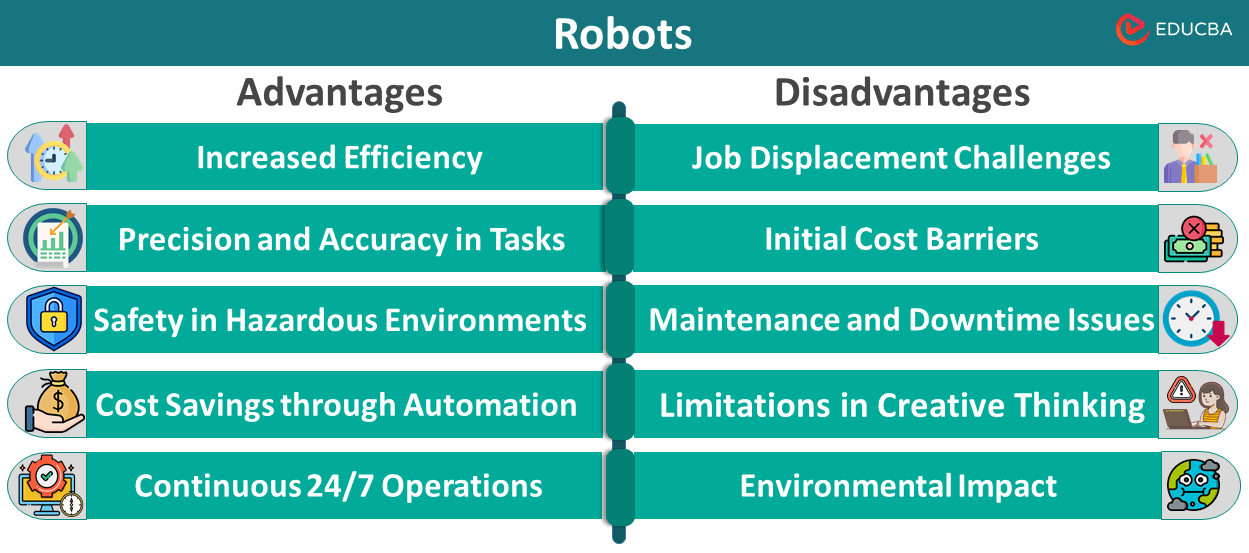 Advantages and Disadvantages of Robots- Introduction
Imagine machines that can move, see, and do things independently without constant human guidance – those are robots! They are like super-smart helpers that can follow instructions to complete tasks.
Robots may look like humans, animals, or just moving parts. They can be small, like tiny robots that help in surgeries, or big and strong, like those that help in factories to build cars. Moreover, robots are not just limited to factories and industries. For instance, they are making their mark in various fields. Some robots are exploring the ocean's depths, reaching places humans can't go. Others venture into outer space, assisting in space exploration.
We have ample proof that robots make life easy, but we also need to think about the challenging sides. So, let us see all the possible advantages and disadvantages of Robots.
Advantages of Robots
Robots offer numerous advantages in a wide range of industries and applications. The following are some of the primary benefits of robots.
1. Increased Efficiency
Robots can perform tasks consistently without the need for breaks or rest, leading to increased efficiency in production processes.
Example: In manufacturing, robotic arms can assemble products precisely and quickly, contributing to a faster and more efficient production line.
2. Precision and Accuracy in Tasks
Robots can execute tasks with high precision, reducing errors and improving the quality of manufacturing and assembly processes.
Example: Surgical robots assist surgeons in performing delicate procedures with enhanced precision, minimizing the risk of human error.
3. Safety in Hazardous Environments
We can employ robots in hazardous environments to take on tasks that involve exposure to dangerous conditions, ensuring the safety of human workers.
Example: Remote-controlled robots are used in bomb disposal units to handle and defuse explosive devices safely.
4. Cost Savings through Automation
Over time, using robots can lead to cost savings through increased productivity, reduced labor costs, and minimized errors in production.
Example: Automated systems in warehouses can efficiently manage inventory and fulfill orders, reducing the need for manual labor and associated costs.
5. Continuous 24/7 Operations
Robots can operate continuously, enabling 24/7 production or service delivery without the constraints of human working hours.
Example: Automated customer service chatbots can assist around the clock, addressing customer inquiries at any time of the day.
6. Handling Repetitive Tasks Efficiently
Robots consistently handle repetitive tasks, freeing human workers to concentrate on more complex and creative aspects of their work.
Example: Robotic arms in manufacturing can repetitively assemble products with high accuracy and speed.
7. Quick Data Collection and Analysis
Robots equipped with sensors and cameras can collect vast amounts of data in real-time. This data can be crucial for monitoring and improving processes, identifying issues, and making informed decisions.
Example: Agricultural robots with sensors can analyze soil conditions, monitor crop health, and optimize irrigation, contributing to precision farming.
8. Flexibility in Robotic Applications
Some robots are designed to be versatile and easily reprogrammable, allowing them to adapt to changing tasks and production requirements.
Example: Collaborative robots (cobots) can be quickly reprogrammed to work alongside human workers on various assembly line tasks.
9. Consistency in Quality Output
Robots can consistently produce high-quality output without the variations that may occur in human-controlled processes.
Example: 3D printers can create intricate and detailed objects with consistent quality, layer by layer, based on digital designs.
10. Robots in Space Exploration
Robots play a crucial role in space exploration, conducting tasks in environments where human presence is challenging or impossible.
Example:  Mars rovers, such as NASA's Curiosity rover, autonomously explore the Martian surface, conducting experiments and sending valuable data back to Earth.
Disadvantages of Robots
Despite their many advantages, robots also present some potential disadvantages. Here are some of the key disadvantages of robots:
1. Job Displacement Challenges
Increased automation can lead to job displacement as robots take over tasks traditionally performed by humans.
Example: In manufacturing, implementing robotic assembly lines can result in job losses for human workers previously involved in manual assembly.
2. Initial Cost Barriers
The upfront cost of acquiring and implementing robotic systems can be high, posing a barrier to entry for smaller businesses.
Example: Purchasing and installing industrial robots in a factory may require a significant initial investment in technology and infrastructure.
3. Maintenance and Downtime Issues
Robots require regular maintenance to ensure they work well. Sometimes, technical issues can arise, which requires skilled technicians to fix them. This can temporarily stop the production.
Example: A breakdown in a robotic welding system may require specialized maintenance to resume normal operations, leading to delays and added costs.
4. Limitations in Creative Thinking
Robots lack humans' creative and intuitive thinking abilities, making them less suitable for tasks that require innovation and problem-solving.
Example: Designing unique and creative solutions to complex problems, such as in artistic or research endeavors, is a task that currently exceeds the capabilities of most robots.
5. Technology Dependence Risks
Heavy reliance on robotic systems can be risky. For instance, a failure in the technology can lead to disruptions in operations.
Example: Autonomous vehicles heavily depend on sensors and software, and any malfunction in these systems can pose safety risks and disrupt transportation.
6. Environmental Impact
The production and disposal of robots can have environmental consequences. The use of non-renewable resources and disposal of electronic components can contribute to electronic waste, potentially harming the environment.
Example: The disposal of consumer robots, such as outdated home assistant devices or personal robots, contributes to electronic waste, posing environmental challenges related to the recycling and proper disposal of electronic components.
7. Versatility and Adaptability Limits
While robots excel at specific tasks, they may struggle with tasks that require human-like skill, adaptability, and complex decision-making.
Example: A robot designed for a particular assembly line task may struggle to adapt to product design or changes in production requirements.
8. Impact on Social Interaction
The increasing use of robots in certain roles, such as customer service, may reduce human-to-human interactions, potentially affecting social skills and relationships.
Example: The use of automated customer service chatbots may lead to a reduction in direct interactions between customers and human representatives.
9. Increased Security Risks
Robots becoming more connected through the Internet of Things (IoT) may be vulnerable to cyber-attacks. Hacking into robotic systems can lead to unauthorized access, data breaches, and manipulation of their functions, posing security risks to industries and individuals.
Example: Hackers gaining control of industrial robots in a manufacturing facility could disrupt operations, compromise product quality, or pose safety risks.
10. Global Economic Differences
The adoption of robots may lead to economic differences between technologically advanced and less advanced regions, creating a digital divide.
Example: Countries with advanced robotic industries may experience economic growth, while others with limited access to robotic technologies may lag.
These were all the advantages and disadvantages of robots.
Final Thoughts
In the future, the number of robots will likely increase, bringing both benefits and challenges. While robots can enhance efficiency, safety, and precision, there are concerns about job displacement, initial costs, and ethical considerations. Striking a balance between leveraging the advantages of robotics and addressing the associated challenges will be crucial. Therefore educating yourself on the advantages and disadvantages of robots is equally important.
Recommended Articles
We hope this EDUCBA information on the Advantages and Disadvantages of Robots benefited you. You can view EDUCBA's recommended articles for more information,