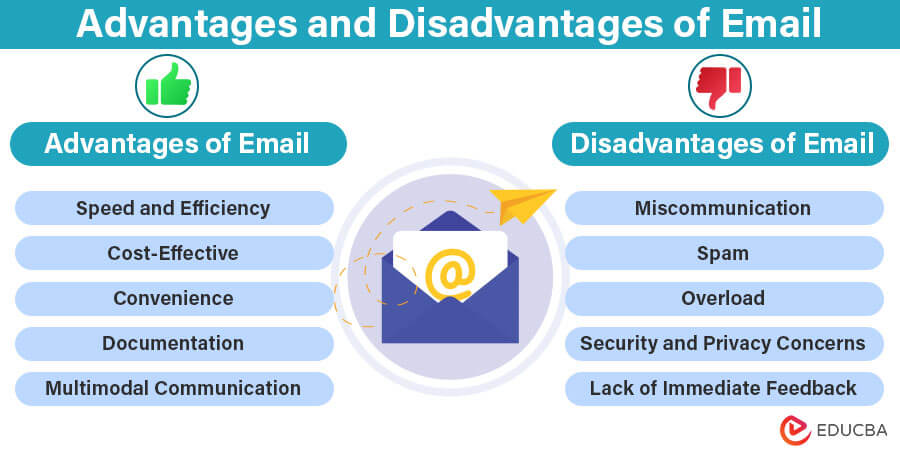 Advantages and Disadvantages of Email – Introduction
As computers became more popular in the 1970s, Ray Tomilson had a brilliant idea that changed how we communicate. The change was, "Why not send messages through the computer?" That's how Electronic Mail (E-mail or Email) was born!
Since then, Email has become a lifeline for communication. Whether you want to handle important workspace tasks or chat with friends and family, Email makes life easier. With a few clicks, you can share files, photos, and thoughts, making the world feel smaller and more connected. Email has become an integral part of communication in both personal and professional settings.
While it offers numerous advantages, it has its fair share of disadvantages. Here are some of the key advantages and disadvantages of Email, along with a detailed example for each.
Advantages of Email
Here are some advantages of using Email.
1. Speed and Efficiency
Email lets you send and receive messages in seconds or minutes, making conversations quick and efficient.
2. Cost-Effective
Using Email is much cheaper than traditional mail as you don't need to pay for postage, printing, or paper.
3. Convenience
You can check your Email on various devices like computers, smartphones, and tablets, making it a widely accessible communication method.
4. Documentation
Email provides a written record of your conversations, helping you easily find past discussions and create a paper trail of important details for business or legal purposes.
5. Multimodal Communication
Email makes it simple to exchange multimedia content like files, documents, images, links, videos, etc.
6. Global Reach
Email connects you with people worldwide, regardless of where they are. It is essential for international business as well as to stay in touch with friends and colleagues abroad.
7. Organization and Searchability
Most Email services have features like folders, labels, and advanced search options that help you manage your messages efficiently.
8. Flexible Response Time
You can send and read Emails when it suits you, as it doesn't demand real-time responses. Thus, it no longer requires everyone to be available at the same time.
9. Archiving and Storage
You can store important Emails for future reference, which can be valuable for keeping records, adhering to regulations, and preserving historical data.
10. Automation
Email allows for automated tasks like scheduling messages, setting up auto-replies, or running Email marketing campaigns, which makes it versatile for various communication needs.
11. Security and Privacy
Most Email providers offer features to keep your messages secure and private, including encryption to protect sensitive information.
12. Reduced Environmental Impact
Email reduces the need for paper, printing, and transportation, which helps reduce your environmental footprint and supports sustainability.
Example: Consider a school named XYZ that wants to improve communication between teachers, students, and parents. They decide to implement Email as a primary means of communication. This results in the following advantages and improvements in communication.
Speed and efficiency: Teachers can instantly share updates and assignments with students.
Cost-effective: The school saves money on paper and postage costs.
Convenience: Students and parents can access information from various devices.
Documentation: There is a clear record of academic communications.
Multimodal communication: Teachers can share study materials, video lessons, etc.
Global Reach: Teachers can easily connect with international students and their families.
Organization: Teachers efficiently manage assignment submissions.
Time-shifted communication: Everyone can engage at their convenience.
Archiving: The institute archives the Emails for auditing and record-keeping.
Automation: They use automated reminders and responses for specific inquiries.
Security and privacy: Sensitive student data is protected with encryption.
Reduced environmental impact: The school contributes to sustainability efforts.
Disadvantages of Email
Here are a few disadvantages of Email.
1. Miscommunication
Emails can lead to misunderstandings as it can be difficult to understand someone's exact tone or context, causing conflicts or confusion.
2. Spam
There is often a flood of unwanted messages and spam, some of which might contain harmful software.
3. Overload
People who get too many Emails daily might face issues responding promptly to important ones.
4. Security and Privacy Concerns
People with unauthorized access can easily steal sensitive and confidential information using phishing Emails, scams, malware, etc.
5. Lack of Immediate Feedback
Email doesn't offer real-time discussions, which can be a problem if you expect a timely response.
6. Attachments and File Size Limits
Email systems often limit the size of files you can send. It can be inconvenient when you need to share large media files.
7. Technical Issues
Email services can have glitches, causing delays, lost messages, or formatting problems.
8. Inefficient for Complex Discussions
Email isn't the best choice for detailed discussions that need feedback from many people.
9. Lack of Emotion and Personal Touch
Emails lack the warmth and personal connection that face-to-face or in-person conversations have. It can affect building relationships and showing empathy.
10. Legal and Regulatory Compliance
Organizations must follow laws and rules related to Email communication, like keeping records, protecting sensitive data, and making proper disclosures.
11. Ineffective for Urgent Matters
If something's urgent, Email might not be the quickest way because people don't always check their inboxes regularly. A call or instant message could be better.
12. Cluttered Inboxes
Unread or unmanaged Emails can lead to cluttered inboxes, making it challenging to find important messages and increasing the risk of missing critical information.
Example: Company XYZ is a medium-sized marketing agency that relies heavily on Email communication for internal and external interactions. While Email has several advantages, the employees have encountered various challenges that have affected its operations and relationships as follows:
Miscommunication: An Email exchange between team members Sarah and John led to a misunderstanding due to the absence of tone and context, causing tension.
Spam: Inboxes were flooded with spam, including harmful content, requiring time-consuming inbox management.
Overload: High Email volume made it hard to prioritize and respond promptly, resulting in delayed responses and missed opportunities.
Lack of immediate feedback: Urgent client requests went unanswered, impacting the company's reputation.
Inefficiency for complex discussions: Complex projects suffered as Email threads became complex, slowing discussions and feedback.
Lack of personal touch: Email's absence of personal connection affected client relationships, making it harder to convey empathy.
Interesting Facts About Email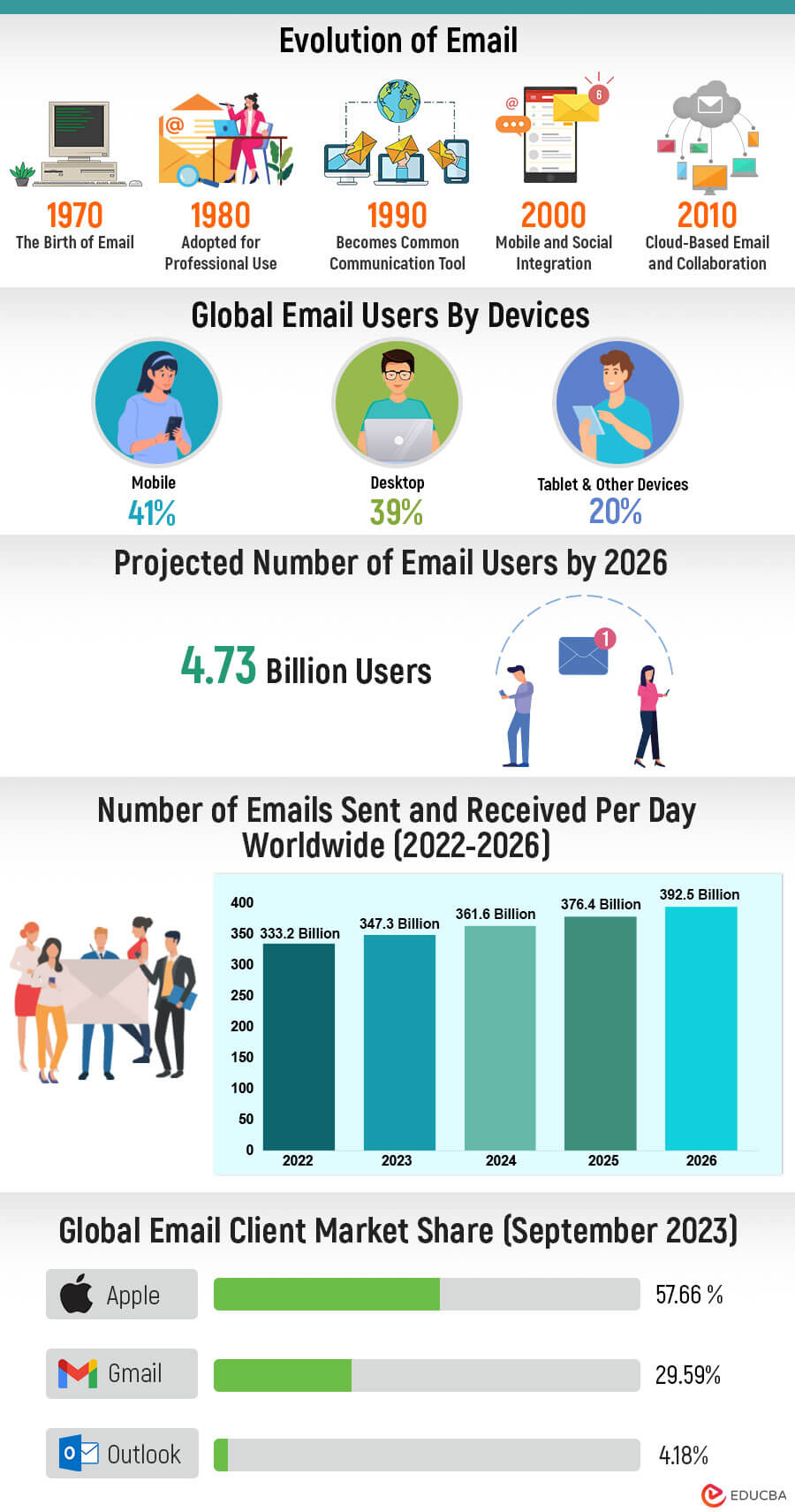 Final Thoughts
From the above-mentioned advantages and disadvantages of Email, we can conclude that Email will stay versatile and adaptable to new tech trends. It will keep us connected globally, becoming more efficient with automation and analytics. However, we must be wary of cybersecurity issues, information overload, and the need for stricter privacy measures. As other communication options arise, Email must evolve to remain a useful tool.
Recommended Articles
We are hoping you found this article about the advantages and disadvantages of Email worthwhile. For similar content, visit the following recommended articles,