Hostel Life
Hostel life is a living arrangement where students live in shared accommodation, usually on a college or university campus. Hostels provide low-cost housing and a social atmosphere, with students sharing common areas such as kitchens, lounges, and bathrooms. Hostel life is a great way to make new friends worldwide and learn about different cultures. It also provides an opportunity to learn essential life skills such as budgeting, communication, and problem-solving in a unique setting. Let's go through the advantage and disadvantages of hostel life below.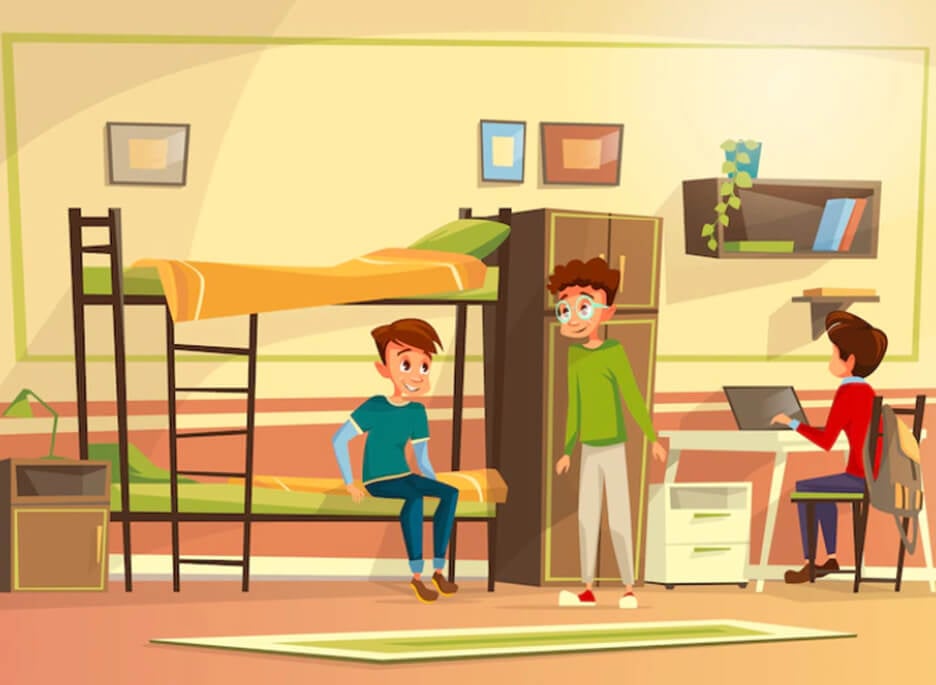 Advantages and Disadvantages of Hostel Life
Some of the advantages and disadvantages of Hostel Life are listed below:-
Advantages of Hostel Life
Increased independence: Staying in a hostel can help students build their independence by providing an environment where they must handle new responsibilities and learn how to live with others. Living in a hostel means individuals must do their laundry, shop, cook, clean their rooms, and manage their finances. It can help them to become more independent, mature, and responsible adults.
Forming friendships: One of the significant advantages of staying in a hostel is that it provides an excellent opportunity to meet new people and build meaningful friendships. Hostel life encourages students to mingle with their peers, which can help them establish meaningful connections inside and outside the classroom.
Developing social skills: Hostel life can also help students to develop their social skills. As they are living with people from different backgrounds, they get exposed to different perspectives and cultures.
Affecting academic performance: A positive environment is essential for students to do well academically. Hostel life can provide students with an environment that is conducive to learning. The presence of peers of similar backgrounds and interests can motivate students to perform well academically.
Creating memories: Staying in a hostel is also a great way to create memories that will last a lifetime. It allows students to escape their comfort zone and explore new places, cultures, and people. It can be an invaluable experience that can help their personal and professional development.
Cost efficient: Hostels are a much more cost-efficient option for students than renting an apartment. The accommodation cost in a hostel is usually much lower than that of an apartment. Additionally, most hostels provide amenities such as wifi, laundry, and kitchen access, making them an attractive option for budget-conscious students.
Disadvantages of Hotel Life
Lack of Privacy: Hostel life can often be quite cramped, and you may have to share a room with others. It can be difficult if you are used to having your own space, leading to a lack of privacy for all.
Lack of Comfort: Hostel life sometimes provides a different level of comfort than a home. You may have to sleep in shared dorms, share bathrooms and shower facilities, and use communal areas that need better maintenance.
Limited Space: As mentioned above, the bedrooms in hostel accommodation can be pretty cramped, and there is often limited space to store your belongings. It can be incredibly challenging if you are used to having your room at home.
Security Issues: When staying in a hostel, you sometimes have a different level of security than in a hotel or private accommodation. The locks on the doors may need to be more secure, and you may need to be more vigilant with your belongings.
Noisy Neighbours: With many people sharing the same accommodation, your neighbors may be pretty noisy. It can be incredibly disruptive at night when you are trying to sleep.
Lack of Cleanliness: Hostel accommodation can often be dirty and poorly maintained. It can be a health hazard and very off-putting for some people.
Potential Unpleasant Experiences: As backpackers often use hostels, there is a chance that you may encounter unpleasant experiences such as theft, drug use, or violence.
Poor Quality Facilities: Hostels often need more facilities than you would get in a hotel or private accommodation. It can include a gym, swimming pool, or laundry facilities.
Final Thoughts
Hostel life can be both a positive and negative experience. On the one hand, it can give students a sense of independence and the opportunity to meet new people from different cultures and backgrounds. On the other hand, it can also be a stressful and isolating experience. It is essential to weigh the advantages and disadvantages of hostel life before deciding if it is the right choice for you.
Recommended Articles
We hope that this EDUCBA information on "Advantages and Disadvantages of Hostel Life" was beneficial to you. You can view EDUCBA's recommended articles for more information,