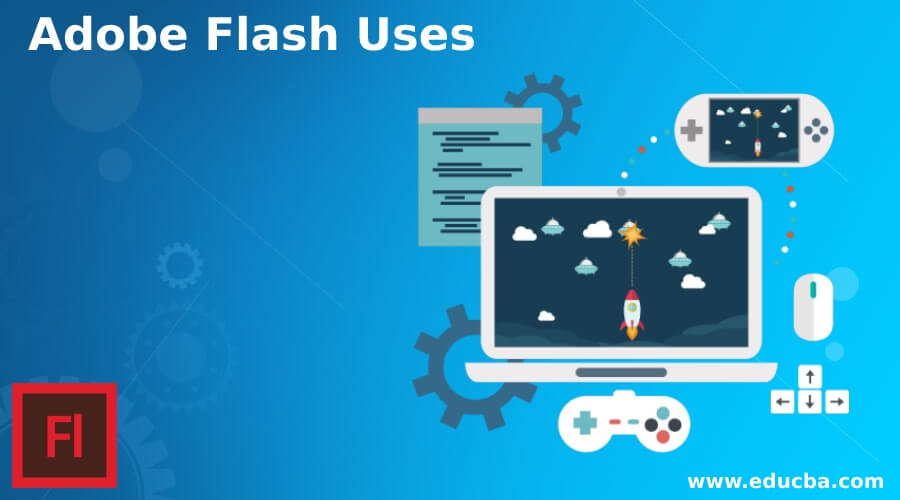 Introduction to Adobe Flash Uses
The following article provides an outline for Adobe Flash Uses. Adobe Flash is used for making presentations of different professional purposes, creating games, animations with a number of elements, visualization, creating web pages component as well as managing them in an effective way and for many more design platform work we used this software, and due to this, we can consider it as very powerful software.
We have the most similar user interface of this software as other adobe applications so we find it very helpful during using it for animation of vector graphics as well as coding with ActionScript 3.0. All through, we have a number of platforms for which we use Adobe flash and get our desired result with it, but here we will see about the platform on which we use it since its development and its websites.
Various Adobe Flash Uses
Given below are the various adobe flash uses:
1. Adobe Flash Used for Websites
In the early 2000s time, period flash was used widely for different types of supporting purposes (including displaying, playing content, etc.), and for this, it was installed on desktop computers so that it displays web pages to the users, online games, play videos and audio content on that desktop computer without any problem.
Later on, between 2000 to 2010 number of business professionals used a website that was based on Adobe Flash to launch new products, and they found it very useful in this content at that time. The new feature came in the development of websites that were launched a website with 3D content, and it became possible when Adobe introduced hardware-accelerated 3D for Flash (Stage3D), and it was a different type of feature in the Adobe Flash that made it popular among its users.
2. Adobe Flash Used for Rich Web Applications
After introducing ActionScript in Flash 5 into the market in 2000, its developer combined its visual and programming capabilities to enhance its working range. That is why Flash can produce interactive experiences as well as web applications in a very smoother way. This type of web-based application was earlier known as Rich Internet Applications, but later on, it was replaced with Rich Web Applications.
In between 2006 to 2016 availability of Adobe Flash on PCs decreased, so all the services shifted to HTML5.
Developers have the option to create Flash Web applications as well as Rich Web Applications in ActionScript 3.0 (it is a programming language) with IDEs, and it includes FlashDevelop, Flash Builder, and Powerflasher FDT. Now the next platform in which we use this software widely is Video game creation, and during using this software, we have freedom for creating video games as per our own ideas, but it also has some limitations in some areas.
3. Adobe Flash Used for Video Games Creation
Video games of Abobe Flash were popular on the internet when its developer introduced its features for video game creation, and it has portals like Miniclip, Armor Games, and Newgrounds dedicated to the hosting of games that are based on Flash. Some popular games that Flash supports are AdventureQuest, Angry birds, Hundreds, Clash of Clans, Farmville, and so on. Later on, Adobe introduced several techniques for the development of video games that including adobe AIR (it helps to release games on different platforms such as desktop or mobile as well). Not only this, but adobe AIR also allows the creation of flash-based mobile games that can publish on Google play store or Mac app stores.
Flash not only works for 2d games but it is also used for building interfaces and HUDs for 3D video games using Scaleform GFx (It should be flexible); it is a technology that can render flash content within non-flash video games. This Scaleform has support from more than 10 major video game engines: Unreal Engine and UDK, PhyreEngine, and CryEngine, which makes it more and more user-friendly and is also used for creating 3D interfaces for more than 150 major video games titles since its launching. Next is the Film and Animation platform, which is an important part of design sectors, and Flash also has its impact here.
4. Adobe Flash Used in Film and Animation
Adobe Flash, later known as Adobe Animate, is used for almost every common application of animation programs of Films and Animation industries at a low-cost facility for 2D television and commercial animation compared to other animation and Film content manipulation software such as Anime Studio and Toon Boom Animation.
Flash includes a number of this type of user: DHX Media Vancouver for productions that include Little Pet Shop, Pound Puppies, and May Little Pony: Friendship is Magic and same as many other popular programs used this adobe Flash player. Currently, almost every popular online series are produced in Flash for having effective and accurate results in its task related to film and animation industries such as Happy Tree Friends, Gotham Girls, Emmy Award-winning Off-Mikes, and so on.
Conclusion
We saw every important platform on which we have used Adobe Flash for different purposes since its development. We also notice that many improvements were made in this software by its developer from time to time to enhance its working ability, so you can go through a number of its uses for enjoying its working techniques in your own project and get the best output in it.
Recommended Articles
This is a guide to Adobe Flash Uses. Here we discuss the introduction and various adobe flash uses for better understanding. You may also have a look at the following articles to learn more –