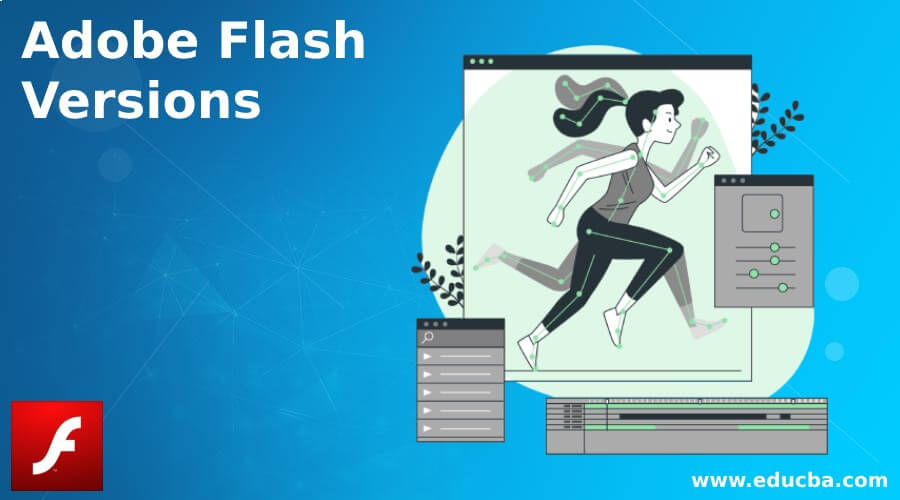 Introduction to Adobe Flash Versions
Adobe Flash versions can understand as updated and improved form of the previous program of it and these versions contain a number of good features according to their time requirement not only this but its developer also resolve issue into a new version which were incorporated with the last version. Since its development, Adobe Flash has a number of versions with lots of updates and new features. You will also know it as adobe Animate. You can have more information related to its version by visiting on www.adobe.com and today we will discuss number of its versions for understanding about it.
Top Versions of Adobe Flash
Top versions of adobe flash are given below:
On May 1996 first version of Adobe Flash or Adobe Animate was released as Vector graphics as well as Vector animator software and named as FutureSplash Animator. Later it became part of the Creative suit of adobe from CS3 to CS6. On December 1, 2015, adobe renamed it as Adobe Animate with some of the major updated.
FutureSplash Animator: FutureSplash Animator was the first version of Adobe Flash and released with some basic editing tools as well as a timeline for animation in 1996. The next one was Macromedia Flash 1 which was released in the same year as the re-branded version of the previous one.In 1997 one year after the release of the last two versionMacromedia Flash 2 was released with an object library which was one of the new features of this version. In Macromedia Flash 3, movie clip element, transparency feature, JavaScrip plugin integration, and external standalone player features was included for enchasing its ability and it was released on 1998.
Macromedia Flash 4: Later on in 1999 Macromedia Flash 4 was come in the market with some of the new features which were Advance ActionScript, internal variables, input field, streaming Mp3. It was 2000 in which Macromedia Flash 5 was released which has ActionScript 1.0, dynamic text formatting which do by HTML text formatting feature, XML support also added in it. Moving to the next version i will tell you about Macromedia Flash MX (6) which released for public use in 2002 with lots of updated features such as Unicode, V1 UI components, video codec (Sorenson Spark), compression, ActionScript, API and vector drawing.
Macromedia Flash MX 2004 (7): Macromedia Flash MX 2004 (7) was its next version and launched in 2003. It was released with a handful of features for making it smoother and user-friendly. It provided Screens which work as a non-linear state based development and creates slides for the organization of content in linear slide just like Powerpoint does, not only this it also has aliased text supports, effects for timeline and wizard for imported video. ActionScript 2.0 was included in this version which enables object-oriented programming but there was one problem that was it had lack of easy Script assist.
Macromedia Flash 8: Macromedia Flash 8 was released as next version of it in 2005 and new features were graphical filters which can add blur effect, drop shadow effect, glow effects and so on, blend mode for easy blend property, properties of stroke was enchased such as caps and joins added in it, run-time bitmap caching was also added, anti-aliasing feature was added in text property for providing smoothness to it and many more things were added at that time for enchanting its working ability.
Adobe Flash CS3 (9): Next version came with little bit different name which was Adobe Flash CS3 (9) Professional in 2007. It was first version which was released under the adobe brand name and adobe improved its feature for integrating it with Adobe Photoshop not only this but due to improvement in vector drawing features it had developed the ability work like Adobe Illustrator as well as Adobe Fireworks. One more thing was also introduced which was ActionScript 3.0 along with ActionScript Virtual machine 2.0 which can do execution of codes very fast and collection garages.
Adobe Flash CS4 (10): Adobe Flash CS4 (10) Professional was released in 2008 in sequence of last version. In this version inverse kinematics feature was added, it can also do basic manipulation of 3Dobject, an animation which are based on the object, and extension of Action Script 3.0 was done.
Adobe Flash Professional CS5 (11): In 2010 Adobe Flash Professional CS5 (11) was released for overcoming lack of features of last version. It has compatibly for publishing iPhone applications but on April 8, 2010 Apple changed terms and condition for its developers to license and bane the use of Flash to iPhone complier. Other than this it includes an improved form of inverse kinematics and code snippets panel, text engine with lots of new features.
Adobe Flash Professional CS5.5 (11.5): Now i am moving to next version which is Adobe Flash Professional CS5.5 (11.5) and released on 2011. It has improved supports for iPhone which follows Apple's revision of its iOS developer not only this but it has also a number of features which can improve mobile app workflows across different devices. Now it will tell you about some of the latest version of this software so that you can have knowledge of them also.
Adobe animate 2020 (20.0.3): Adobe animate 2020 (20.0.3) is one of its latest version and was released on April 2020 with stream/split audio and blending mode supports which can work with HTML 5, Windows Ink, Canvas and so on. It has the ability to render any particular section of the timeline which is selected.
Adobe Animate 2020 (20.5): Next is Adobe Animate 2020 (20.5) which was released on June 2020 in a sequence of 20.0.3 and includes auto keyframe option for improving timeline features, assets panel are also introduces, you can use quick social share features for review and so on.
Adobe Animate 2021 (21.0): The newest version of 2021 is Adobe Animate 2021 (21.0) and released on October 2020 with a number of features that are, adds quick publish video, animation in GIF and HTML5 formats, customizable timeline tools panel, and many other things are here in this version which give it very user-friendly environment.
Conclusion
It was nice discussion about versions of Adobe Flash and i am sure you have gather lots of good information about each one those we discussed above. You can now go with the latest version of this software because it has lost of improved features for doing its work properly.
Recommended Articles
This is a guide to Adobe Flash Versions. Here we also discuss the introduction and Top Versions of Adobe Flash along with an explanation. You may also have a look at the following articles to learn more –