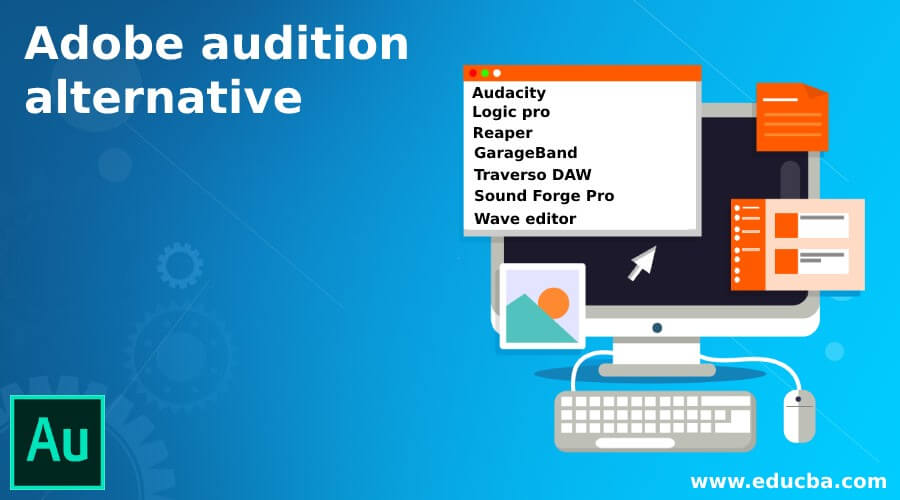 Introduction to Adobe audio alternative
You are looking for an appropriate Adobe audio alternative to mix sound effects, add edit sound clips and audio bits easily? Well, we have a whole range of digital audio stations listed, so that you are able to carry out all the above-mentioned activities and more. They are all integrated with tonnes of great features that allow you to tweak your songs, cut off any unwanted sound and even create extra beats. Once you've finished editing your sound clips through any of the following programs, just like you imagined, you'll be left with acoustic bliss.
Alternative of Adobe Audition
Let's have a look at Adobe audition alternative one by one
1. Audacity
Audacity is an excellent free audio editor for beginners and it can often be found by professionals for easier jobs. Audacity is a freely downloadable open-source audio editor for Mac, Windows, and Linux. It may not be the best choice to produce creative music or a movie soundtrack, but it is ideal if you need to create a podcast quickly. Since 2000 it was around, and its basic interface in the meantime has not changed considerably, so it may appear bit outdated and simple.
2. Logic pro
Logic Pro is helpful for the production of music and can help with other audio tasks as well. The price is $199.99, a one-off fee. While this may seem high, over time it can work cheaper than Pro Tools, and Audition's subscription models and future updates have been included. Logic Pro is the digital audio station of Apple and is designed to maximize creativity, similar to most Apple software. It has several innovative options that can enhance musically production, as well as a robust and instinctive interface.
3. Reaper
The digital audio program offers music lovers the complete audio and MIDI capture environment for editing, mixing, processing and multitracking. No, that isn't the grim type, it's a 'rapid audio production, engineering, and recording environment' acronym instead. As the brains behind this effort reveal, it lets you tweak your recordings and even enhances many audio and MIDI processing effects. It takes time to learn and can appear fiddly and inflexibly. But the developers and the online community have a lot of support and it is extremely adaptable with thousands of plug-ins available.
4. GarageBand
If you are a Mac user looking for a simpler and cheaper audio editor than Logic Pro, GarageBand can be your choice. Every Mac is free and designed to make recording and mixing music easy. It is simple to get started and learn as you go with a sleek interface that looks like a simpler version of Logic Pro. You can use an instrument or microphone to record in GarageBand or draw from an extensive sound library. Although some other software does not have more advanced features, when you are ready to step up, you can Export GarageBand to Logic Pro projects.
5. Traverso DAW
The software for audio recording and editing is an excellent partner when recording a band, a voice, or even a whole orchestra. Sports with a clear interface can take advantage of the various features that novices and professionals can offer. Highly scalable in nature, it has an optimized audio engine that allows you to record and modify your tracks, to introduce a multi-set of effects to your songs with the help of Album Mixer.
6. Sound Forge Pro
You can count on the last mention of our programs such as the sound design and the red book CD design, Adobe Audition roundup for professional recording and mastering. With the latest version, you will see more features here in audio editors and music producers. This list includes built-in CD burn, event-based editing, audio conversion, file editing, and time stretching for musical instruments. The tag is graded at a starting price of fewer than 375 dollars, at the cost of Sound Forge Pro.
7. Wave editor
Wave Editor is a simple Windows software for digital audio editing. It offers a powerful editing environment that especially suits beginners and performs basic editing functions such as cutting, copying, insertion, and deletion of recording parts. Our sound editor developed from the ground to be easy to use and fast, in contrast to the other sound editors based on the same engine. With speed, accuracy, and ease of use, the user interface has been designed.
A simple selection of audio blocks in playback is the key feature of the Wave Editor. Non-destructive edition enables a simulated audio-path change without the original file being overwritten.
Recommended Articles
This is a guide to Adobe audition alternative. Here we discuss the Adobe Audio alternatives. You can choose any of them based on your requirements. You may also have a look at the following articles to learn more –