Updated June 2, 2023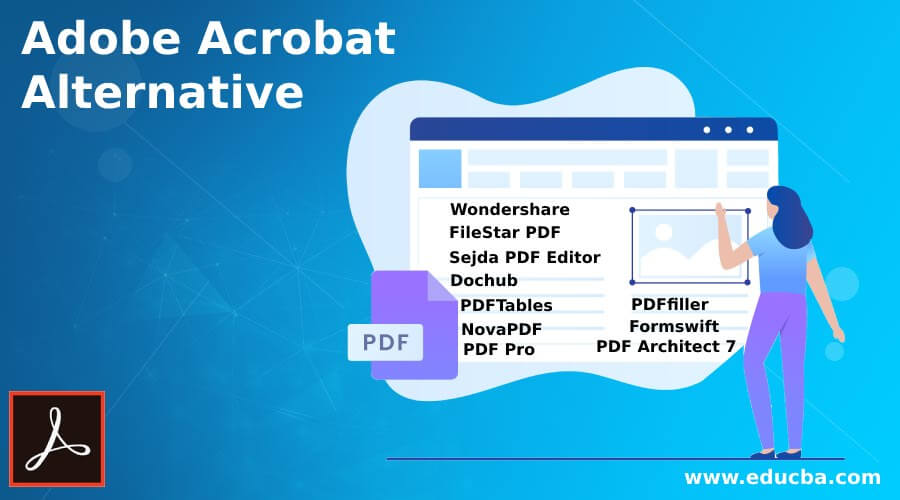 Introduction to Adobe Acrobat
The following article provides an outline for Adobe Acrobat Alternative. Adobe Acrobat is Adobe Inc's family of software and web applications for viewing, printing, handling, and managing Portable Document Format files. Adobe Acrobat is one of the pioneered Adobe systems PDF applications. You can view PDFs online and offline with this software. You can also easily create, edit, manage, and print PDF files. However, some users are afraid of Adobe Acrobat's high cost, so we would like to recommend a cheaper solution, a PDF element, before introducing Adobe Acrobat.
List of Adobe Acrobat Alternative
Given below is the list of Adobe Acrobat Alternative:
1. Wondershare
Wondershare is a software tool to make PDF files easy to create, convert, edit, and sign. It works with both Windows and Mac. Three plans exist, and the plan is team, individual, and education. This software offers an easy way to distribute and combine formats for analysis. Express yourself word processor verbally and visually to allow you to edit PDFs easily. Work with your team with a comment feature efficiently. Protect unintentional access to your file.
2. FileStar PDF
FileStar PDF is a productive desktop application that works with PDF files. It is a safe application for document management, used to increase the productivity of your business. The personal version is free of charge. The version of Professional is paid. Filestar PDF supports more than 20 thousand.
3. Sejda PDF Editor
A free online PDF tool is Sejda PDF Editor. It also provides direct links to the editor for opening PDF documents. You can also fill and sign PDFs with this editor. For example, the editor is an alternative to PDF software like Adobe Acrobat. To compress PDF files, use this alternative to Adobe Acrobat.
4. Dochub
Aberub is editing, sending, and signing PDF tools free of charge online. To simplify the document workflow, you can use this online tool. This editor is also available for digital annotation and signature of PDF documents. It's one of the best options to integrate with Dropbox, Gmail, or Google Drive with Adobe Acrobat Pro.
5. PDFTables
Convert PDFTables to excellent file to PDF tables. PDF to Excel, CSV, HTML, or XML can be converted online. You can convert any document without using any other software via the cloud platform. It uses a PDF-checking algorithm and converts Tables into different files effectively.
6. PDFfiller
Your PDF files will be saved online by PDFfiller. The software is a service company (SaaS) developed by Software as a Service. From any device, you can edit PDF files. It's gratuitous. This software is available in two separate versions: We can use this with Salesforce, Gmail, Google Drive, and Dropbox.
7. NovaPDF
You can easily create PDF files that are industry standard. Open your file and select NovaPDF for PDF creation by clicking on Print. The generation of PDFs is easy and fast. It includes new and advanced user features. To create one PDF document, insert text or pages in a PDF file into another PDF file. In this, your file is fully secure just because NovaPDF uses 256-bit AES encryption.
8. PDF Pro
With PDF Pro software, you can create, edit, and convert three PDF files monthly. You don't have to register. For OS X or macOS, the editor is designed to make it easy to customize PDFs. We easily edited and reviewed the PDF Profiles.
9. Formswift
Formswift is an easy tool for creating and editing PDF documents online. You can browse documents by category using this free tool. Businesses and individuals can adapt, sign and download famous business personal and business forms using cloud basic service, contracts to buy property, transfer of mortgages, and leasing options with property forms. PDF documents can be uploaded and edited with one click.
10. PDF Architect 7
Editing PDF Documents is very easy with PDF Architect 7. This version simplifies and simplifies a complex task. The usability of editable and text fields is improved. Boxes and text fields have many currencies, date, zip, and time formatting options.
11. Nitro Pro
We can say that Nitro Pro is the perfect replacement for Adobe PDF Editor. This will help you to convert PDF files easily to PowerPoint and Excel. Nitro Pro is a good alternative to Printed Documents. The business team can work more effectively with different documents and each other with this software. The OCR engine is included in this software to scan paper documents. This makes it stress-free to work with digital documents.
Conclusion
In this article, we have seen various Adobe Acrobat alternatives. You can choose any of them based on your requirements.
Recommended Articles
This is a guide to Adobe Acrobat Alternative. Here we discuss the introduction and list of adobe acrobat alternatives, respectively. You may also have a look at the following articles to learn more –