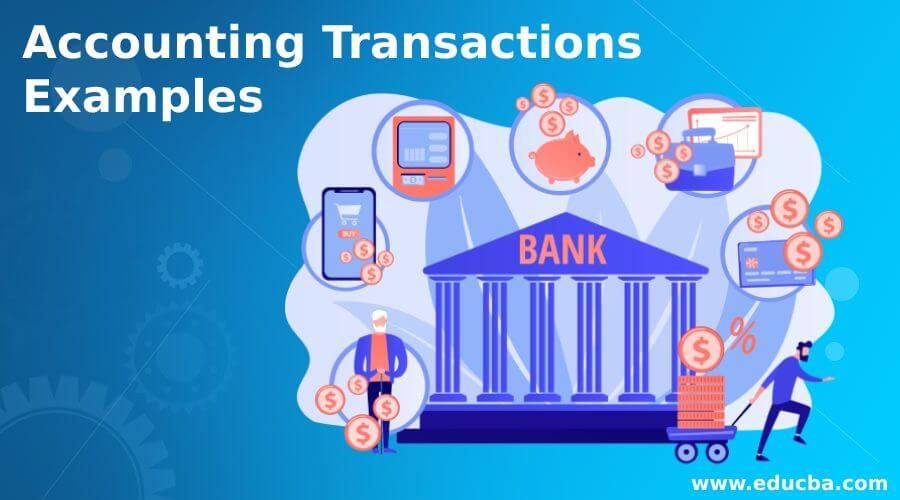 Definition of Accounting Transactions
Accounting transactions, cash, non-cash, or credit, refer to the activities of a business or a company that have a direct monetary impact on the business's financial statements.
Accounting transactions are the activities of financial/monetary exchange(s) that take place within a company's business environment. Although transactions of a business mostly relate to any monetary exchange, the term 'accounting transaction' specifies the nature of recordkeeping of those transactions. All business transactions are recorded and adjusted based on accounting principles, which is where the term accounting transaction finds relevance. Some of the common accounting transactions are:
Sale of finished goods to customers
Purchase of raw material for the manufacturing process
Cash paid to vendors for inventory purchase
Revenue generated from interest income in a banking business
Accounting transactions are an integral part of businesses' day-to-day operations.
Examples of Accounting Transactions
Following are the examples are given below:
Example #1
A shopkeeper wanted to renovate his shop and ordered for fixtures and fittings worth $50,000 in cash consideration. What should be the entry into his account books?
Solution:
Since he made the purchase in cash, the cash account will be credited while the purchase account will be debited.

Notice the dual nature of entries where every transaction affects both the sides of the accounting equation,
Assets = Liabilities + Equity
All transactions that businesses carry out are founded on the principle of this equation. Every change in assets, the left-hand side of the equation, will have an equal effect on the right-hand side, i.e. liabilities and equity Purchase account is an asset account while cash is a liability/equity account.
Example #2
If an owner of a well set up business invests the money taken from the business (assume $20,000) into a newly started restaurant business, what should the accounting transaction look like?
Solution:
Since he takes the money out of business for investing, the business owes him money as a liability. Addressing the accounting equation, Assets = Liabilities + Equity, the money will flow from the Equity side, and a similar amount will increase the Asset value since investment has been done (asset created).
Now, if he takes a $10,000 loan from a small bank to invest in the restaurant business, what values should he write into the books?. He will have to increase the liability (signified by a loan) and increase the assets further.
Liabilities go up by $10,000, and assets also go up by $10,000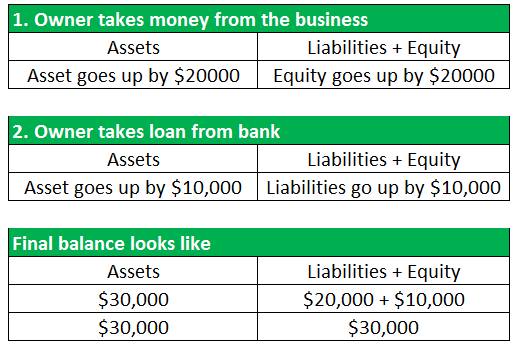 Example #3
The purchase of a car on credit is an example of an accounting transaction. Let us assume that a car costs $10,000 on credit by owing money next month. Since the asset is recorded on the debit side and the car is an asset, money owed in credit is a liability and falls on the credit side.
Solution:

Example #4
An accounting intern of a manufacturing business wants to record the accounting of plant machinery with the depreciation that was calculated as $10,000 for the last five years. He lists down the following points before making a final entry:
Plant machinery is an asset, and depreciation is an expense, categorized as a non-cash expense.
When he makes a journal entry for this transaction, he credits the plant machinery by $10,000 and debits the depreciation account by the same amount.
Note that plant machinery is an asset account and has innate debit value since the time of its purchase.
Example #5
A new business owner opened operations in a new region. His accounting team handed him over a list of quarterly transactions that were carried out:
| | | | |
| --- | --- | --- | --- |
| Jan 01, 2020 | Rental expenses | $20,000 | Advance payment for 1 month |
| Jan 12, 2020 | Electrical expenses | $4,000 | |
| Jan18, 2020 | Salaries of new employees | $25,000 | Salaries to be paid on the 1st of next month |
| Jan20, 2020 | Marketing expenses | $8,000 | $4,000 paid in cash and $4,000 next month |
| Jan24, 2020 | Purchase of inventory | $30,000 | Paid in full |
Solution:
The following journal entries will be made in the book of accounts: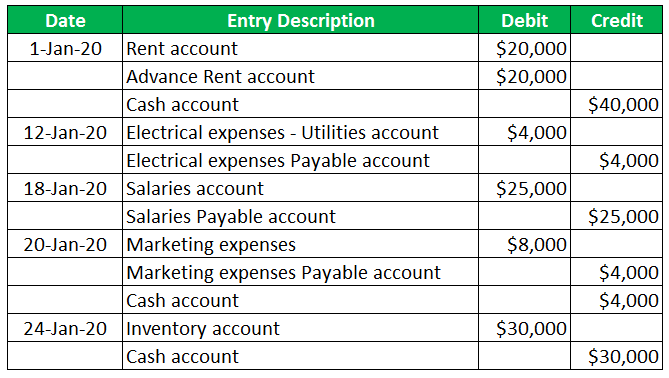 Important points to note while dealing with accounting transactions:
Every accounting transaction should follow the rules of accounting, i.e. the basic tenets of accounting ingrained in the accounting equation. The equation should hold every time an accounting transaction is carried out, which serves as the basis for further bookkeeping, viz. journal entries and balance sheet.
Assets are any resources that generate revenues for the company; liabilities are obligations that the company or business have in due process of raising or operating assets; equity is the residual interest of shareholders in the company. Thus, it is important to note that understanding these principles helps maintain accounting whilst performing transactions.
Revenues and profits, expenses and losses are key elements that businesses encounter in day-to-day accounting and transactions. These items should be recorded, irrespective of their nature and size of the transaction, for audit and regulatory purposes.
Accounting transactions and their prudent recording (bookkeeping) are dependent on accounting standards.

IFRS – International Financial Reporting Standards, regulated by International Accounting Standards Board (IASB)
US GAAP – Generally Accepted Accounting Principles (United States), regulated by Financial Accounting Standards Board (FASB)
Accounting procedures vary based on different factors, some of which are
Financial accounting
Public accounting
Management accounting
Tax accounting
Forensic accounting
Cost accounting
Auditing
Government accounting
These variations in accounting procedures generate complexities and intricacies in the system of bookkeeping and call for adjustments and reconciliation, which businesses should take care of duly.
Conclusion – Accounting Transactions Examples
Accounting transactions are an inseparable element of any business activity. Accounting and various prevalent standards are useful in recording accounting transactions and providing consensus to acknowledging monetary exchanges. The foundation of accounting entries and transactions is the journal entry and the ledger. The double-entry method of bookkeeping for accounting transactions is a very important principle in accounting management. There is a corresponding credit entry that balances the accounting transaction for a debit entry and thus makes double-entry bookkeeping relevant. The accounting equation should always be kept in mind whilst making accounting entries in a journal and/or preparing a trial balance.
Recommended Articles
This is a guide to Accounting Transactions Examples. Here we also discuss the definition and examples of accounting transactions along with an explanation. You may also have a look at the following articles to learn more –