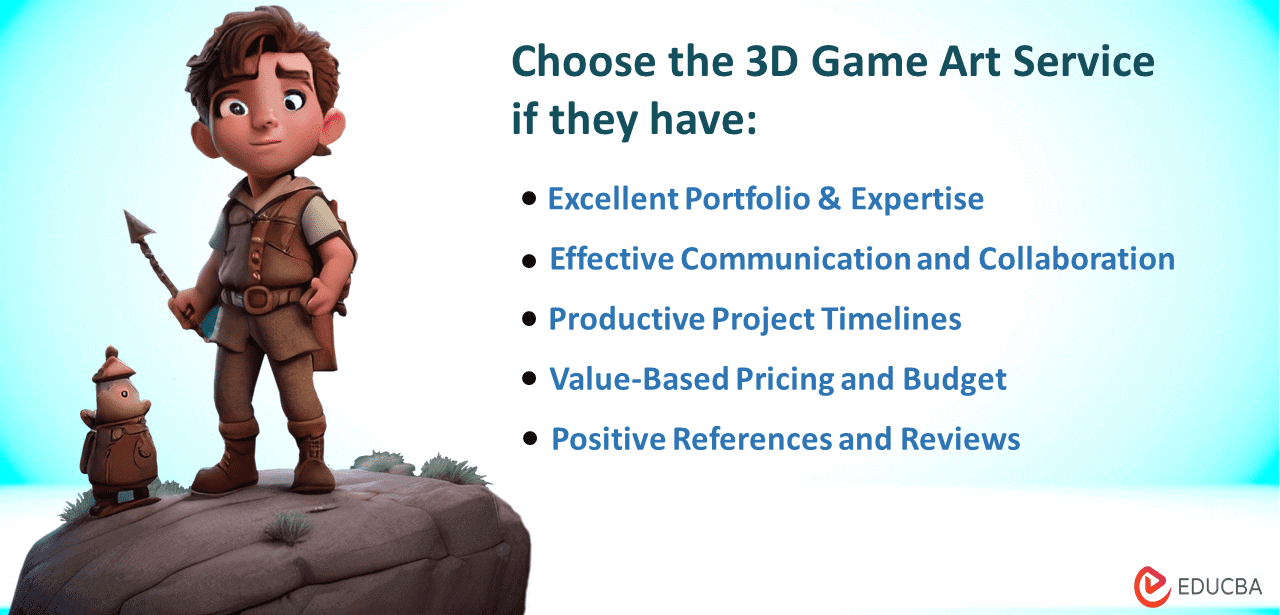 Choose the Right 3D Game Art Studio – Introduction
If you are a game developer, you know that the visual appeal of your game is crucial to its success. And when it comes to creating stunning graphics and 3D models for your game, you often need the expertise of a 3D game art outsourcing studio. But with so many options, how do you choose the best one for your project?
In this guide, we will take you through selecting the ideal 3D game art service that fits your needs like a glove.
Importance of Choosing a 3D Game Art Studio
Before delving into the details of choosing the right 3D game art service, let's first discuss why game art is so important.
In gaming, visuals are of utmost importance and can influence a game's success. Players are attracted to games with stunning visuals, immersive worlds, and realistic 3D models. Thus, the graphics, characters, environments, and objects are key factors that can make or break a game.
That's why an excellent 3D game art studio has talented artists who can bring games to life. They create intricate 3D models, captivating environments, and endearing characters. Thus, the right 3D game art service can transform your game concept into a masterpiece.
How to Choose a 3D Game Art Studio?
Selecting the right 3D game art outsourcing studio is a significant decision. You need a partner that understands your vision, operates efficiently, and consistently delivers top-notch work. Here are the essential factors to consider when making your choice:
1. Portfolio and Expertise
Start by examining the 3D game art service's portfolio. Review their past projects to check if they align with the style and quality you desire for your game.
Also, consider their expertise. A studio with a diverse team of talented artists is better qualified to meet your specific requirements. For instance, if you are developing a sci-fi game, choose a studio experienced in creating high-tech environments and characters.
2. Communication and Collaboration
In any project, effective communication is essential. Your chosen 3D game art studio should not only understand your ideas but also encourage a creative environment where your vision can thrive. They should be open to your input, feedback, and suggestions throughout the project.
3. Project Timelines and Flexibility
In the gaming industry, on-time delivery is crucial. Your selected studio must meet deadlines with an organized workflow. However, they should also be adaptable to handle project changes effectively. Seek a studio that balances efficiency with flexibility.
4. Pricing and Budget
Your budget plays an important role in your choice. Evaluate what you can afford and compare it to the service's pricing. Remember that quality often comes at a higher cost, but it's a worthwhile long-term investment.
5. References and Reviews
Gather feedback from previous clients who have collaborated with the studio. Their experiences offer valuable insights into the studio's professionalism and work ethics. Seek testimonials and online reviews, and feel free to request references directly from the studio.
Advantages of Choosing the H3D Game Art Outsourcing Studio
Let's see what sets H3d Game Art Outsourcing Studio apart from the rest:
Proven Excellence: Demonstrated track record of delivering outstanding 3D game art.
Diverse Talent: A versatile team capable of handling various project aspects, from character design to environments.
Collaborative Approach: Emphasis on bringing your ideas to life through effective collaboration.
Efficient Project Management: Commitment to meeting deadlines in the fast-paced game development industry.
Adaptability: Flexibility to tackle changes and challenges, ensuring a seamless workflow.
Competitive Pricing: Offers competitive rates while maintaining high-quality standards.
Value for Investment: Dedicated to providing value for your investment.
Proven Success: Check their portfolio and glowing client reviews to see their impressive results. A top choice for creating visually stunning and immersive games.
Final Thoughts
Selecting the right 3D game art studio service is a pivotal decision in game development. It can transform your vision into a gaming masterpiece. While 3D Game Art Outsourcing Studio is a notable choice, explore all options to find your perfect fit. So that with the right partner, your game can visually captivate players and excel in the competitive gaming industry.
Recommended Articles
We hope you found this article on choosing the right 3D game art studio informative. Refer to the following recommendations to view similar articles: