Updated April 11, 2023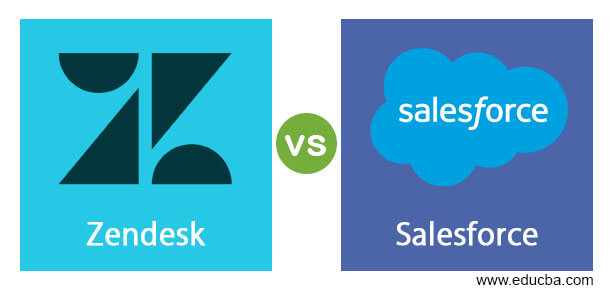 Introduction to Zendesk vs Salesforce
Zendesk vs Salesforce both are American multinational companies with a large number of employees. Both Zendesk and Salesforce provide CRM service which stands for Customer relationship management. Zendesk also developed a customer relationship management tool which is responsible to improve the customer relationship, the tool they developed is very powerful, flexible, and easy to saleable as well, which adds value to the customer relationship, In the case of Salesforce they are responsible to developed CRM tools as well, also complementary suits for an organization which is mainly focused on this given points such as application development, automation, service and etc. In the coming section, we will discuss more points about both the tools which add to the CRM service in detail for a better understanding of their usage.
Head to Head Comparison between Zendesk vs Salesforce (Infographics)
Below are the top 10 differences between Zendesk vs Salesforce:

Comparison Table of Zendesk vs Salesforce
Below is the comparison table of Zendesk vs Salesforce
| | |
| --- | --- |
| Zendesk | Salesforce |
| When it comes to simplicity and easier Zendesk is one of them, because it is very easy to setup and it works more spontaneously than Salesforce. | Where in the case of Salesforce in comparison to Zendesk it requires effort to setup initially, and not easy in comparison to Zendesk. |
| If you want to give support to customer query or ticket they raise then Zendesk is the best tool for that because it is a support ticket software tool and customer service | On the other hand, if we talk about Salesforce then it is good if we want a 360-degree profile. |
| If we talk about Zendesk it is a support tool that is helpful for the team | Salesforce is highly customizable, which helps the organization to support their customer. Basically meant for customer support. |
| Zendesk can be used efficiently within the team and helps in offering great customer support. | We can also use tools provided by them for marketing and sales because it provides a 360-degree view of the customer. |
| By using Zendesk we will get several tools with it which includes: chat, guide, support, and talk, etc | By using Salesforce we will get several tools which include: marketing tool, sales tool, etc. |
| If we talk about the using this tool with other application and extensions than Zendesk support less number in comparison to salesforce | In comparison to Zendesk, salesforce provides more flexibility to collaborate with different app and extensions which is more than 500. |
| Zendesk support pricing plan which shown as Customer build, support, and support suite, each one of them has a different pricing plan on the Zendesk official website. | On the other hand, salesforce also comes up with different pricing plans on their website which are divide into different categories as follows: unlimited, enterprise, essentials, professional. |
| When it comes to usage and handle the tool most of the users agree that Zendesk is easy to use and also easy to implement | On the other hand, we must say salesforce is a little bit hard and require training to use and implement it. |
| In Zendesk we can do communication within the team using channels | Salesforce is also used for ticketing and provide value to customer support. |
| Zendesk tool and website is more user-friendly, clean, and easy to understand. | But if we talk about salesforce their website and tools somewhat look outdated. |
Key differences of Zendesk vs Salesforce
As we have already a cover a lot more the above tale what is Zendesk and Salesforce all about but here we will discuss each point in more detail to understand them well see below;
1) Features: First we will talk about the features of both the tool what they offer and what are the key difference see below;
a) Zendesk feature: Zendesk comes up with so many features such as talk, chat, etc. We will discuss each of them in detail: Zendesk gives us talk features with the help of this we can make phone calls by the use of the dashboard. Also, Zendesk comes up with a chat feature for us. In this window, we can see a lot of information and contact of the customer, but the ui for this is quite outdated. Zendesk also comes up with a Guide tool that helps us. By the use of this, we can add our company tax and logo, also we can add our own article to it as a plain text which will help the customer, our article will be suggested by the Zendesk answer bot tool. Last but not least and very important all support features. Zendesk is a ticketing system where we have to setup our email address and provide them support if anything comes up.
b) Salesforce features: If we talk about salesforce it also provides a variety of features, in which one of them is 360 profile of the customer, we can see all the information of the customer. Is also very customizable and offers several clos services as well. In salesforce, a ticket is no longer used it is treated as 'cases' now. Inside this tool, we have a timeline which is responsible to show the contact of all customer and automatically transfer the cases to the best support employee who can handle. Also when it comes to using an extension and other applications with salesforce it provides great flexibility to it. If we talk about numbers it provides 500+ extension and application support. Salesforce also gives us a border perspective which helps us to track the entire journey of the customer. Also, it offers marketing and sales tool which helps us to watch and keep an eye on the customer. Salesforce would be more usable and preferable to the large companies which require tracking of the customer activity which needs to be monitored.
2) Pricing: Both Zendesk and salesforce offer a wide range of package which contain different features. We can choose the package according to the need and requirement. Leta first talk about the Zendesk pricing page.
Zendesk: If you want to visit the Zendesk pricing page and want to buy then go on the below page. Click here to visit
Here you will find three packages valuable that offers different features in each package. They basically offer :
a) Support: In this package, we can prioritize the ticket, solve them, and track them. Simple ticketing feature.
We can do several more other things like integrations, analytics reports, channels such as web, mobile, social and email, etc. All this can be found on the official website of Zendesk.
b) Support suite: It will provide all the features which is come up with Support with the addition of the following: SMS, live chat, agent workspace, voice, self-service, etc.
c) Customer built: It provides all the features of support a support suite with additional features. You can visit the above link for more detail.
Salesforce: Salesforce also offers a different package that can be used as per convenience. For more information, you can visit the below link
Here you will find so many different packages available that offer different features. For more information see below:
a) Essentials: This offers a small customer relationship management (CRM) which is basically suited for 10 people. Used for small businesses.
b) Professional: This is little bit bigger than essential, which can be used for six teams.
c) Enterprise: This is one of the most popular packages among all of them and used by any organization. Also, it is highly customizable.
d) Unlimited: It comes with unlimited support and CRM.
Conclusion
Both tools offer CRM services and have their own benefits and features of using them. But Zendesk is easy to use and implement than salesforce, to use salesforce we may require training. On other hand, salesforce offers many features which we already discussed are very useful for customer service, also it track the customer end to end. So we can pick up one of them according to the need and requirement which best describe it.
Recommended Articles
This is a guide to the Zendesk vs Salesforce. Here we discuss the introduction, head to head comparison with infographics, key differences, and comparison table. You may also have a look at the following articles to learn more –