Updated June 3, 2023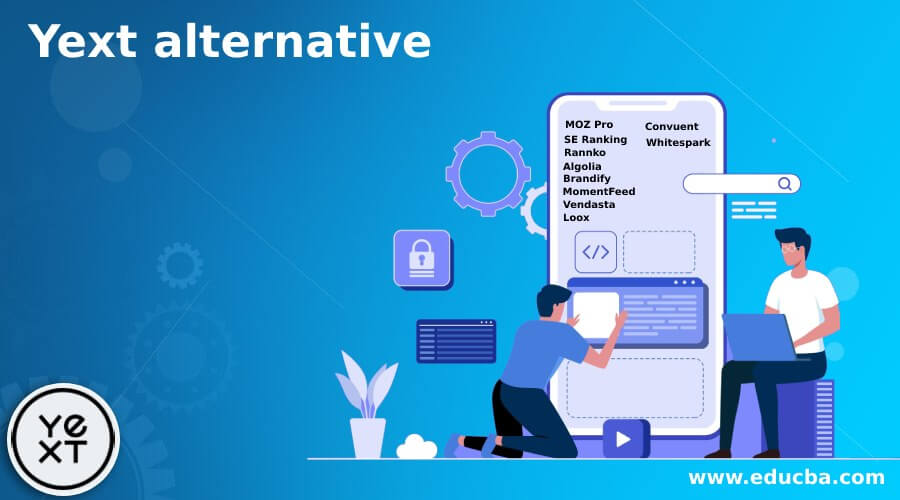 Introduction to Yext alternative
Yext is a location management platform for companies across their websites, social networks, mobile apps, and search engines. Yext allows businesses of all sizes. You can store and manage every detail about your locations, from core to improved content, through this location's management platform. Yext can be used as the localisations database for marketing purposes and beyond with global and multi-language support.
Alternatives of Yext
Let's have a look at Yext alternatives one by one.
1. MOZ Pro
Moz Pro is a novice but provides various SEO tools to guarantee optimal SEO. Companies are looking for Yext options as it is one of the most popular choices. It enables users to search and manage keywords, monitor search engine rankings, and produce comprehensive analysis reports. It also provides a browser extension for ongoing website monitoring and provides action-oriented recommendations.
2. SE Ranking
SE Ranking comes with an easy-to-use SEO interface. It provides insight into competitors' keywords and accesses and tracks keywords in Google Analytics. It allows companies to track their ranking in various search engines easily. Can track the search engine ranking for specific keywords. Allows removal of competitive keywords with a certain number. Ranking of SE Provides Google Analytics data access.
3. Rannko
The company Rannko offers a simple and efficient software review & reputation that builds on customer experience by controlling your customer reviews, online presence, and reputation everywhere. Our task By understanding the complexities of how businesses directly impact assessments and accurate online data, we can build a better business through an easy yet advanced set of features for review and reputation. Take advantage of new customers while helping you to build your reputation.
4. Algolia
Algolia is an API platform that allows companies to maximize their search and discovery speed while resolving the pain of AI relevance. Accessing the right part of the content on websites and apps was never faster or more intuitive. Algolia Search is a strong, fully hosted API that provides users with content in milliseconds. Developers can adapt the relevance and insight into how users interact with their user experience. A solid API that allows integrating unique product advice into any digital e-commerce experience is Algolia Recommend.
5. Brandify
Use the most intuitive location technology solutions to monitor your brand's digital approach. Brandify gives you the power to navigate and change the connections with consumers in the local landscape. See how Brandify can help you find local intelligence to make better strategic choices. Measure, analyze, and benchmark the impact and competitiveness of your digital locations. Brandify sets the standards of quality for the industry
6. MomentFeed
MomentFeed is the only platform that optimizes every controllable signal search engines use to rank local businesses in searches of their vicinity, including location data accuracy, comprehensiveness, and consistency. Mobile's staying here. That's how you find your consumers and get guided to their shops. It is also where the content or reviews are discussed – good or bad. MomentFeed allows you to navigate the mobile landscape and generate more foot traffic.
7. Vendasta
For companies selling digital solutions to SMBs, Vendasta is a framable, end-to-end platform. Providing new customers with more sales and freely receiving recurrent financial institutions, monthly revenues, agencies, publishers, telcos, broadcasting companies, ISV, MSP, and other small-scale service companies can simplify their marketing processes. The platform supports dozens of digital marketing and corporate productivity tools, including marketing automation, a robust CRM, and a customer-oriented portal. Build on the Vendasta Platform to provide your business needs with a customized experience.
8. Loox
Level your business with strong social evidence Loox will help your business to grow, whether you are just starting your first store or an established brand. Improving conversions, attracting traffic quality, and encouraging repeat buying with visual product reviews. More than 90,000 retailers are loved by Plan's automatic full-screen reviews and call for your clients to take a picture and leave a review. Feel like your customers can trust the crowds with an elegant online store.
9. Convuent
Given a customized review, feedback, and online republic reputation management software, you generate more authentic reviews and minimize the impact of negative ones. Online reviews and references to your company have a greater impact than ever. Daily, people decide which companies and services to use through online reviews.
10. Whitespark
You can get more customers out of Google from Whitespark. Improve rankings, drive business, and track your success with tools and managed quotation services of Whitespark locally. Our tools help you see, win customers, and manage your local search, from building citations to gaining reviews, to tracking your rankings. Follow your Google search engine rankings accurately throughout the local pack, local search engine, maps, and organic in any city.
Conclusion – Yext alternative
Several Yext options can be very useful. However, TribeLocal should be your first choice if you want a comprehensive SEO tool to help your business increase search engine rankings and enjoy the optimum organic performance. It is affordable, and results can be achieved quickly.
Recommended Articles
This is a guide to the Yext alternative. Here we discuss the introduction and the list of alternatives to Yext, respectively. You may also have a look at the following articles to learn more –