Introduction to World Tourism Day
The celebration of World Tourism Day sets on September 27 every year. The UNWTO General Assembly invites all member states and territories to celebrate annually with activities directed toward raising awareness for social, cultural, political, and economic value and its contribution to sustainable development. This year's World Tourism Day theme is "Tourism for inclusive growth," focusing on how we can use traveling as a tool for personal growth or social change.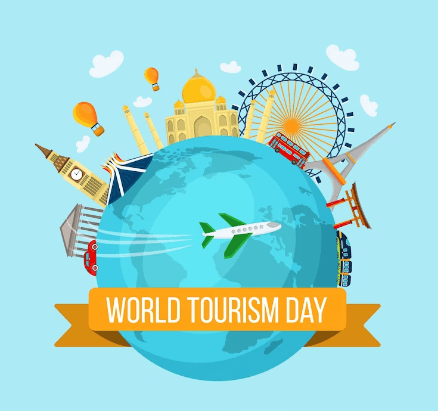 The UNWTO General Assembly
The UNWTO General Assembly passed a resolution in 1980 to establish World Tourism Day. To promote the importance of tourism globally and its impact on economic growth, job creation, and cultural development. The establishment of UNWTO was in 1975. It currently has over 170 member countries, and the location of headquarters is in Madrid, Spain. The agency promotes sustainable and universally accessible tourism that contributes to economic growth while preserving culture, heritage, and the environment.
Alongside going through leading-edge research, and analysis, networking opportunities with governments at all levels and the private sector companies worldwide. According to the UNWTO, over 1.2 billion people travel abroad annually, mainly from developed countries visiting other developed countries or traveling within their region. Most of these are first-time travelers open to trying new destinations or experiences.
Tourism has economic benefits for all countries involved in the process: host communities can benefit from employment opportunities, Visitors can experience new cultures while traveling; Governments receive tax revenue from tourism activities; businesses grow by providing services related to tourism, such as accommodation and transportation. Tourism provides opportunities for developing countries like India to attract prospective tourists through innovative and creative ideas. India has a lot to offer tourists, with its rich cultural heritage, historical sites, natural beauty, and vibrant cities. It is one of the fastest-growing economies in the world. It has successfully marketed itself as a tourist destination despite being relatively cheaper than other countries such as America or Europe.
There are numerous ways in which you can promote tourism in India:
People can set up advertising campaigns on social media platforms like Twitter, Facebook, and Instagram. One can reach out directly with your message through posts or videos. It will help potential customers understand why they should visit India instead of other places around the globe!
They can sponsor events related to promoting tourism explicitly within your country. It will get more people talking about how much fun it was while also giving them tips on how best to spend time there!
Fundamentally, tourism is becoming increasingly crucial as earnings from international tourism now contribute more than 10% of global GDP, with over 7% coming from developing countries. Tourism contributes substantially to the global economy through its impact on trade and investment flows, foreign exchange reserves accumulation, the balance of payments improvement, and financial sector development. As a global community, we need to recognize the value of tourism. Tourism has helped us learn more about other cultures and traditions worldwide. It also allows people from different countries to come together and share their experiences.
It could be a tool for peace building by giving people who may have had strained relationships with one another an opportunity to interact positively. The impact of tourism on local economies can help boost employment rates which in turn helps reduce poverty levels across societies worldwide. The guiding concept behind this day's celebrations is that tourism should be available to all people, irrespective of age, gender, race, or physical condition.
Tourism is a global industry and one of the most critical sectors in the world economy. It generates an estimated USD 1 trillion in revenue annually – equivalent to 4% of global GDP – with over 600 million jobs worldwide directly related to tourism-related activities. Tourism contributes approximately $7 trillion annually, or 9% of global GDP, through direct expenditures by travelers (e.g., accommodation).
Conclusion
World Tourism Day is an opportunity for all of us to celebrate the tourism industry and its contribution to our economy, culture, and society. The goal is to ensure that people with disabilities, the elderly, or those with other access requirements get excluded from travel and tourism benefits. We need to remember that all people should be able to enjoy their travels, and travel opportunities should be accessible to them. There are considerable ways to take action regarding this reality, including signing up for the UNWTO's World Tourism Day campaign or creating your travel-related event.