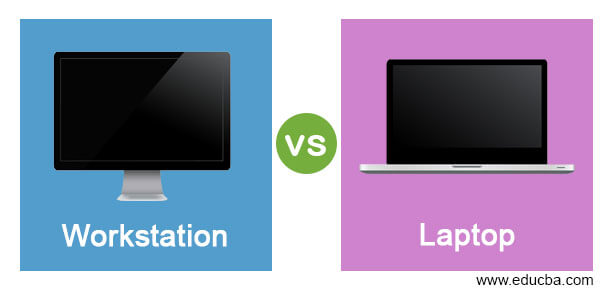 Definition of Workstation vs Laptop
Workstation is nothing but a high-performance Laptop that is designed to perform intensive tasks such as rendering, 3D animations, data analysis, etc which requires high performance, large memory, and working on multiple processes at a time. Nowadays, workstations are widely used by Engineers, Scientists, Architects, Graphic Designers, etc to perform their tasks. They are comparatively larger in size so not an easy task to carry them from one place to another.
The laptop is an all-in-one solution that contains the entire system which is easy-to-use. Laptops are quite small in size and weight is also not so high so they are easy to carry. Laptops are used by the students and the working people for basic operations like writing up assignments, surfing, gaming, etc which does not require too much performance speed and large memory.
Head to Head Comparison Between Workstation vs Laptop (Infographics)
Below are the top 8 differences between Workstation vs Laptop:

Comparison Table of Workstation vs Laptop
Below given is the comparison table showing the head to head differences between Workstation and Laptop:
| | | |
| --- | --- | --- |
| | Workstation | Laptop |
| | Workstations are not easy to carry devices as one needs to unplug the components before transporting them safely. | Talking about portability, Laptops are easy to carry devices. These are all- in- one systems that are quite easy to carry anywhere. |
| | Workstations are quite larger in size because of which they are difficult to use. | Laptops are far smaller in size as compared to the workstations which make them easy to use and carry. |
| | Most of the workstations require an external power station to operate. | Laptops can sustain for several hours even when disconnected from the power source once their integrated batteries are charged. |
| | Workstations support high processing power, larger memory, big screen sizes, and maximum hard drive spaces. So for the large business, focusing on performance, workstations can't be beaten. | Though today's new generation Laptops provide good disk space and good processing speed they are unmatchable with that of workstations. |
| | Workstations have a modular design. This modular design helps the user to easily replace the works when required. Moreover, it does not impose any restrictions on the size and specifications. | As the Laptops are integrated systems, it is difficult to repair and upgrade the system. Replacing the parts of the Laptop like the Keyboard, touchpad, speakers is quite difficult and costly (sometimes it is not possible to replace them). |
| | Workstations are high-performance Laptops that are generally used to perform high intensive operations like data analysis, 3D operations, rendering, video editing, etc which require high-performance speed and disk spaces. | Laptops are used by the students, employees where the basic operations like writing up the assignment, streaming movies, playing games, ppt presentations, social media chats, etc usage needs to be done. |
| | Workstations have a highly upgraded GPU which helps the CPU in reliving some work and for a high-quality display of graphics. | Though all the Laptops have good graphic cards for the high-quality display they can never beat the graphics of the Workstations. |
| | Workstations provide RAID (Redundant Array of Independent Disks) which basically makes use of more than one disks for the storage of data and hence reducing the risk of system crashing and wiping of all the data from the system at once. | Laptops have high chances of wiping all the data in a single change once the system crashes. |
Key Differences of Workstation vs Laptop
Below given are the key differences between Workstation and Laptop:
Laptops fit best with the users if you are a student or a working person who needs to perform only basic tasks like streaming movies, writing up documents, chatting with friends on social media, etc. Though today's Laptops provide a lot of features like high storage memory of 1 TB, good processing speed, ability to connect multiple external monitors, etc. If the user does not want more than that and Portability is the priority, Laptops suit best for this whereas Workstations are used by engineers, scientists, and working professionals where intensive tasks like designing, rendering, 3D animations, high-quality video editing need to be done.
Laptops work great when there is no need to run multiple processes at a time whereas Workstations are designed with the ability to handle multiple programs and processes at a time without hindering the speed and the performance of the system.
As the workstations are designed with the expectation to handle the extensive workload at a time, which requires a heavy, high-speed processor with an extraordinary battery so they are comparatively heavier than that of the Laptops.
One of the biggest advantages of the Laptop is the Portability. As the Laptops are easy to carry and compact as all the parts are integrated in it, one can easily move them from one place to another without any issue whereas workstations are not portable enough as it is quite large in size and all the parts of it needs to unplug and then transport them safely.
Workstations have full-sized keywords, big screens with an excellent screen resolution, great GUI mounted at a particular viewing angle because of which size of a workstation is quite large is a great advantage for the people who need to spend their whole day at one place with the requirement of big-screen size to work on the multiple systems at a time.
If talking about the long term, for a business with an intensive task requiring large memory modules, multiple and larger hard disk size, excellent CPU processing speed, the individual parts of the workstations are easy to replace and less expensive than Laptops, one can stick to it and save some money.
Workstations have a highly upgraded GPU which is responsible for the high-quality display. A large screen is an add-on to this. So for the tasks like 3D designing, video editing, game development, where even a small detail matters a lot, workstations play a great role which cannot be done with the Laptops no matter how better the GPU is.
Conclusion
The above description clearly explains what the Workstation and Laptop is and the difference between the two. Though both the Workstation and Laptop are used widely across the world. As they both target different publics, it depends on the requirement of the user and the environment to choose accordingly. Being in a technical field, it is quite important to understand their benefits and limitations in detail for better understanding.
Recommended Articles
This is a guide to Workstation vs Laptop. Here we discuss the key differences with infographics and comparison table, respectively. You may also have a look at the following articles to learn more –