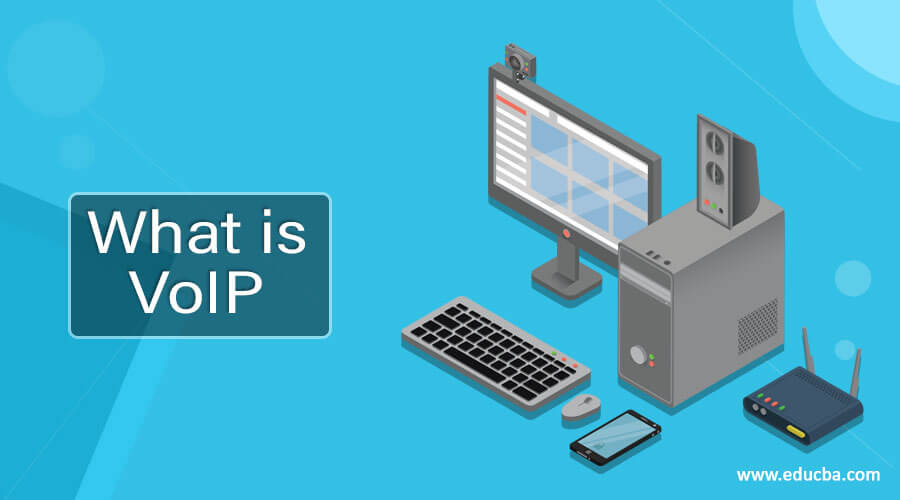 Introduction to VoIP
Voice over Internet Protocol ( VoIP) is also known as Voice over IP, IP technology, Wireless telephony, Wireless telephone, broadband telephone, and digital telephone. It is a protocol that offers telecommunications access over the telecommunications. Instead of an analogue (or regular) phone line, this protocol allows us to make voice calls over the internet and transfer multimedia via a broadband internet network. Basically, your phone calls are translated into data transmitted through your high-speed Internet. There are some benefits of VoIP phone service over standard mobile service, which we will explore later.
How does VoIP works?
VoIP uses codecs to encapsulate audio into data packets, send packets over an IP network, and encapsulate packets back into audio at the other end of the link. VoIP eliminates the expense of network connectivity by reducing the use of circuit-switched voice networks, allowing operators to provide voice services over their broadband and private networks, and encourages businesses to run a single voice and data network. By allowing quick failover after outages and reliable contact between endpoints and networks, VoIP also piggybacks on the durability of IP-based networks.
Benefits
Although VoIP is an outstanding choice for users, the business gets the most benefits. Companies may use the multiple characteristics of VoIP phones to be more effective in their everyday communication.
For small companies with a handful of staff, conventional analogue lines are ideal, but enterprises that make long-distance calls daily or have multiple contacts are best served using VoIP.
You can run your company on the drive, listen in from your mobile device for meetings, and never miss a beat. You can even move a call from your mobile phone to your office line smoothly without disturbing the conversation.
For example, for international and long-distance phone calls, unrestricted texting and faxing will help you circumvent mobile rates and conventional toll rates. VoIP phones can use only the required amount of storage during a call, allowing you to save on data consumption.
Virtual connectivity makes it simpler than ever for workers to communicate effortlessly from their laptops with each other, clients, and consumers. It's also possible to forward calls to mobile devices.
Needs in VoIP
Many people think that costly and complicated equipment is needed for VoIP. That's not the case, actually! To take advantage of VoIP facilities and functionality, you would require some equipment, but you can opt to scale up the equipment or keep it reasonably basic. What they need is a phone, a quick internet connection, and the VoIP service itself, if a user needs only the most simple functionality. Some services now provide a service with a virtual number that allows customers to receive calls from their mobile phones.
Additional hardware that you may need:
Microphone
Online faxes
Webcam
Best VoIP Service
Using a cloud phone system brings to your company an aspect of integrity and durability. Not all services are, though, the same. You would need to weigh your individual business needs in order to determine which business phone service fits well for you. You will need to consider what priorities you have before finding a company telecommunications service. Do you intend to utilize the same telephone system? Can you choose an in-house VoIP hosting service or opt for a full cloud service? To decide which VoIP strategy you will require, you will need to look at the present and future call volumes for yourself and the staff. Consider solutions for scalability so that you can expand smoothly.
VoIP Business Applications
Businesses use VoIP goods and facilities to minimize prices and operational expenses for telecommunications equipment. IP-based PBXs and, more recently, IP-based Unified Communications (UC) implementations have been replaced by standard office telephone systems such as digital key systems and PBXs that support not only voice but also other modes of real-time communication including video and text messages. Its programmes and facilities make it possible for operational IT organizations to reduce spending on office-to-office calls by bringing internal calls via the corporate IP service network. It also minimizes running costs for contact centres by moving site-to-site calls over the business IP data network and reducing the expense of telecommunications by transmitting voice and data through the same wiring plant.
Providers of VoIP
Here are the following providers mention below
1. GoToConnect
The best VoIP service provider available is GoToConnect. It offers end-to-end security facilities, supports CRM integration, audio as well as video conferencing, VoIP calls, and texting. Mobile, On Mac, Android, and iPhone  GoToConnect installs itself. It offers online assistance 24/7.
2. Dialpad
Dialpad offers the latest services for business contacts online. This service provider offers SMS, MMS, call routing, HD video, and audio conferencing facilities. Its programs for its clients are available 24/7. It requires various help for workplaces, convergence with  Salesforce, Zendesk, and Slack.
3.Aircall
Aircall is one of the biggest industry suppliers of VoIP services. For calls, photographs, and tweets, it offers a full contact center solution.  It is a simple configuration call center that provides a wide variety of Salesforce, CRM, Zoho, Freshdesk,  Zendesk, and Slack incorporated.
Recommended Articles
This is a guide to What is VoIP. Here we discuss VoIP, its advantages, and why we need it and its providers. We hope you will find this article helpful. You may also have a look at the following articles to learn more –