Updated April 20, 2023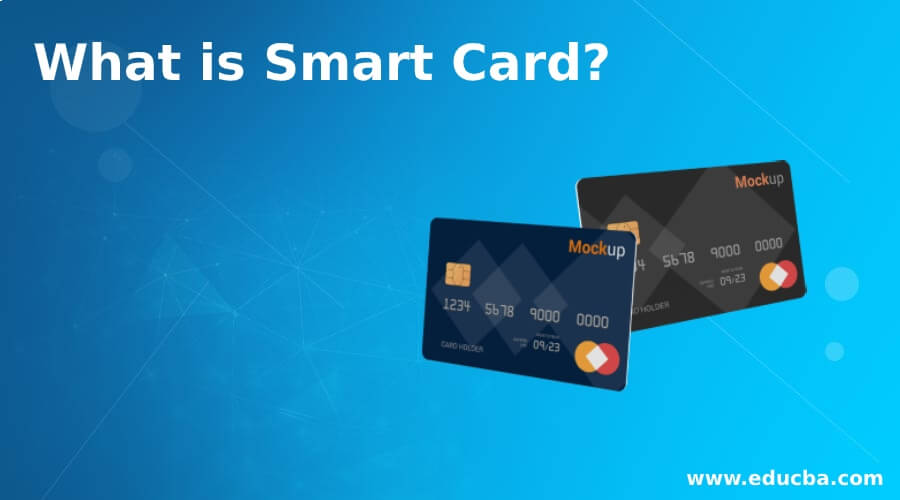 Introduction to Smart Card
An intelligent card is a physical card with an embedded, built-in chip serving as a security token. They are usually similar in size and can be made from metal or plastic-like a driver's license or credit card. You link to a reader either through direct physical contact or a short-term wireless networking protocol like recognition of radio frequencies or close-field communication. A microcontroller or a built-in memory chip may be the chip on a smart card.
Intelligent cards have been designed to be immune to manipulation and use encryption to secure in-memory information. The microcontroller-chip cards can perform processing functions on-card and can access the data in the memory of the chip. Intelligent cards are used for a variety of uses but are mainly used for credit cards and other payment cards. The sale of intelligent cards has been propelled in recent years by a push by the payment card industry to embrace EMV compliant smart cards.
Uses of Smart Card
In general, smart cards are used to make fast and safe transactions and protect personal information including credit cards and other forms of cards, company, and government identification cards, and transit fare cards.
Electronic passports and visas are several times used for the purposes.
Intelligent cards, for example, are mostly intended for use as ATM cards or debit, using a Lock.
Organizations also use it for security purposes, the cards can also be used to authenticate individual sign-on users in addition to their use as multifactor automation tokens.
How does Smart Card works?
Intelligent microprocessors or memory chips share data over a serial interface with card readers and other devices.
A external source, usually the smart card reader, drives the intelligent card itself.
Whether by direct physical contact or using a short-range Wireless connectiveness standard such as RFID or NFC, an intelligent card communicates with readers.
The card reader then transmits data from the intelligent card to its destination.
Usually it is paid for or authenticated through a network link to the card reader.
Types of Smart Card
Intelligent cards may be classified by factors including how the card reads and writes data, by the type and capabilities of the chip embedded in the card.
Some of the different smart card forms include:
1. Microprocessor
In addition to memory blocks, microprocessor smart cards are embedded on the chip. A microprocessor card can also contain different file sections where each file is connected to a particular feature. The file data and memory allocation are handled by the operating system of the intelligent device. Each card form can be used for more than one purpose and is usually intended to add, delete or otherwise modify memory data.
2. Memory
Smart card memory can contain memory chips and can only store, read and type chip data, data can be overwritten or changed on memory card smart cards, but the card itself cannot be programmed such that it cannot process or alter the data programmatically. Smart cards for memory can be read-only and used to store such data as PIN, password or public key, also read-write and can be used as user information for writing or updating purposes. Smart memory cards can be designed to be either rechargeable or disposable, in which case they contain data that can be used only once or for a limited time before discarding or upgrading.
3. Contactless
Contactless intelligent cards only allow readability in close proximity to a card reader, for the card to function, no direct contact is needed. The card and the reader both have antennas and communicate through contactless connection with radio frequencies. A contactless intelligent card works by placing the reader close to the reader.
4. Dual-interface Cards
Dual interface cards have contactless interfaces and contact interfaces. This card form enables secure access to the chip of the card with the contactless device or smartphone.
Advantages
Given below are the advantages of Smart Cards:
It can provide better protection than magnetic stripe cards because microprocessors can process data directly without remote access, even memory-only smart cards can be safer since more authentication and account data are stored safely than conventional stripe cards.
In general, smart card technology, unlike magnetic stripe cards, is free from electronic interference and magnetic fields.
Apps and data on a card may also be updated through secure channels to prevent issuers from automatically issuing new cards when an update is required.
Recommended Articles
This is a guide to What is Smart Card? Here we discuss the introduction to Smart Card along with the uses, working, types, and respective advantages. You may also have a look at the following articles to learn more –