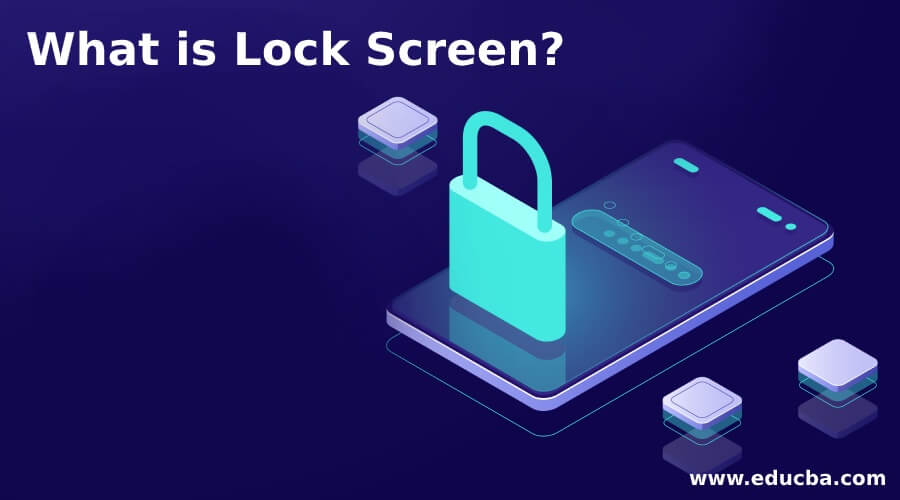 Definition of Lock Screen
The lock screen is a security feature for a computer, smartphone, or tablet that helps prevent to protect from unauthorized access to the device. It's an interface with a start-up view. If a device is locked, the applications of the device are limited. A locked unit helps to save unwanted users data. In order to secure the system, anybody attempting to use requires a particular action or series of actions to be done properly. Only the right password or biometrics are available if a computer is locked and the password is entered. On your computer is the desktop, home screen, and app icons; if you open the window, you can use the window for free. In order to unlock a locked computer, the password or passphrase needs to be entered, the biometric reader accessed, or a certain motion or gesture on the screen, which scans the user's eyes or analyses the user's fingerprint.
Lock Screens by Platform
Here we discuss lock screens by platform:
1. Android Mobile Operating Systems
Android smartphones and laptops, similar to iPad and the iPhone, appear to display more valuable knowledge than their Computer and Mac counterparts. However, since the Android experience may be configured by each manufacturer, the details can vary slightly from device to device. We'll look at Android's "vanilla," which is what you're going to see on devices like Google Pixel. In addition to the use of an alphanumeric password or passcode, you can also secure your Android computer using a script. This helps you to activate the computer easily by following on the screen the same sequence of lines rather than fooling around with letters or numbers entered. Typically, you unlock Android devices by swiping them on the phone.
2. The Windows Lock Screen
As hybrid tablet/laptop computers such as the Microsoft Surface have become more popular, Windows has edged closer and closer to the locking screens we see on our laptops and smartphones. Windows is not as functional as a tablet, but it will display a snapshot of details, such as how many unread emails we have waiting for us, in addition to locking unwelcome guests out of a computer.In general, the Windows lock screen includes a password to open. The password is added to an account which will be set as the machine is set up. When you press the lock screen, the input box for it appears.
3. The Mac Lock Screen
It might seem strange that the least usable lock screen is on Apple's Mac OS, but this isn't exactly a huge surprise. On handheld devices such as our smartphones and iPad, where we would like to get some data fast, usable lock screens make more sense. Generally, whether we use our laptop or desktop computer, we are not in such a rush. And Apple is not converting the Mac OS into a laptop operating system/ hybrid tablet, unlike Microsoft. In general, the Mac includes a password to open. In the center of the lock display, the input box is still there.
4. iPhone/iPad Lock Screen
If you have Touch ID set up to unlock your devices, the iPhone and iPad's lock screen can be easily bypassed. The newest devices register your fingerprint so easily that it will always take you straight to the Home Screen if you press the Home Button to wake up your computer. But you can click the Wake / Suspend button on the right side of the system if you just only want to see the screen. Your most recent text messages can display on the lock screen on the main device, however, it can do more than just display you texts. Here are a few things you can do on the device with the lock:
Why we Should Use Lock Screen?
There is no utter yes or no answer as to whether it should include a security scan or a password on your computer to access it or not. Many of us are good at leaving our home computers without this verification, but it is worth remembering that everyone can quickly log in to many vital websites such as Facebook or Amazon simply because the account information is always saved in our web browser. And the more usable our smartphones get, the more critical data inside them is processed.
Recommended Articles
This is a guide to What is Lock Screen?. Here we also discuss the introduction and uses of lock screen along with lock screens by platform. You may also have a look at the following articles to learn more –