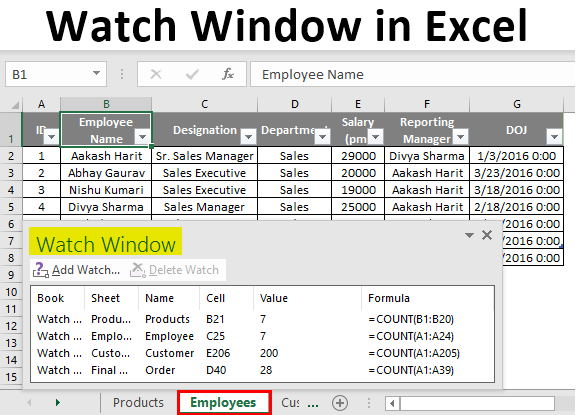 Watch Window in Excel (Table of Contents)
Introduction to Watch Window in Excel
Watch Window is a list used in MS Excel to keep a track of values stored in any cell, while we are working in other parts of a workbook. It stays at the top or bottom of a workbook and remains visible there, even if we are working in different worksheets. Watch Window is used where we have a huge spreadsheet or we can say a huge dataset stored in different worksheets of MS Excel file and we have to keep a check on particular cell values belonging to different worksheets. The main advantage of Watch Window is you don't need to go to any particular cell of any workbook again and again to check values stored in it. Let me give you some examples by which it will be easier to understand them better.
How to Add a Watch Window?
To create a watch window in a workbook. Go to Formulas in MS toolbar, click "watch window" option.

It will create a blank window. Screenshot for the same is as follows.

Key Point: Hotkey to add a watch window is (Alt key+ M+ W)

As you can see above, the Watch window is added. But there are no cells added in it. To add any cell to the watch window, click on "Add watch" in the window. A new dialog box will appear. In this box, you have to input the location of the cell on whose value you have to keep an eye.
The cell you have entered in it will be highlighted. For reference, you can see the screenshots on the next page. In first, you can note the input in a dialog box, it has value pointing towards the worksheet name and cell address.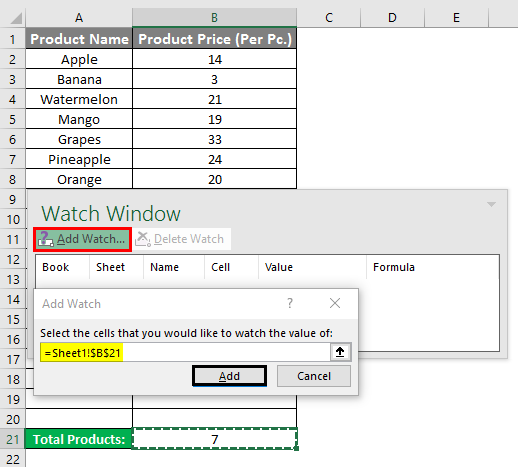 In the below image you can see that Cell with address B21 of worksheet name, "Product" is added to the watch window. And as you select any cell on the watch window, the cursor will point towards it in the particular sheet.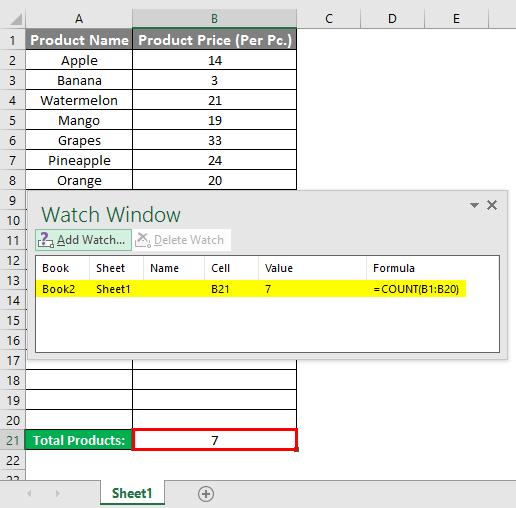 Another key point to make here is, if there are multiple cells in the watch window belonging to different worksheets, as you click on them, the cursor will automatically direct you to that address and you don't need to scroll between sheets.
Unfortunately, I can't show you this brilliant feature with the help of screenshots or snips. But for your reference, the file is attached. To delete any cell from a watch window, you simply need to click on that in it and click on, "Delete Watch" button and it will be removed from the watch window.

In the above image, if you want to delete cell C25 of worksheet Employees, I will select it and simply click Delete watch button.
How to Use Watch Window in Excel?
Here are a few examples of Watch Window in Excel given below:
Example #1
I have a workbook which has different worksheets maintaining the dataset of Products, Employees, Customers, and Orders of ABC organization.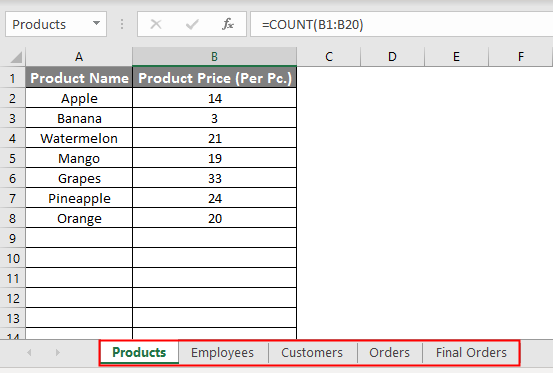 I have created a watch window which will keep an eye on the total number of Products, Employees, Customers and final orders in the given book.

As you can see in the above screenshot as we click on Product in the watch window, it will point towards the cell storing that value. From the below screenshot, you can see that, while I am working in the employee worksheet you can keep an eye on other cells value of other sheets.
Key Point to note here is these values keep on updating as we do changes in our dataset.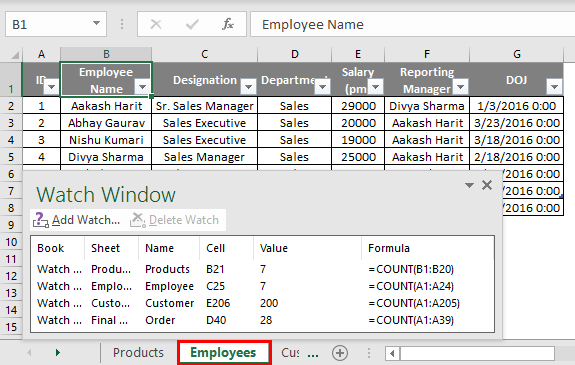 Question for you: Find out the changes you can note in the watch window in both Screenshot 1 and Screenshot 3.
Answer: Total number of Products and Employees increased by 1 as I made an entry in both the worksheets.
Watch window is an excellent and easy way of keeping an eye on the value of any cell, while you are working and by this, you don't have to keep shuffling between the sheets to check the values again and again. Cool isn't it?
Example #2
In this example, we have a record of students details of any class, their marks in different subjects and final reports stored in separate worksheets respectively. Now, you want to track the number of students in the class, the highest score in each subject and the class topper.
Since there is a huge amount of data, cells having the above values are at the end of each worksheet. So to avoid scrolling between sheets again and again. We will use the Watch window.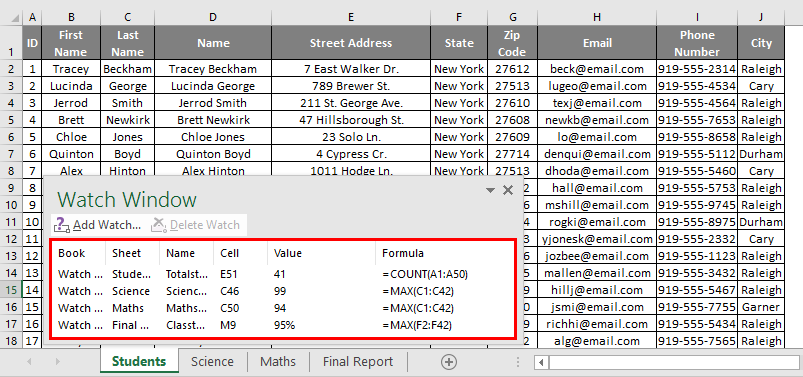 As you can see in the above watch window, there are 4 cells added pointing towards the total number of students, every subject topper and class topper. Another key feature is if you have data stored in various workbooks and you can also watch cells belonging to them, keeping in mind that all workbooks are open.
In my case, I want to see the cell values of both examples, I have given above. You can see in below screenshot. How does it work?

In the above screenshot, you can see, both workbooks are open now, and all the cells added to the watch window are visible now. Other features, you can move, re-size and close the watch window by using the drop-down option in it. In the given below Screenshot.

Watch window at the top of the workbook is given in the below screenshot.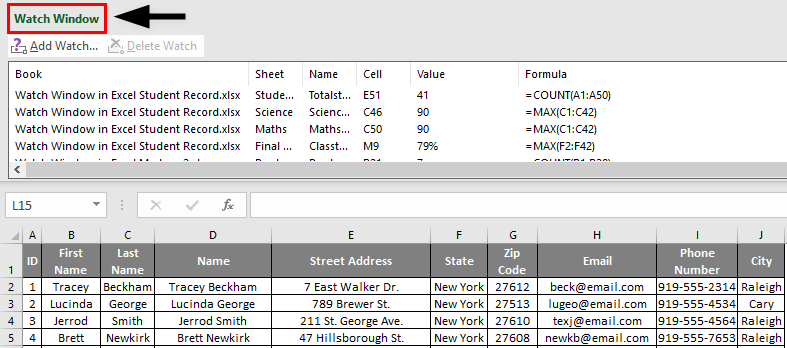 Watch Window at the bottom of the workbook in the given below screenshot.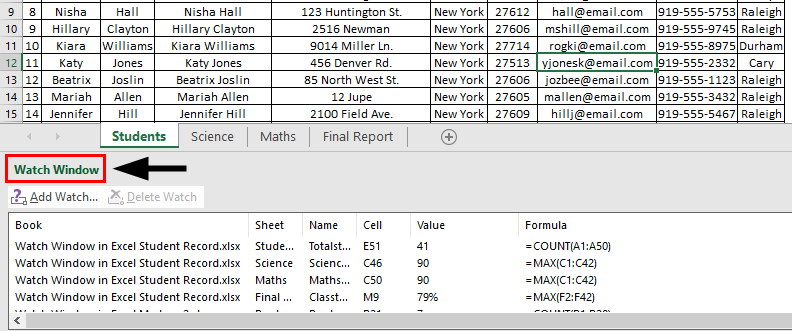 Things to Remember
Watch window is an Excel tool to keep an eye on the value stored in a cell of worksheets even from different workbooks.
It is used when we have huge datasets and we have to keep track of the values of any cell.
If the value stored in that particular cell changes, also get updated in watch window every time there is any change in cell value.
Hotkey to add a watch window: (Alt+M+W).
To delete any cell from the watch window, simply select it and click "Delete watch" button.
You can move, re-size and close watch window by using the scroll down bar in it.
 Recommended Articles
This is a guide to Watch Window in Excel. Here we discuss How to Add a Watch Window in Excel with examples. You can also go through our other suggested articles to learn more –