Updated May 8, 2023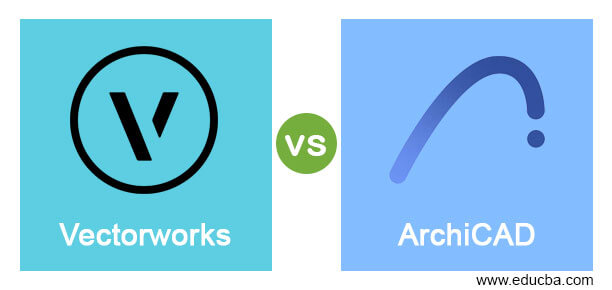 Introduction to Vectorworks vs ArchiCAD
Vectorworks is a development company which develops and focus on CAD (computer-aided design) and BIM (building information modeling) software and this software get involve in 2D drafting as well as 3D modeling of comments and elements of the different sector such as different engineering streams, architecture, construction (AEC), landscape and entertainment industries also.  ArchiCAD as we can understand by its name that is Archi that means it works for designing 2D and 3D models of different elements and components of the Architectural field developed by Gaphicsoft for dealing with these types of purposes.
Herewith me in this article, you will go to gather knowledge about different aspects of Vectorworks as well as ArchiCAD software for analyzing them in a different manner. So what are you waiting for? Let us get started with this wonderful discussion.
Head to Head Comparison between Vectorworks vs ArchiCAD (Infographics)
Below are the top 7 comparisons between Vectorworks vs ArchiCAD:

Comparison between Vectorworks and ArchiCAD
Both software works for the same type of purpose but they have their different requirement and capacity and now I am going to tell you these things.
| | | |
| --- | --- | --- |
| | Vectorworks | ArchiCAD |
| Definition | Vectorworks is a software development company that develops Vectorworks software that fully dedicates to CAD and BIM purposes of different industries and these industries are different engineering sectors, architectural components, and some other important industries. | ArchiCAD is designed to deal with 2D drafting and 3D modeling of Architectural objects and elements and get different types of results as per the choice of the client. |
| Developer | As we know it is a company so it itself launched this software for CAD and BIM purposes and founded in 1985 and its founder was Richard Diehl but the developer of Vectorworks was Nemetschek. | It was launched by Graphicsoft in 1987 for architectural designing purposes. |
| Latest version | Its latest version is Vectorworks 2021 and released with a lot of good features. You will have different software with Vectorworks for different types of work. | The latest version of ArchiCAD was released in 2020 and named ArchiCAD 24 which has a number of updates and new features that make it work smoother. |
| Operating system | Vectorworks can run on Mac OS 10.12 and its later versions and on Windows 10. You can check the compatibility of the previous version on its official website. | Its latest version is compatible with Windows 10 and its later version, Mac OS 10.15, 10.14. For having knowledge about the compatibility of previous versions of it you can visit on it official website. |
| Availability | If you want to have this software for dealing with 2D and 3D modeling of different sectors then you can visit the official website of Vectorworks is www.vectorworks.net | You can visit www.graphics.com  which is an official website of the developer of ArchiCAD and you can have a lot of information about this software from here or you can download it from here also for working with it. |
| File format supported for exporting | It can export.Obj, .fbx, .epsf, .pdf, and many other format file formats for using its designed objects with other supporting software for different purposes. | The native file format of ArchiCAD is DWG, IFC, DWF, and BCF. |
| File format supported for importing. | You can import DWG, text, and binary DXF file format in this software. | The Image file format which can import by ArchiCAD are ,jpge, jpg, .pdf, .png, .bmp and .tiff. |
These were some points through which you can get information about the basic requirements, supporting file format, the capability of both software which is necessary for analyzing them. Now I will take you through some other features and facts of this software which will give you knowledge about the specialty of this software.
Key Difference of Vectorworks and ArchiCAD
Here we are going to find out those facts which make both software different from each other and their developers have created some of the features which make their working smooth. These facts are as follows:
The very first thing which you find is the different price format of this software. Pricing of Vectorworks starts from $3045 and this is a one-time payment per user. It doesn't offer a free version but you can have a free trial for getting knowledge about the user interface as well as the working ability of this software. You can also have a training program for easy handling of it and it offers four types of the training program which are In-person, Live online, Webinars, Documentation not only training but you will also have a support program for business hours and also through the online system.
ArchiCAD has a different type of paid version that is per month payment and for this, you have to pay $ 196 per month for paying $ 2352, for staring edition version you have to pay $2045 one time, it offers 30% discount for the student version and it can use for commercial purpose also. This version can afford at $ 2780 and for a full commercial version, you have to pay $3971 one time for one year.
ArchiCAD allows users to work with parametric elements and data for smart objects and also offers a number of drafting as well as 3D modeling tools for dealing with lots of design features. You will also have integrated rendering capabilities with this software which gives accurate and photo-realistic results.
Vectorworks offers its users different types of packages for several works such as Architect Vectorworks landmark, Vectorworks Fundamentals, Vectorworks Entertainment, and Vectorworks Designer. These different packages have more and fewer features in their User interface which deals with any type of functionalities for getting solution work of their assigned field.
Here I have told you some of the facts of this software so that you can have information about those terms which make these software special in their field and working.
Conclusion
There is no doubt that I tried my best to explain to you all features and facts of Vectorworks as well as ArchiCAD. Now you know about them and how they work for different 2D and 3D modeling purposes. I will suggest you to try both of the software and then decide which one will be good for you and give the best result in your project work.
Recommended Articles
This is a guide to Vectorworks vs ArchiCAD. Here we discuss the key differences with infographics and comparison table. You may also have a look at the following articles to learn more –