Updated April 6, 2023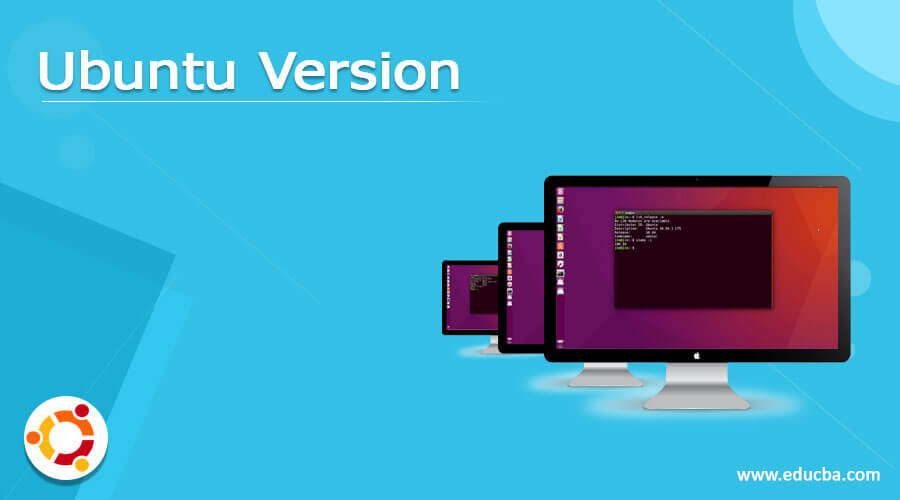 Definition of Ubuntu Version
Ubuntu Versions are absolutely free for the users and the associated applications are also offered free for them; People who cannot afford costly operating systems embraces Ubuntu OS and enjoy its capabilities and power of its applications at no cost; they don't lack any of the productivity features, aesthetics and security aspects of any other recognized OS like   Windows; the versions are customizable by Ubuntu users to suit  their operation requirements; this OS is maintained by a community of developers and any one can become part of the community and contribute; It runs even on older hardware and users who have old laptop or desktop can still manage to run the show.
Explanation of  Ubuntu
Ubuntu OS belongs to Linux family and it is built over Debian principle of free software and encouragement of community of open-source software developers. It has versions for Desktop popularly known as Gnome, Server and Core that covers Internet of things devices as well as Robots. It can run on a full-fledged system or single chip microcomputers.  It supports all processors like AMD, ARM, Intel, IBM power, IBM Z series and IBM Emperor.
Its software arsenal includes Gnome, Kernels, Web server, word, spread sheet and Internet applications.
Top 17 Versions of Ubuntu
Releases and support window: Ubuntu comes out with a new release once in every six months as per the plan that too precisely in the month of April and October and the version will have the month number 04, 10 and the year in the release code. Each release has a code name with an adjective and animal name with the same first letters.
The release could be an upgrade or revision in the running version that mostly contain bug fixes and minor changes or it could be new version that will have major changes. The releases are supported for a period of 18 months and the individual packages are supported for 5 Years.
Versions of Ubuntu are given below:
1. Version 4.10
First release of Ubuntu was in Oct 2004 and its release code was Ubuntu 4.10 and its name was Warty Warthog. This release was built on Debian OS and its developer Canonical Ltd offered this version as a free download or free of charge CDs to the users.
2. Version 5.04
It was the second release from Canonical during Apr 2005 named as Hoary Hedgehog. New features like standby/ hibernate support, upgrade notifier, update manager, scaling of frequency for the processors, Installation using USB were introduced.
3. Version 5.10
Released in Oct 2005, this version brought in new features like menu (ala carte) editor, Applications add/ remove tool, language selector, printer support, launchpad to report bug and software improvements.
4. Version 6.06
Delayed by two months to Jun 2006, this release merged live CD and Install CD into one disc. Several improvements in network side, the introduction of Long term support are some of the new features in this release.
5. Version 6.10
Named as Edgy Eft, this Oct-2006 release contained several human themes. It also had init daemon, Crash Reports, Photo Manager and integrations with third-party software.
6. Version 7.04
Sixth Release of Ubuntu done in Apr 2007 provided migration assistant to support MS users to get into Ubuntu. It supported installation of software drivers, virtual machines, codec and Wi-Fi access.
7. Version 7.10
Named as Gusty Gibbon this version, released in Oct 2007, introduced a security framework, Search facility, NFTS support and printing support.
8. Version 8.04
Eighth release in Ubuntu done in Apr-2008 brought in new features like Ubuntu netbook remix, Active Directory integration, Audio improvement etc.,
9. Version 8.10
Released in Oct-2018 it had several improvements in desktop scalability, flexible internet connectivity and mobile computing. It introduced guest account concept for limited operations.
10. Version 9.04
Named as Jaunty Jackalope, this version released in Apr-2009 supported ARM processor environment. Other improvements include faster reboot, integration with webservices.
11. Version 9.10
11th release of ubuntu done in Oct-2009, from Canonical focused more on fixing the usability bugs reported by users and few graphical improvements.
12. Version 10.04
Ubuntu released this version in Apr-2010, the improvements in cloud computing announced in Sep-2009 were implemented in this release. New theme, new logo, new visual were introduced in this release. Idea of light was the new style in Ubuntu.
13. Version 10.10
Named as Maverick Meerkat, released on 10th Oct-2010, 10:10.10 a perfect 10, had interface with Netbook edition and a new photo manager as major improvements.
14. Version 11.04
Introduced in Apr-2011, this version changed the default user interface to Unity from Gnome.
15. Version 11.10
This version released in Oct 2011. Important change in this version is that Pitivi a video editor for Linux was removed from Ubuntu due to bad feedback from user.
16. Version 12.04
Sixteenth release from Canonical in Apr-2012 had made Long term support period for both desktop version and server version as five years. Change in default media player and improvements in Unity are the major change in this release.
17. Other Versions
| | | |
| --- | --- | --- |
| Version | Time | Features |
| 12.10 | Oct-2012 | Amazon Icon in Launcher. Unity 2D was discontinued |
| 13.04 | Apr-2013 | Wubi software installer discontinued. |
| 13.10 | Oct-2013 | Universal Web search.  Switch over to Chrome faced rough weather due to lack of timely updates |
| 14.04 | Apr-2014 | Changes in the desktop interface and new tablet interface |
| 14.10 | Oct-2014 | Bug fixes and minor changes |
| 15.04 | Apr-2015 | Improvements in graphics |
| 15.10 | Oct-2015 | Inclusion of Mir display server |
| 16.04 | Apr-2016 | Support to Ceph and ZFS file systems |
| 16.10 | Oct-2016 | Linux kernel 4.8 introduced |
| 17.04 | Apr-2017 | Access to new apps. |
| 17.10 | Oct-2017 | Gnome shell interface is used. 32 bit desktop images dropped |
| 18.04 | Apr-2018 | Color emoticons introduced |
| 18.10 | Oct-2018 | New theme and new icon theme introduced |
| 19.04 | Apr-2019 | Linux kernel 5.0 with support for LCD displays |
| 19.10 | Oct-2019 | Loading speeds increased. Nvidia specific improvements made |
| 20.04 | Apr-2020 | New security module Lockdown was introduced |
| 20.10 | Oct-2020 | Linus kernel 5.8 introduced |
| 21.04 | Apr-2021 | Improved support for AMD, 5.11 Linux kernel |
Conclusion
Ubuntu provides an easy, cost effective alternate to Windows OS, it is robust, secured, user friendly OS, has all features what windows can offer. Users can explore these options and build Ubuntu as their second OS for development.
Recommended Articles
This is a guide to Ubuntu Version. Here we also discuss the definition and top 17 versions of ubuntu along with detailed explanation. You may also have a look at the following articles to learn more –